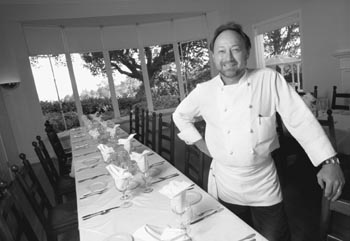 Photograph by George Sakkestad

With a View to a Thrill: Chef Jeff Huff prepares dishes to match the magnificent views at Hollins House.

View From The Top

Poised upon emerald lawns, replete with lavish views, Hollins House pampers with graceful culinary attitudes

By Christina Waters

THE SEARCH FOR the new greatest dessert in Santa Cruz is over. Look for it--along with a breathtaking view--at Hollins House Restaurant. Under the expertise of chef Jeff Huff, Hollins House dinners are crowned by an all-star lineup of desserts with flavor as explosive as it is comforting. Still putting the styles and attitudes of the American South into his culinary thinking, Huff has managed to bring new meaning to the entire idea of bread pudding, creating a dense knot of warm figs, apples and buttery bread pudding that brought moans to our table last week. And I haven't even gotten to the greatest chocolate dessert in the area--also a Hollins House selection. First things first.

Dining with my friend Ann, a native of Georgia who knows her way around fine menus, is always fun. A bottle of ZD Carneros Pinot Noir 1996 ($42) added to the special-occasion feel of this beautiful dining room, as did our perfect corner table from which the putting greens of Pasatiempo appeared to spill down into the sparkling Monterey Bay.

Our waiter explained the evening specials and then patiently allowed us plenty of time to survey the menu. Triangles of chewy homemade bread, dusted with coarse ground cornmeal, made delicious companions to the chore of choosing from so many appetizing possibilities. Having enjoyed Huff's wonderful salmon cakes in the past, I opted for a starter of chickpea and fresh corn fritters ($7.75), while Ann ordered the house salad ($4.75) topped with shaved beets and dried mango in a orange-basil vinaigrette.

Plump, crisp rounds of creamy garbanzo puree, the fritters were outrageous. In the center of the pretty plate was a zesty red pepper relish inflected with bits of smoked bacon and spiced black lentils. An enlightened appetizer, it went well with the salad of tender greens and endive.

Generously proportioned, the entrees looked smart and sophisticated. Ann's filet mignon ($23.75), a triple-X-size affair grandly striding a foundation of mashed potatoes, was topped with sautéed shiitakes. Three islands of fresh green beans emerged from a surrounding pool of burgundy and black pepper reduction sauce. Had the beef and mashed potatoes shared a bit more flavor with us, the dish might have been perfect. My gorgeous entree of seared prawns and scallops ($19.75) was slightly more flavorful, and just as attractive. Green beans dotted the perimeter of tomato/thyme butter sauce, and both prawns and enormous sea scallops were treated with sensitivity. Moist and voluptuous though they were, their flavor, again, was barely detectable. And the garlic advertised in the mashed potatoes failed to put in a guest appearance.

However understated the entrees, desserts lavished their favors upon us like long-lost sweethearts. A goblet of bittersweet chocolate-orange mousse ($7) rendered us both speechless. Subtly infused with Kahlua and triple sec, this impossibly intense and delicious chocolate creation tasted like an adult's fantasy of creamy chocolate pudding--only better. It arrived with two long rolled cookies playfully stuck into a puff of whipped cream and topped with a candied orange. My warm dried fig and apple bread pudding ($7) was stupendous. A scoop of burnt-sugar ice cream played counterpoint to the warm pudding and heightened flavor of figs and apple. A lacy honeycomb of caramelized sugar decorated one side of the dish.

For visual dazzle not just equaled but surpassed by sexy flavors, these desserts were knockouts. Elegant variations on classic American comfort dishes, they were frankly brilliant. And I was reminded of Huff's glorious desserts at the former Veranda. Here's a chef who hasn't rested on his laurels. Desserts alone are worth the scenic drive to Hollins House. The view isn't bad either.
---
Hollins House Restaurant
Address: At Pasatiempo Inn, 20 Clubhouse Road, Santa Cruz
Phone: 831.459.9177
Website: www.hollinshouse.com
Hours: Wed.-Sat. 5:30-9:30pm; Sun. brunch 10am-2pm
Service: *** Attentive and friendly; more polish wouldn't hurt.
Ambiance: *** Formal without being stuffy, the main dining room mingles local history with plush views.
Cuisine: *** Gorgeous presentation and clear expertise outweigh entree predictability.
Overall: A fine dining room in a historic setting, Hollins House continues to meet expectations with style. Desserts are to die for.
---
[ Santa Cruz | MetroActive Central | Archives ]