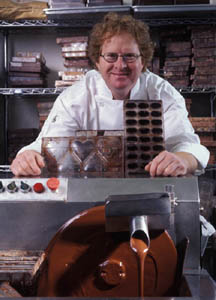 Outlook: Balmy: Richard Donnelly is moving from making unusual chocolates into unusual chocolate-themed lip balms.

Lips Like Sugar

With a big push from candy-making into cosmetics, Donnelly Chocolate may never come down from its sugar high

By Jessica Neuman Beck

Richard Donnelly has always thought slightly outside the chocolate box. In fact, as a child, the future owner of Donnelly Chocolates didn't even like the stuff.

"It was very sweet," he remembers, "and just not very tasty."

A trip to France for cooking school changed all that, as Donnelly experienced French chocolates for the first time. "They have really good chocolate over there, very different than ours," he says. "I just little by little got into chocolate, learned about it and started making it."

The result was the chocolate that you get from Donnelly's store, which is unlike anything else in the area--Donnelly says it's closer to the kind he fell in love with in France. What he's done is taken the chocolate base and enhanced it with a bevy of unusual flavors. Spicy pepper, lavender and chipotle aren't exactly the first things that spring to mind when one thinks of chocolate, but customers have been snapping them up.

"I really like the smokiness of chipotle, but not the pepper bite," Donnelly says of his unusual creations. "Some people just love them, though--the more bite the better."

The only thing stranger than some of these choco-creations is how they come about in the first place. "It could be customer requests, or the employees just want to try something," says Donnelly. "One of our better sellers is saffron-cardamom. It's one of the best things we make, in my opinion, and that was an employee request for her snacking."

Another bestseller, the white chocolate macadamia nut, was inspired by a bite of cookie. "My mother had kept saying to me, 'You should do white chocolate macadamia nuts,' and I didn't like white chocolate, so I didn't want to do it," remembers Donnelly. "But when I tasted that cookie, I thought, 'You know, that's really good--I should do that!'"

A bite of Donnelly's chocolate is often enough to convince others that they, too, should do that. As it turns out, they can--Donnelly Chocolates offers chocolate-making classes. Students learn, hands-on, how to make their own chocolate and truffles (the slightly hefty $150 fee includes the chocolate).

Turns out there's a reason people are so passionate about their chocolate: once again, blame science. Not only does chocolate taste heavenly, eating it releases endorphins and mood-enhancing chemicals into the system. Even the smell of good chocolate can send some people into a blissful reverie.

That's the theory behind Donnelly Chocolates' new line of lip balms. Flavored with milk chocolate, dark chocolate, lavender, rose, mint or vanilla, the balms feel like rich, smooth chocolate on the lips--but they go on clear as Chapstick. "I was looking for products that would have more of a year-round saleability," says Donnelly, "and body products are kind of a natural."

Many of the flavors are taken directly from the company's popular chocolates and truffles. The lavender, for example, "started out as a truffle," says Donnelly. "We soak lavender in the cream. Then we make a simple form of dark chocolate with lavender, and that sells really well, so it was kind of a natural. Same way with the rose."

The balms are certainly divine, but what about the most important thing--kissing? Always one to experiment in the name of science, I tried the Lavender Dark Chocolate balm out on my husband. "I'm not sure it made a difference," he told me. "Can I try it again?"

Now that's an addiction I can support.
---
Richard Donnelly Chocolates store and kitchen is located at 1509 Mission St., Santa Cruz. Donnelly Chocolates can also be found on the web at www.donnellychocolates.com, or by calling toll-free 888.685.1871.
---
[ Santa Cruz | Metroactive Central | Archives ]