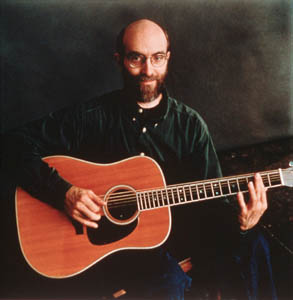 Tree for Two: George Winston will perform what he calls the first real duet of his career when he shares the bill with Wei-Shan Liu at the Five Branches benefit concert Friday.

Guitar Facing East

Windham Hill icon George Winston plays some truly alternative music when he performs for the Five Branches Institute's 20th anniversary

By Adam Cotton

George Winston likes to play basketball. Yes it's true, our favorite Zen-piano guru is into competitive sports. In fact, he's a big Detroit Tigers fan.

Turns out the iconic and heavily Santa Cruz-connected pianist and guitarist is full of surprises, as he'll demonstrate when he plays a benefit concert for the Five Branches Institute on May 28.

Even die-hard fans may not know that Winston has long been a supporter of alternative medicine, having first discovered it in the late '70s when he started getting acupuncture. Not coincidentally, acupuncture is one of the branches of Chinese medicine taught at Five Branches, which has become known as the best place to learn Chinese medicine outside of China. Winston is helping the school celebrate its celebrate its 20-year anniversary with the upcoming show.

The Doctor Can See You Now

Before 1974, practitioners of Chinese medicine in this country could be thrown in jail--even an accredited Chinese doctor. But things have changed. Stanford Medical School has recently expressed interest in sending its students into rotation programs at Five Branches. According to a 1997 survey by the Journal of the American Medical Association, more appointments were made with alternative medical practitioners than with Western physicians.

Modern Chinese medicine integrates the Eastern and Western approaches.

If you walk into a Chinese hospital, you will find an acupuncture and herbology department right next to the surgery and MRIs.

Ron Zaidman, co-founder of Five Branches, says that integrated approach is an important part of the Five Branches program and philosophy.

"I think that's what patients want. We want to go to a medical setting and get the best health care possible," he says. "If I have a very serious ailment and I need surgery or I need radiation therapy, I want a good surgeon, I want somebody who knows about radiation therapy, but if I have a lesser ailment, or something that can be corrected another way, I want a practitioner for that level too."

Just Duet

Speaking of combining East and West, the Five Branches anniversary concert is an especially notable event for George Winston--it will be the first time in 20 years he's shared the bill with another performer; namely, Wei-Shan Liu, a highly respected master of the gu-zheng (Chinese zither/harp).

Winston will perform on guitar at the show. As a guitarist, he drew his initial inspiration from slack key masters as well as American folk music, pre-war country blues and his friend John Fahey. Like his solo piano style, his guitar excursions synthesize these diverse elements.

He reports that lately, however, he's been listening exclusively to Chinese and Mongolian music. He also says that Liu has been a considerable influence on his own music and that the two will perform some duets.

This last revelation is particularly momentous because according to Winston, this may be the first "real duet" he's ever done at one of his concerts. Having caught the two of them performing in San Francisco last week, I have to say that the rare combination of the steel-string acoustic with the gu-zheng is certainly a treat for the ears.

And in the hands of the man who recently rearranged the music of the Doors for solo piano, this whole East/West thing could get really interesting.

"She's teaching me Chinese tunes, and I'm teaching her American tunes," says Winston.
---
George Winston will perform with special guest Wei-Shan Liu on Friday, May 28, at 8pm at the First Congregational Church, 900 High St., Santa Cruz. Tickets are $35/general admission and $25/students with ID; go to www.inhousetickets.com or call 866.384.3060. For information on the Five Branches Institute, call 831.818.4739.
---
[ Santa Cruz | Metroactive Central | Archives ]