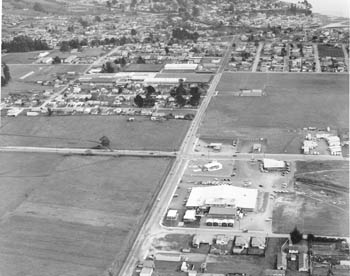 Covello & Covello Historical Photo Collection

41st and Capitola Road, 1967: This is looking east, and you can even make out the Capitola Theater in the upper right. Obviously this was pre-Albertson's, pre-Capitola Book Cafe, and pre-everything except Kings Market where Orchard Supply Hardware is now. There's also a bunch of cows where the Sears parking lot is now located.

Bruce Bratton

ABOUT LIVE LOCAL THEATER. Wilma Marcus Chandler and I had a fine, calm, productive discussion last week about live local theater and what everybody can do to make Santa Cruz theater as lively, productive, provocative and healthy as possible. Wilma, if you just got here, taught theater at Cabrilho College for decades and is probably the most responsible and influential theater person in the area. I maintained that by encouraging all media to be hard-hitting, honest, ethical and fair in their reviews we will create a dynamic and exciting theater community where locals will once again attend live theater that gets good reviews. For too many years, weepy directors have nagged editors over bad reviews, and few reviewers or critics want to put up with such reactions. Wilma has plenty of ideas on the topic and will be creating some new approaches to working on this communication problem. It is about communication, because we all want the best possible live theater performances.

DARK PLEASURES. Oscar Wilde's The Importance of Being Earnest is a little dumbed down and gimmicky, but it's still brilliant, and with Rupert Everett, Judi Dench and Reese Witherspoon you'll have a very good time watching it. I'll bet that you'll spend more time looking at Al Pacino's hairpiece than thinking about how bad an actor Robin Williams is in Insomnia. Hillary Swank's in it too, and the original often shown on cable TV is much better. After seeing the trailers for Enough, Jennifer Lopez's big fight with her mean husband is a three-minute letdown after waiting through the very long film. Don't go unless your tourist friends have seen everything else in town. Nine Queens is an outstanding Argentinian film about street swindlers. It is tricky and intelligent and will have you guessing all the way through. It's a much better film than the commercial Hollywood products with megastars that try and fail to do what this film does so successfully. The real hit film of the year is Isabelle Huppert's The Piano Teacher, now at the Nick. Few films in cinema history have ever captured as odd a personality as Huppert portrays in this film. You won't forget her part in this film no matter how hard you try; don't miss it. Be sure only to take your more intelligent tourist friends to this one.

CONCRETE SHIP FESTIVAL. Don't miss hearing the Jazz Birds at the Concrete Ship Festival this Saturday at Seacliff State Beach in Aptos. They'll be singing their Boswell Sisters songs from 2 to 4pm, and the Concrete Ship Festival goes from 11am to 5pm. You can dance, do crafts and wear costumes too. Call 685.6444 about the Concrete Ship Festival.

CPR FOR THE ARTS. Santa Cruz High School will have four music and art classes cut because of state and local-level budget slashes unless they can raise $25,000 by June 7. Choir, color guard and guitar classes will vanish, and many times it's precisely those kind of classes that keep kids in school. The dedicated Friends of Santa Cruz High will be doing a telephone drive about now, but you should call them at 427.4818 or just send checks to CPR for The Arts, Santa Cruz High School Visual and Performing Arts Deptartment, P.O. Box 7024, Santa Cruz, 95061.

UCSC OPERA. Every year UCSC's music department ends their year with an opera. This year they're doing Puccini's Gianni Schicchi and Gian Carlo Menotti's The Medium. Schicchi is like Moliere's Imaginary Invalid and is great fun. The Medium is deadly serious and will leave you impressed. They play Thursday-Sunday May 30-31 and June 1 at 8pm and June 2 at 2pm at UCSC's Music Center Recital Hall; tickets at 459.2159 or at the door.

TELESCOPES ON SACRED GROUND? The Office of Hawaiian Affairs is suing NASA and the University of Hawaii in an effort to stop them from putting more telescopes on Mauna Kea on the big island. OHA wants an environmental impact statement done first. This is a test case to try to protect the sacred burial grounds on Mauna Kea. According to the May issue of Ka Wai Ola, the Office of Hawaiian Affairs' official newspaper, UCSC's new telescope, which is three times the size of the present Keck telescope, may be built on Mauna Kea. The native Hawaiian community doesn't want it there. I'm going to Maui and Kauai this Friday for 10 days and I'll see what I can find out.
---
Bruce critiques films every other Thursday at 12:50pm on KUSP-FM (88.9). Reach Bruce at [email protected]
---
[ Santa Cruz | Metroactive Central | Archives ]