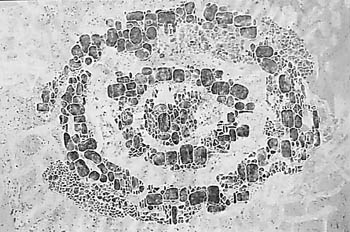 Cyber Spunk: Frank Galuszka's work in the 'Out of This Earth' exhibit has a bold experimental edge.

Manifesto for Cyborgs

MAH exhibit blends organic and mechanized styles to startling effect

By Julia Chiapella

PAST AND FUTURE and their accompanying fantasies collide in a metamorphic orgy in the Museum of Art and History's current exhibition "Out of This Earth." Featuring the work of painter Frank Galuszka and ceramist Bob Kinzie and with generous nods to cybernetics, the potter's wheel and the work of C.S. Lewis, "Out of This Earth" fuses the organic with the mechanized, laying the underpinnings for a mythology of the future.

Complex and singular, Kinzie's wheel-formed and hand-built pieces have the potter's wheel and the vessel as their foundation. From there, this long-time Santa Cruz potter has taken his forms on a radical new journey. The five pieces in this exhibition form a brace of ground wires--the points on a compass for a new world--that effectively soothe the eye with the familiar yet take it to another realm.

With 40 years' experience behind him as a ceramist and sculptor, Kinzie knows the way through his medium. These oversized vessels-cum-cylinders are impressive enough for the skill needed to tease them out from the potter's wheel. That Kinzie then slices, shapes and overlays patterns to their surfaces makes them a distinctive blend of building and sculpting.

All of Kinzie's shapes are simple. Whether cylinder, arch or oval, they easily evoke a host of familiar objects. The complexity in these pieces emanates from their surfaces: planes of two-dimensional valleys dip and peak in eerie evocations of everything from circuit boards to the Aztec calendar.

In Info-Age Man, the nature of these surfaces carves an indelible allegory fusing the human with the automated. With Kinzie's characteristic sooty tones, Info-Age Man is a fable writ large--a delphic messenger bringing harbingers from some future archeological dig.

Out of This Art World

It is in this intersection of times present and future that Kinzie's work provides a near-perfect counterpart to Frank Galuszka's paintings. Galuszka has reinvented his work more than once, slipping easily between the figurative and the abstract. Originally from New York, Galuszka has been a professor of art at UCSC since 1996. He's probably best known for his mythological work that combines Renaissance style with magic realism, a combination that allows him to conjure up entire worlds within a single painting that, like French painter Pierre Bonnard, is always solidly based on the figure within a landscape.

"Out of This Earth" turns all that on its head. There is barely a vestige of the figurative in this work as Galuszka displays his ability to explore new terrain. The work here--almost all of it created in 1999--represents a tour de force of experimentation executed with meticulous fury.

These large works effectively create the impression of a world unto themselves. But Galuszka has defined these worlds with the use of mica, either found or bought in sheets, which he then cuts in shapes and arranges.

As such, they conjure a host of things from ancient, crumbling foundations to skeletal remains to dividing cells. Galuszka invariably impastos the mica onto his paintings. Like Bonnard's use of silvery paper in his later works, Galuszka mines his mica for the reflective, glittery dazzle they give his paintings. The chips of mica become all that our imaginations describe, wrestling with both past and future in a feedback loop that perfectly echoes Galuszka's fascination with cybernetics and mythology.

Taking some of his inspiration from C.S. Lewis' Out of the Silent Planet, Galuszka evocatively plays with perception. Combining the mica with a layering technique that suggests worlds within worlds, pieces like Joan of Arc and End of Rome are both visual palimpsests and ancient relics, their surfaces blown away by the effects of time. As such, there is always more to be revealed.

Delphi in Snow seems to be the exception. The only one of these pieces created in 2001, it is simple and elegant in its trajectory: a spiral of small pieces of mica set in a spiral against Galuszka's characteristically muted background. Part labyrinth, part obscure oracle, it is a work of delicate simplicity much in contrast with the complex abstractions that make up the rest of these pieces. Clearly, Galuszka isn't afraid to see where the wind blows or what it reveals.

"Out of This Earth" is a powerful exhibition, made all the more significant in that both its artists make their homes locally. But it should not overshadow E.G. Crichton's installation piece in the smaller Lezin Gallery on the museum's first floor. The product of Crichton's fascination with children's rhymes and gravestones, "Contemporary Configurations III" combines video and soundscapes in a hauntingly moving homage to women and aging. It shouldn't be missed.
---
Out of This Earth is on display through Aug. 4 at the Museum of Art and History, 705 Front St., Santa Cruz. Contemporary Configurations III is on display through July 21. (429.1964)
---
[ Santa Cruz | Metroactive Central | Archives ]