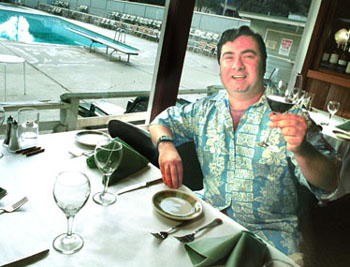 Photograph by George Sakkestad

Pooling His Talents: General manager Louis Darosa has added updated culinary touches to the classic ambience of the Trout Farm Inn.

Trout Fishing in Zayante

A mountain landmark glows under its latest incarnation and pulls in the grateful locals by the droves

By Christina Waters

THIS PLACE has a solid lock on my childhood memories. I learned to swim at the Trout Farm, while my Uncle Bud sipped a poolside martini, and my Auntie Da gossiped with her girlfriends. In the hippie era, I lived in a cabin about a mile up the road from the Trout Farm, whose fortunes languished off and on until its most recent renaissance. The word hasn't been this good, however, since the late '50s, so Zelda and I rushed up to check out the new Trout Farm menu and spiffed-up grounds.

Watching the sunlight shimmering on the turquoise pool put me into instant alpha, as Z and I relaxed over glasses of wine along with a full house of very contented San Lorenzo Valley neighbors.

Gregarious gentlemen greeted us at the front veranda of this low-slung redwood structure that aims out over Zayante Creek in the back and rambles along the roadside in the front to accommodate that inviting swimming pool. Open to the public all summer long, the pool is still as irresistible as it was when I was a kid. Ditto the rustic bar, whose walls boast vintage photos of former Trout Farm days, and whose barstools invariably attract the thirsty and the gregarious. Good vibes, in short.

The current menu covers the surf and turf waterfront, with some pastas, salads and a long listing of locally made wines. Given the surroundings, I couldn't resist a luscious 1998 Syrah ($6.75) from Zayante Vineyards--located on a spectacular hilltop where I once sheared sheep. Z liked her crisp 1998 Chardonnay from Trout Gulch ($6.25), and we were nicely tucked in with some impeccable sourdough when our appetizers arrived (though not at the same time).

My house green salad ($2.95) was a delicious creation of tender lettuces, a few cherry tomatoes and julienned carrots, all bound together in a fine vinaigrette. Z's starter of polenta in balsamic reduction ($6.50) was a star. A creamy light triangle of polenta, rich with olive oil and cheese, arrived in the center of a huge, white plate. The polenta and accompanying sautéed mushrooms were enhanced by the tangy sweet bite of a balsamic sauce. It was a terrific dish.

It seemed to take a long time to arrive, though. "Time slows down up here," Zelda reminded me. Like the trout, I decided to go with the flow.

Entrees were equally attractive. Accompanied by a cluster of infant red potatoes and long spears of asparagus, both seafood dishes arrived steaming from the kitchen. Z's Trout Almondine (who could resist ordering this at the trout farm?) arrived butterflied so its soft white flesh, strewn liberally with slivered almonds, could be accessed ($13.95). Extremely mild in flavor, the trout might have preferred fewer minutes of cooking time, but Z insisted it was moist enough for her.

And so was my evening special of sea scallops ($18.95). Fat scallops--at least a half dozen--sautéed just to succulence, arrived, each atop an artichoke heart. Scallops and artichokes go beautifully together, as the chef obviously knows. A well-made lemon beurre blanc pooled around the scallop archipelago.

With carryout containers stowed under the table, we bravely sampled some of the many tempting house desserts. An apple cobbler arrived mushy, the biscuit topping wet and spongy. But a wedge of Triple Kahlua Chocolate Cake sent us both over the edge (both $4.95).

The cake was stupendously homemade-tasting (it was made in-house), with a very fine, tight texture and the lightest possible application of hazelnut frosting between the layers. A glaze of deep chocolate ganache frosted the exterior, and we could not stop until the cake was a mere memory. Destination chocolate cake I'd say. Zelda purred.
---
Trout Farm Inn
Address: 7701 E. Zayante Rd., Felton
Phone: 335.4317
Hours: Lunch at 11am; supper at 5pm, except Mondays
Chef: Joe Delorie
Ambience: *** Classic redwood rustic vibes with laid-back warmth
Service: **1/2 Hardworking and friendly; pacing influenced by busy bar and kitchen backlog
Cuisine: ** Generous portions provide pleasant, uncomplicated cuisine at affordable prices
Overall: Easily one of the most inviting summer spots in the county, and now with food to match
---
[ Santa Cruz | MetroActive Central | Archives ]