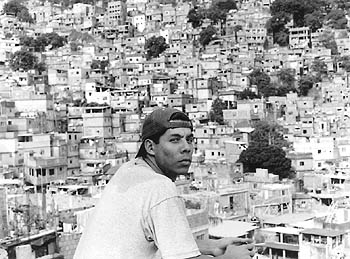 Rio As It Gets: Irwin awardee Roberto Carlos Mendez Soto documents an urban Brazilian phenomenon in his 'Self Portrait in Favela da Rocinha.'

Creation Theory

Irwin exhibition showcases works of art scholars

By Christina Waters

THE CREATIVE visual expressions of 15 top art students fill the Sesnon Art Gallery for the next week with eye candy from the young and the possibly restless in "Irwin Scholars, 2001."

Photography makes a particularly strong showing at this year's display by the recipients of the William Hyde and Susan Benteen Irwin Scholarships. And while all photographic efforts represented--by Sally Clark, Anastasie Martin, Roberto Carlos Mendez Soto and Justin Ray--show sensitivity to both materials and subject, there are some standouts.

Soto's series of black and white images creates an indelible study of the homeless. While his gaze is unflinching, the photographer's tender respect for his subjects emerges though each print. Conversely, the digitized 10-foot panoramic photograph of a single sidewalk in Havana, by Anastasie Martin, remains emotionally neutral, letting us do our own walk through of a colorful section of urban Cuba.

Justin Ray's large-format color nightscapes capture a David Lynchean Santa Cruz. His photographic scenes reveal the simple yet unsettling beauty of such mundanity as plastic fencing, traffic patterns and motel parking lots.

Many of these well-crafted examples of top student artwork show the sort of professionalism more typical of private art school graduates. Ann Alstatt's self-assured color lithographs create a subtle trialogue within their own tight conceptually smart world. One especially arresting triptych unfolds around a central image of frozen cliffs. Graphic "ice" in the form of diamond shapes floats over the cool image of Antarctic ice. The side panels are studded with those little evil plastic tabs found on such First World necessities as bags of English muffins. Pink elephants co-exist with sepia-toned photographs; a crimson armadillo hovers in a landscape of turquoise Rorschach patterns. Bold, unexpected colors sizzle in Alstatt's aesthetic.

More accessible is a coy self-referential installation by the prolific Katerina Lanfranco, in which aggressive Victorian women wrestle each other against pastel-hued wallpaper tipped in gold leaf. Lanfranco unfurls her ideas about girlhood memories and her reclaimed insights about the visual forms of social manipulation at that bramble patch where postmodern image sampling and critical studies meet. It is a well-turned wink at those eternal coming-of-age issues, complete with jewelbox and headphones playing 12th-century plain chant.

A clearer eye toward issues of exploitation and womanhood is cast by painter Leslie Hotchkiss, whose lurid, luminous oil illustrations of go-go club denizens have been mounted in the furthest corner of the show. At second glance, her work is powered as much by masterful brushwork--as opposed to tracing of found reproductions--as it is by social commentary.

The entire show has been handsomely organized by Sesnon Gallery director Shelby Graham. Thanks to her sharp eye, visitors are immediately greeted by two bold oil artworks from Sam Nieburgs, whose current passion for sushi has fueled two strong paintings. Most eloquent is an expressionistic lineup of freshly caught fish. Humble sacraments, the squids, flounders, sardines--all bright and thick with impasto work--appear simultaneously exploited, ready for canning and eternally abundant. These beautiful creatures are obviously lined up for our consumption, yet they defy victimization. Not exactly triumphant, the rough marine metaphors are surely poignant.

There's more than a touch of Vincent van Gogh's sensibility in Nieburgs' piece, just as there's a great deal of Paul Klee in the lilting geometries of Alison Lareau's gouache pieces. You can also make up your own mind about the oil barrel rolling back and forth in the center of the gallery floor. Art is long, life is short and the school year is over.
---
Irwin Scholars, 2001, runs through June 9 at Mary Porter Sesnon Art Gallery, Porter College, UCSC. 831.459.3606.
---
[ Santa Cruz | MetroActive Central | Archives ]