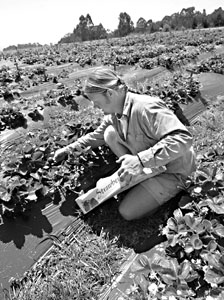 Never Enough: UCSC garden manager Christof Bernau says that even though they planted more strawberries this year, 'more never seems to be enough.'

Photograph by George Sakkestad





Farm on the Hill

Produce, herbs and flowers make their twice-weekly appearance at UCSC

By Christina Waters

DIAL YOUR taste buds for fresh, organic and in-season--there's UCSC Farm & Garden produce on the immediate horizon. Folks on the West Side have gotten spoiled over the past few years by the opportunity to buy freshly harvested herbs, flowers, fruits and vegetables from the young growers of the Agroecology program. And the fresh array is almost ready to make its twice-weekly appearance--Tuesday and Friday, noon-6pm--at the foot of the campus, under the spreading locust tree by the Barn Theater.

Garden Manager Christof Bernau admitted that original plans called for a June 5 launch date. "But now it looks like June 12 will be our first day." Many of us have become hooked on the Farm & Garden's distinctive floral bouquets (still $5) as well as those unbelievable dry-farmed tomatoes. While the intensely flavored pomodori are still months away, the bouquets will be on hand June 12. "During the opening weeks, look for all the standard leafy greens," Bernau told me last week. "Chard, lettuces, kale, spinach, beets, carrots, arugula. And, of course, strawberries." Bernau said that even though the program's apprentices planted more strawberries than ever this year, "more never seems to be enough."

Look for beautiful bouquets filled with spring flowers such as snapdragons, sweet peas, larkspur and statice. "They're underpriced," Bernau admitted, "but because they're created by so many different people the size isn't always consistent." But the beauty is. Bernau praised the entire produce cart concept. "It gives the apprentices a good exposure to direct marketing, and for the customer we try to provide one-stop produce shopping." The UCSC Farm & Garden Produce Cart blooms at the corner of Empire Grade and Bay Street, each Tuesday and Friday, starting June 12.

News, Notes and Snobberati

Convivio Conversion: The ever-clever Marco Verduzco is cooking up another tasty creation, a cafe called Fuzio, slated to open somewhere on Pacific Avenue in the not-too-distant future. The talented, unshy chef/entrepreneur of Convivio (the hot spot at the corner of Seventh Avenue and Capitola Road) told me, "It's going to be world-fusion theme: pastas, wood-fired pizza, low prices and no table service, but spiffy, upper-end." Great food, which you order and pay for at the counter, is brought to you when ready. Keeping costs down by eliminating table service doesn't mean quality suffers, and Verduzco is one serious food man who doesn't believe in cutting corners, or quality. Finalizing the numbers has been "really tough," he admitted. "It seems to be one hurdle after another. But I'm going to make it happen." We'll all eat better downtown when he does.

Avanti on Mission Street never disappoints. A meal there last week was crowned by a side dish of carrots laced with fresh mint. Aromatic and sensuous--yet clear. I would walk a mile for the pancetta-wrapped prawn appetizer. Last week, the shellfish arrived with a sage leaf tucked into the grilled pancetta, so that each bite offered sweet prawn, earthy sage and a rich top note of cured pork. I like to make a meal of this dish, along with a house salad of organic local greens and something red in a glass. Do likewise, and prosper.

A sneak preview of Randell Grahm's upcoming spring 2001 newsletter informed me that the snobberati at Wine Spectator declined to include Bonny Doon Vineyards in the upcoming, sacred New York Wine Experience, despite the winery's attendance for the last dozen seasons. Was it lower ratings numbers? Or just genius envy? You be the judge.
---
Email me your hot food tips, new favorite restaurants, discoveries, gripes and sudden culinary insights. You tell me--I'll tell everybody: [email protected]
---
[ Santa Cruz | MetroActive Central | Archives ]