[ MetroActive Central | Archives ]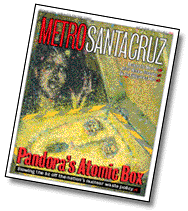 This Week


May 30-June 5, 1996

Cover
Pandora's Atomic Box: Blowing the lid
off the nation's nuclear waste policy.

News
Nuz: Page of shame to be erased.

Arts & Entertainment
Movies: Reviews and show times for Santa Cruz County.

Ear of the Beholder: Santa Cruz's answer to Sotheby's prepares to spread its tents for the Central Coasts' favorite public radio station.

Vision in a White Dress: Impersonator Catherine Grillos spreads a little joy and sexual revolution.

Notes From the Underground: Every scene had its day last weekend.

Menu
Scene and Be Seen: Seabright Brewery specializes in fresh food to match its ace microbrews.
---
This page was designed and created by the Boulevards team.
Copyright &copy 1996 Metro Publishing and Virtual Valley, Inc.