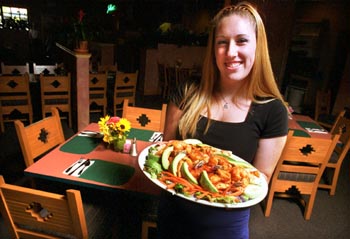 Photograph by George Sakkestad

Weighty Plate: Erica Fick serves up the hearty seafood salad plate at Cilantro's.

South County Salsational

A welcoming atmosphere and full-bodied cuisine make for a nonstop fiesta of flavor at Cilantro's in Watsonville

By Christina Waters

MY BUDDY DI--who never met a salsa she didn't like--pronounced Cilantro's fiery red sauce the perfect fit for that huge bowl of chips and the icy margarita sitting in front of her last week. The chips, salsa and expertly made cocktail seemed to be waiting for us when we walked into the popular Watsonville restaurant for dinner. Since the restaurant takes no reservations, we gladly sipped at the bar until our name was called and we joined half of Watsonville in the terracotta-toned main dining room.

Blackboard seafood specials added more temptation to an already huge regular menu. And if the menu looks familiar, it's because Cilantro's was founded by the folks who gave Santa Cruz its mighty El Palomar dining room. Classics like pozole, mole, chile verde and fajitas did their best to reel us in. But Di felt like camarones, and I had my heart set on the incomparable chile colorado pork tacos, tacos so slow-simmered and deeply flavored that they have made more than one grown man weep with sheer disbelief.

After consuming enough salt to float the Titanic, I welcomed a simple green salad ($3.25) that came with cruets of oil and vinegar for me to mix at will. Meanwhile, Di was enjoying her unusual prawn cocktail ($8.95). Served in a huge, wide goblet, the appetizer amounted to a creative blend of gazpacho and a prawn cocktail, topped with huge cubes of avocado and salsa fresca. Almost a chilled soup, the cocktail was loaded with fat, succulent prawns, tomatoes, onions and cilantro--and the tomatoey broth was refreshing to sip in between bites.

By the way, service was great even though the place was packed with a multiculti, mixed generational crowd. And in between salad and entrée courses, I managed to sneak another gazillion chips. (Let's face it, an evening at Cilantro's offers a chance to indulge in salt, tequila and chiles--three food groups that have stood the test of time.) As our main dishes arrived on those "careful, the plate is really hot" plates, I observed that a few more plants might help break up this cavernous dining room space.

Di's seafood combo of camarones and huachinango ($14.95) featured fresh snapper on one side of a lake of molten refried beans and charbroiled prawns on the other. The prawns were crispy yet moist, and so nicely barbecued that they reminded me of summer meals past. The snapper was moist. Hey, it isn't salmon, but it did its best to simulate flavor. The tomatillo-intensive sauce provided lots of spice balance. A lot of the kitchen's finesse tends to get lost on these big plates loaded with multiple items. If these lovely seafoods were presented bistro-style on small plates, where they were allowed more visual importance, their knockout flavors would be even more evident.

My plate, also hot, contained the same fabulous refried beans, Mexican rice (nice, but life's too short to load up on red rice) and a crisp garnish of shredded cabbage and salsa fresca ($8.50). Two enormous soft tacos had been filled with succulent stewed pork, lazing in a high-wattage chile colorado that was pulverizingly delicious. The lean pork, deeply saturated with the mahogany sauce, fell apart at the slightest touch of a fork. If there is a finer taco in the state of California, I'd like it to show itself once and for all. Until it does, I'll stand by the chile colorado taco from Cilantro's. And I won't be alone.
---
Cilantro's
Address: 1934 Main St., Watsonville
Phone: 831.761.2161
Hours:
Service: ** 1/2 Hard-working, friendly and swift, even when the place is packed.
Ambiance: ** Lively norteamericano cantina atmosphere, non-designer, with a hospitable bar and lounge area.
Cuisine: ** 1/2 Some excellent specialties served with no frills and no pretensions.
Overall: Fine Mexican food, large helpings and swift delivery make Cilantro's a top spot for families and young diners with big appetites.
---
[ Santa Cruz | MetroActive Central | Archives ]