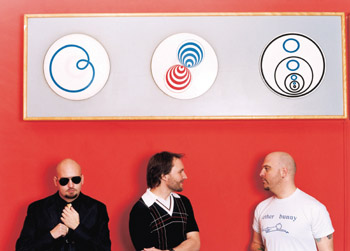 Bad Company: Reid tells Ethan about the Pixies while David gets spiffy.


Plus Change

An acoustic jazz trio turns the jazz world on its ear with some fresh sounds and a love of the grunge

By Peter Koht

In the conservative world of jazz criticism, covering Nirvana stirs up a bit of controversy. When Charlie Hunter carted out "Come As You Are" on his 1995 Blue Note release, Bing, Bing, Bing, it raised a few eyebrows. When the Bad Plus revived the four chord wonder that is "Smells Like Teen Spirit" on their 2003 release, These Are Vistas, the entire jazz press had kittens. Once again, aged jazz aficionados in fedoras pondered that endlessly rhetorical question: "Is that jazz?"

"Jazz musicians have always played the popular music of the day," Bad Plus drummer David King tells me on the phone from a London recording studio where the group is cutting its upcoming release with producer Tchad Blake. "That's where all the standards come from. This isn't a new idea."

But while Charlie Parker just stole Gershwin's changes for "Anthropology" and threw a new melody on top of them, the Bad Plus takes more of a chop shop approach to a song. The melody might be there sometimes, but the harmony is usually cobbled together from about a dozen genres. The drum beats would be more at home behind Björk, the bass lines more at ease underneath Robert Plant's soprano, and the piano could easily meld into the chaotic, symphonic texture of Le Sacre du Printemps.

King explains the band's approach to cover tunes as "totally destroying the song and building it back up again. A lot of the time when we take a rock tune apart it is more avant-garde and atonal than some of our original music."

On the surface, the Bad Plus is an acoustic trio of highly trained and accomplished jazz musicians, but the Bad Plus shatters any preconceived notions of what jazz is supposed to sound like. Creating a whole new form of music is not accomplished without the occasional risk or miscommunication.

With obvious love in his voice King describes his band mate, the classically trained pianist Ethan Iverson, as "an android" who didn't have the slightest clue about rock when the band started recording together.

"Ethan talks about Kurt Cobain using barre chords and he ends up saying things like, 'He uses a lot of fifths, Stravinsky used a lot of fifths. I am thinking about this song like Stravinsky.'"

This anecdote is not to imply that the Bad Plus is in any way stuffy or snobbish. Their stage presence is one of high energy jocularity and good natured fun, whether they are plowing through one of their own incredible originals or chunking out a breakbeat version of "We Are the World." Either way Bob Geldof would be proud.

All the nifty cover tunes aside, the Bad Plus is completely changing the world's opinion of the possibilities of a simple piano trio. In fact, one of the greatest innovations of the Bad Plus is that it is conquering the jazz scene as a group.

"Jazz really lacks a group mentality," explains King, "It's really suffered from record labels putting together sessions. We were really interested in developing a real sound together. Some of the most powerful music ever made has been made by working ensembles that have developed a language together.

"There is no way that a gig could happen without the three of us. It's so intimate that way. It's not possible to sub anyone into this situation. The language is so personal."

It's a dialect that is equal parts John Bonham and John Coltrane, which speaks to musical fans all along the musical spectrum. King thinks that the Bad Plus' approach to improvisation along that continuum is a perfect extension of the jazz's original syncretic philosophy.

When asked about the absence of the ubiquitous ride cymbal found in so many piano trios, King responds with this piece of ethnomusicological knowledge: "African drummers don't use a ride cymbal to get the music swinging. That physical motion on a ride cymbal doesn't make the music feel like swing. It's more of an emotion. I think that there is a lot of room to innovate within this kind of improvised music, especially now, when we are afforded the opportunity to hear so much music from around the world."

Despite the mountains of publicity that have befallen this humble little trio of boyhood friends from Minnesota, King is prosaic about his impact on the development of jazz. In his estimation, "However we can get anyone paying attention to improvised music, we'll do it." After all, both "Teen Spirit" and Coltrane's "Equinox" have the same number of chords.
---
Bad Plus plays Saturday, June 4, 7:30 and 9:30pm, at the Kuumbwa Jazz Center, 320 Cedar St., Santa Cruz, $20/advance, $23/door. (831.427.2227; www.kuumbwajazz.org)
---
[ Santa Cruz | Metroactive Central | Archives ]