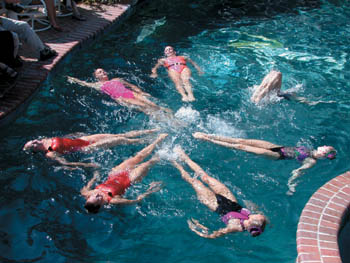 Adorable Animated Crab: The Aquamaids wowed at last year's Avant Garden Party.

Fish Tale

Rob and Sunny Fish open their home to some lovely mermaids and Erik Satie for New Music Works' unpredictable Avant Garden Party

By Jean-Jacques Conneaux

It began at an ordinary Sunday brunch. Chocolate purveyor David Jackman invited me to join him as his assistant at New Music Works' Avant Garden Party, which he was to cater that afternoon. Two hours later, at the hilltop estate of Rob and Sunny Fish, with dreams of free food and music in my head, I snuck in through a side entrance to fulfill my catering duties.

As Jackman and I prepared hors d'oeuvres, seven young women with waterproof makeup and plasticized hair and clothed in brightly colored swimsuits practiced synchronized maneuvers in a small swimming pool.I wandered the grounds, sitting for a moment to watch a guitar quartet play on the outdoor stage, and later wandering into the living room to watch an excerpt of an operetta. The eclectic musical offerings seemed a natural extension of the sublime luxury manifesting in the hills above Santa Cruz, as did the synchronized swimmers.

Accompanied by William Trimble playing a horn from a balcony, the Aquamaids brought the kidney-shaped pool to surreal life in orderly fashion. They swam about the water striking poses here and there, imposing geometric precision within the lovely chaos of splashing water on the graceful curves of outstretched legs.

Later, the violins of Cynthia Baehr and Estradasphere's Timb Harris enchanted a sun-dazed audience with Maria Newman's lovely Appalachian Duets. Slowly the sun descended, relaxing its fiery gaze on bald heads and shoulders as Phil Collins prepared to conduct his arrangement of Lou Harrison's Tandy's Tango, written for none other than Tandy Beal, who was in attendance. Graciously obliging Collins' request for an impromptu interpretation, Tandy flitted and floated on syrupy musical strains like a leaf blowing in a gently swirling breeze.

Velvet Gentleman

That was a year ago. This year's party, "Satie Satayed," a benefit for the 25th anniversary season of New Music Works, features works by French composer Erik Satie, a.k.a. the "Velvet Gentleman."

"He was really one of the geniuses of the 20th century," says artistic director Phil Collins of Satie, "Three Pieces in the Shape of a Pear, The Vexations ... many pieces based upon various curious pretexts—it's very beautiful music that you can play without feeling and it's still beautiful, very anti-Wagnerian. Satie was repulsed by romantic music; he was a virtuoso of anticlimactic art."

Beginning with Fredric Rzewki's To the Earth, Jim Kassis will perform a percussive piece on upturned flowerpots while reciting Homeric verses inviting a grounding dose of goodness to the event. Dror Sinai, Mohamed Aoualou and Fattah Abbou will pick up the rhythm with North African music on the outdoor stage. Later, Jon Scoville will perform the world premiere of his own Angle of Reflection.

The Silicon Valley Angelfish will perform to two pieces by Lou Harrison, A Cornish Lancaran and Tandy's Tango, and Satie's Gymnopédie.

"The garden party is an exceptional situation," says Collins. "You're creating a gratifying outside environment that gives the feeling of open air; it's something that rhymes with the mesh of senses, the intake of the music, the food, the water, the friends and the ability to talk if you want, the ability to move around without committing some sort of faux pas."

In other words, feel free to flit about the grounds and become a part of the party.

"Because of this permeated situation," says Collins, "you can have many styles happily coexist. All these environments—each sparks off a kind of conducive habitat for each of these pieces.

"That's part of what village music was in the old days," continues Collins. "In tribal life, music had specific functions. You had a work song, a deity song, a story set to song—they all have their place in the context of the village society; it enriches the points of life, enriches the whole gamut of your universe. There's music to fit everyone, and it's indispensable to every culture in every part of the world."
---
New Music Works presents an Avant Garden Party on Sunday, June 6, 2-6pm, at the home of Rob and Sunny Fish at 300 Tolak Road in Aptos. Tickets are $30/advance, $40/ door.
---
[ Santa Cruz | Metroactive Central | Archives ]