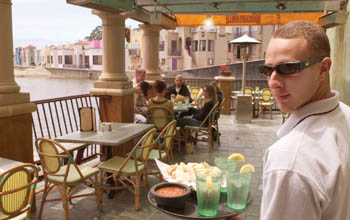 A Scherer Thing: Margaritaville's Eric Scherer serves up appetizers at the newly remodedled Capitola fixture.

All This, and Your Lost Salt Shaker

A complete remodel and a stylish new menu has locals tasting away in Margaritaville

By Jessica Neuman Beck

If you haven't seen Margaritaville since it was basically rebuilt in 2003, you're in for a surprise.

"It started as just a remodel, to repair the back patio," says general manager Tristan McLarty, "and just, you know, it led to so many other things."

Margaritaville's modest remodel became an almost complete overhaul. "Literally everything in the building is brand new," says McLarty. "They totally changed the aesthetic, where before it was a pretty much standard square building, now it's got that really Mediterranean feel with all the stucco, and nicer curves to the building. We're still in our same location downstairs; there's still Mr. Toots coffee upstairs in the corner. But, really, I couldn't even describe how different they made it."

The Mediterranean flavor—not necessarily something you'd expect at a place called Margaritaville—was incorporated because the owners wanted to give the place a more sophisticated feel.

"They kind of wanted to change away from that 'just bar' crowd and definitely emphasize the restaurant, making it more aesthetically pleasing," says McLarty, who was hired as general manager when Margaritaville reopened in April of 2003. "We initially had our hiccups with trying to be a little too revamped and modified, going for a higher-end menu—we tried to go for a fine-dining, South American menu. We didn't have nachos, refried beans, staples that were always at Margaritaville and were sort of expected."

Customers rebelled, and Margaritaville quickly brought back favorites like nachos, fajitas and refried beans. McLarty calls it "Mexican menu with the beach flair."

Some of the additions to the menu include sandwiches and daily seafood specials—a no-brainer, considering they're right by the water.

"We typically have at least three different kinds of prawns for appetizers as well as main courses," says McLarty. "What we changed is doing a lot more of what people want."

One thing that hasn't changed, though, is the bar—at least, not in the way that you'd expect. "The bar was moved from the front little corner on the street to where it is now, right in the middle of the restaurant, put right on the water," says McLarty. "Just fantastic views." Everything else about the bar, from the 25 kinds of tequila to the frozen, blended fruit margaritas that are so popular in the summer months, has remained the same. Why improve on what's already a hit?

"The distinction of a lot of our margaritas is that we use our own recipe, and try to make them different," says McLarty. "We try to use fresh lime, and a splash of orange juice, and that kind of brightens the drink, brings out a little more flavor."

Knock back a couple of nice fruity drinks, and you'll want to get your groove on. Thursday, Friday and Saturday nights the tables get pulled off the main floor to make room for dancing, and even the occasional off-key rendition of "Wild Thing."

"Fridays we always have a DJ and karaoke," says McLarty. People sign up during the DJ set, and they can do one karaoke song an hour. "Karaoke's great, especially when you've got the friends together. It's a good way of having the fun of that, having the integration with it without it being overwhelming, and still getting a lot of dance music, too." The Friday night DJ is Big Joe, who has built a sizeable local following at places like Zelda's and the Fog Bank.

Thursday nights are what McLarty calls their Sunset Party, featuring local reggae rock band Connected. Saturdays are alternating DJ and live band nights. Margaritaville likes to feature the best of the local scene, concentrating on funk, rock and R&B. "For so long down here the program was kind of the cover and blues bands," says McLarty. "We definitely want the dance crowd. The program that works for us is sort of that funk, reggae, rock bands." They also have DJ Beebo of Rosie McCann's and Catalyst fame, playing '80s and dance music.

"It's not the old Margaritaville," says McLarty, adding that it's "a lot of the fun of the old place, but a lot less loose. We've brought in a younger and newer crowd, and the people that have become regulars are giving us really good feedback."
---
Margaritaville is located at 302 Capitola Ave. in Capitola; 831.476.2263.
---
[ Santa Cruz | Metroactive Central | Archives ]