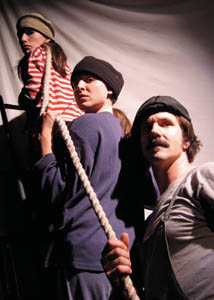 Baby, I Love Your Whale: Left to right, Zoe Galvez, Nika Ericson and Craig Neibaur in 'Hunting for Moby Dick.'

Good Whale 'Hunting'

Strong writing keeps 'Hunting for Moby Dick' from being harpooned by design flaws

By Rob Pratt

Great novels often make great theater. Perhaps there's something sympathetic in the illusion created by a work of fiction that translates well into the illusion created by live theater. With Hunting for Moby Dick, which runs at the Actors' Theatre through June 27, writer/director Bill Peters takes on one of the greatest American novels. While the result isn't great, the show does present an engaging exploration of both the epic story of Moby Dick and the epic internal struggle Herman Melville faced in creating his masterpiece.

Part of the problem with Hunting for Moby Dick is Peters' staging. He creates a number of clever illusions using little more than a cast of seven, a number of long, wooden rods, several lengths of rope and a sheet. From these materials, Peters evokes a bark upon the ocean, a trio of double-ended boats manned by a crew of oarsmen and even the carcass of a hauled-in whale, among other images. But just as often, these props get in the way and occasion moments when the story loses focus amid a stage full of distracting accoutrements.

Peters' script, however, works beautifully. Scenes from Moby Dick are interspersed with excerpts from the author's letters delivered by Melville himself (as played by Peters). The effect is of a Greek chorus delivering commentary on both the circumstances surrounding the writing of the novel as well as the form of the book and its meaning.

"It is full of leviathans signifying nothing," Melville declares of his book in Hunting for Moby Dick. It's a remark that perhaps owes more to William Faulkner's The Sound and Fury than to Melville's letters. Generations of high schoolers who have struggled through the tale of the Great White Whale to satisfy a general education requirement know that there's plenty of significant imagery and allegory in Melville's text. Peters' script reveals that there's also plenty of beautiful language that often gets lost among the sheer size and density of the book.

The cast is a mix of current and former theater students as well as theater instructors and semi-pros. Particularly good is Zoe Galvez as Pip. To relate Pip's story of near-drowning, Galvez, partnered with Craig Neibaur, performs an athletic dance, swimming through the air and spiraling down to the deep. Michelle Talgarow as the reluctant and fearful mate Starbuck and Frank Widman as Ahab also deliver fine performances.
---
Ghostlight Theater Company's production of Bill Peters' 'Hunting for Moby Dick' plays at the Actors' Theatre, 1001 Center St., Santa Cruz, through June 27; Thursdays through Sundays at 8pm and Sundays at 3pm. Tickets are $12-$15, available at the Santa Cruz Civic box office or by calling 831.420.5260.
---
[ Santa Cruz | Metroactive Central | Archives ]