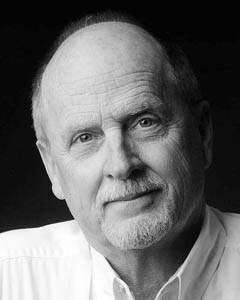 News Flash: The Good Old Days Sucked: The Rev. Mel White was fully in the closet when he graduated from Santa Cruz High—and back in 1958, that's exactly where this town wanted him. But times have changed, and now White has returned to serve as Grand Marshal of the Pride Parade on June 6.

Nüz

Just Happy to Be Queer

Back when he was a young boy and long before he became a reverend and a doctor, Mel White lived in the Cruz, where he went to Mission Hill Junior and Santa Cruz High before graduating in 1958.

An avowed fan of our humble burg, which the now openly gay pastor calls "the lesbian capital of the world," White recalls that he remained in the closet the whole time he lived here, "because Santa Cruz was not a liberal town back in the pre-UCSC day."

All of which makes his homecoming as a grand marshal in the upcoming 30th annual GLBTIQ Pride Parade "great fun, and more than a little ironic," says White, who says he fought his gayness for 40 years, trying everything from exorcism to electric shock to overcome it, "before I realized it was a gift."

Noting that he'll be joined in the grand marshal chair by SF County Recorder Mabel Teng, who earlier this year issued 4037 marriage licenses to gay couples, White says that if SF mayor Gavin Newsom is jailed for supposedly overstepping his mayoral authority, "there'll be thousands who'll want to join him, even if what he did was an act of civil disobedience. Newsom recognized there are higher laws than those written on papyrus. He opened his arms as a straight man to the GLBT community."

But while California's GLBT community waits to see if the courts agree with Newsom that the same-sex ban is unconstitutional, White says things don't look so gay-friendly on the national front.

"With 38 other states with similar bans and the US. House dominated by Republicans, only the Senate and a few legislators stand in the way of the passage of Bush's proposed federal anti-gay marriage amendment, which is causing a huge anti-gay backlash, " says White, who urges GLBTers to stand up, come out and fight for their rights.

"We're our own worst enemy—and in Santa Cruz there's a danger of becoming lethargic," warns White, who along with his partner Gary Nixon traded the relatively liberal shores of Laguna Beach for Lynchburg, Va., Jerry Falwell's aptly titled hometown, after Jerry blamed Sept. 11 on gays.

"We often stand in silent protest during Falwell's sermons. Even if it appears not to make any difference, it does," says White. "Let them know this is a gay dollar you're spending, that this is a gay person influencing or being profitable for an enterprise. And if you go to churches that don't support gays, then quit giving them money and singing in their choir."

A firm believer that Bush's war on terror is "a mockery, trying to distract us from how our economy is falling apart, and our poor and disabled are in dire straits," White says he does not however hate the Bushistas.

"When we love our neighbor enough, we can love them out of their ignorance," he explains.

The GLBTIQ Pride Parade kicks off at 11am on Sunday, June 6, at Cathcart and Pacific Avenue, with a noon rally in San Lorenzo Park that features U.S. Rep. Sam Farr, Assemblymembers John Laird and Mark Leno, a Dance Tent and a Radical Faerie tent.

Drip, Drip, Drip

Last month, Nuz happened to drop in on the City Council chambers, just in time to hear the city's Water Department outline a plan to raise water rates by 124 percent by 2009—an increase that sounded all the more radical since almost no members of the public were around to witness it.

Asked why the sudden huge jump in rates, the city's water Director Bill Kocher notes that with the average bimonthly water being $25, water bills would only go up by about $4 a month starting this June, if the city approves the plan, which recommends a 25 percent increase this June, with further annual increases to kick in each January for the next five years. Kocher also notes that while the plan includes the $42 million expense of an as yet to be approved desalination project, other water projects, including repairing old leaking pipes and mains, "are of greater dollar value than the desal project."

Engineering manager Linette Almond says the Water Department is developing an Environmental Impact Report, which should be ready for public review by this fall, while the Water Department's Willow Citron says the city is considering borrowing $100 million to do all the projects, or $50 million, which would make possible everything except the desal plant.

Asked why we're being asked to pay more now, if the desal project is still only in its EIR phase, Kocher said, "To get the money, we need to demonstrate that the rates are already in place, with the caveat that, if some of this stuff falls through, rates won't go up as much as expected."

To find out more, be at the next meeting, in the city chambers, at 7pm on Tuesday, June 8.

Your Highway, You Decide

Speaking of important meetings, and with rumors flying that nine former Santa Cruz mayors, including Bruce Van Allen and Neal Coonerty, have come out against Highway 1 widening, mark 7pm, Wednesday, June 2, as the day the council holds a town hall meeting at the Civic Auditorium to hear from you, the local public, before voting on whether to support an increase in our sales tax to fund highway widening and other transportation projects.

And the winners are ...

The votes are in, and the winners of the third annual Santa Cruz Film Festival are: Best Feature: Greendale, Bernard Shakey, (a.k.a. Neil Young); Best Narrative Short: The Empty Building, Giovanni Sanseviero; Best Documentary: Proteus, David Lebrun; Best Short Documentary: Awful Normal, Celesta Davis; Best Foreign Film: At the First Breath of Wind, Franco Pavoli. Best Foreign Short: Stuff That Bear, Bruno Coppola: Best Animation: Oedipus, Jason Wishnow; Best Experimental Film: Public Lighting, Mike Hoolboom; Best Experimental Short: Careless Reef: Marsa Abu Galawa, Gerad Holthius; Best Student Film: Bobby Crush, Cam Archer; Best Student Film of Yore: Evergreen, Ray Manzarek; Best Youth Film: Untitled, Santiago Coles; and last but not least, Director's Choice—Best Socially Conscious Horror Film: The Creature From the Sunny Side Up Trailer Park, Christopher Coppola.
---
Nüz just loves juicy tips: Drop a line to 115 Cooper St, Santa Cruz, 95060, email us at , or call our hotline at 457.9000, ext 214.
---
[ Santa Cruz | Metroactive Central | Archives ]