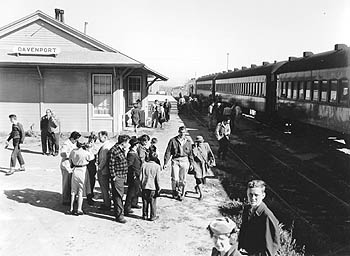 Covello & Covello Historical Photo Collection

Davenport Train Station April 25, 1948: I've had this photo for years and it just dawned on me that this was taken during some special train event. These folks aren't going anywhere, they're just waiting for the train. No baggage, no luggage carts, no cars, and the station looks like it's been closed a long time.

Bruce Bratton

BONFANTE GARDENS. It's worth taking the trip to see Bonfante Gardens out on Highway 152 near Gilroy. The admission price of $29.95 per adult and $19.95 for kids over 2 may seem steep, but it's comparable to Boardwalk or Great America prices. What you get is acres of gardens--very special gardens--and 22 family-type rides. It's great to take grandchildren to, and without all the thrill rides there aren't teenagers hanging out there. It's a theme park and the plants, flowers and trees are the theme. There are some special days when you can go for $10.95 and just see the gardens and only the park train and the sky train are running. Yes, 25 of Axel Erlandson's 70 crazy trees from his Scotts Valley Tree Circus are still alive and well and are featured in the Gardens. Go to www.bonfantegardens.com and check it out.

BARBARA LEE AT THE DEL MAR. The Resource Center For Nonviolence is bringing Congressmember Barbara Lee to the Theatre Del Mar Saturday, June 29, at 1pm. Barbara, as you undoubtedly know, was the only person in Congress to vote against Bush's declaration of permanent war. Howard Zinn said, "If Congress were full of Barbara Lees we would have a better America and a more peaceful world." Get tickets at Bookshop Santa Cruz or at the Resource Center at 515 Broadway, or call 423.1626 and also take a look at www.rcnv.org/barbaralee.htm.

BACH AT HOLY CROSS CHURCH. The Santa Cruz Chorale will perform J.S. Bach's Mass in F Major (Missa Brevis), Cantata no. 78 and other ditties by the master on June 8 at 8pm and on June 9 at 4pm. The Monterey Bay Sinfonietta will be guest soloists and Paul Voerwerk will be conducting. Tickets at the door and you can get more information by calling 427.8023. The performances will be at Holy Cross Church, right where they should be.

MORE ON TELESCOPES IN HAWAII. We've all heard for years about the great astronomical advancements from having telescopes on Mauna Kea on Hawaii, the big island. Mauna Kea, which according to my map is 13,796 feet high and sitting out there in the middle of the Pacific, provides some great sky research. What we haven't heard about is that Mauna Kea "looms as a pinnacle of controversy where cultures and opposing needs collide," as it says in the April issue of the Office of Hawaiian Affairs (OHA) newspaper. The OHA is opposing the construction of more telescopes on their sacred land by filing a lawsuit demanding an EIR. The Royal Order of Kamehameha and three other Hawaiian organizations say "Mauna Kea is just as awesome as any statue of Buddha or St. Peter's Cathedral or the Holy City of Jerusalem, and man did not make Mauna Kea. God made it." Locals revere Mauna Kea as the home of their powerful deities; they also hold the land sacred because their ancestors are buried there. In addition to all of that, there are many endangered species living in that same area. We're talking about 11,288 acres of land that the University of Hawaii has leased for $1 per year from the state. They're also discussing the 600-acre "astronomy precinct" where billions of dollars have already been spent to house 16 existing telescopes. NASA, UC-Santa Cruz, the University of Hawaii and other international interests want to add 76--that's 76--more telescopes. As promised, I'll let you know as soon as I get back from Maui and Kauai what I heard from the locals.

CABRILLO MUSIC FESTIVAL. Everybody probably heard about this year's 40th annual Cabrillo Festival of Contemporary Music and their annual grand plans while I was in Berlin, but just in case: We'll get a chance to see and hear noted percussionist Evelyn Glennie on Saturday, Aug. 10, the world-famed Kronos Quartet on Wednesday, Aug. 7, and Mark Adamo's opera Little Women on August 2, 3 and 4. There'll be the usual Music at the Mission San Juan Bautista Sunday, Aug. 11, and the orchestra will play an evening of works by composer Christopher Rouse, who'll be there, too. If you really want to enjoy this year's festival, house one of the musicians. It's been a tradition for decades, and believe you me there have been some very interesting relationships because of those housing arrangements. Call 426.6966 and find out about musician housing, or call 420.5260 and get good seats. Better yet, go to www.cabrillomusic.org and that'll tell you everything you need to know.

HEMLOCK SOCIETY TALK. Faye Girsch, past president and current spokesperson for the National Hemlock Society, will be giving a talk at the London Nelson Center Tuesday, June 18, at 2:30pm. I haven't been to a Hemlock Society meeting in a while, so I'm not sure what topics are hot right now. I imagine things like self-assisted suicide, helping others die easily and topics like that will be discussed.

NAME CALLING. David Robinette emailed a while back to tell us all about "aptronyms." That's when someone's name is especially suited to the work they do. David sent along some beauties like Dan Druff who's a barber, Felicity Foote is a dance teacher, James Bugg is an exterminator. Everybody knows about William Wordsworth the poet, Margaret Court the tennis player, astronaut Sally Ride and Jim Kick the football player, and he ended his note with Lorena Bobbitt (and she did). We do have some local area aptronyms; send some in and we can share, as they used to say.
---
Bruce critiques films every other Thursday on KUSP-FM (88.9). Reach Bruce at [email protected]
---
[ Santa Cruz | Metroactive Central | Archives ]