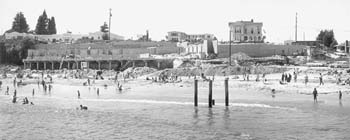 Photograph by Covello & Covello Historical Photo Collection.

Building the West Coast Santa Cruz Hotel, 1962: Of course, this structure will always be known as the Dream Inn to longtimers and as very tall trash to environmentalists. You can see the Sisters' Hospital on the left above the construction. I've been corrected recently for saying this hospital moved a few times and became Dominican Hospital. It didn't, and I'll get more into that later.

Bruce Bratton

THE SANTA CRUZ CITY CLUB. You probably haven't seen any notices about its meetings or read any articles about this club in the papers. You can, however, find out some stuff about the club at www.santacruzcityclub.org. It claims to be a club that wants to have a "rational discussion of complex community problems" and states that it is open to all points of view. Once you read into the 46 messages on the site, you'll see it isn't really all that open. You'll see that they call UCSC students "fools on the hill" and refer to Santa Cruz as the "People's Republic of Santa Claus," while prime club mover Norm Lezin advises, "Encourage your conservative friends to attend because we're not a SCAN for grownups." The club seems to consist mostly of the folks who pushed for district elections. Names like Rod Quartararo, B. Jefferson LeBlanc, Owen Lawlor, Westside Al Bailey, Mark Primack and the usual suspect Michael Schmidt are all over the communications. Mike and Janet Singer of the Santa Cruz Walk and Roll website are a big part of the club, as is Yancy Lind, president of Lutris. Joe Ghio contributed a note, and Ian McFadden added an opinion on the proposed Metro location. Some folks want to move the downtown Metro bus site; others put down the South Mall problems. Of course, they're opposed to the downtown plaza, as is the Santa Cruz City Council, so it's fascinating reading. Two items that certainly caught my eye were that they debated whether to meet at Santa Cruz Biotech, which offered them the space, because of what it might do to Schmidt's image; and the other was that Norm Lezin wants to order two "Bruce Bratton slammed me & I'm proud of it!" T-shirts that somebody else wanted to produce. Hell's bells, I'll take three T-shirts and autograph some, if the proceeds go to SCAN.

FRESH SALMON. Lots of people got in touch to tell us that Live Oak Market has good prices on fresh salmon. Gary Bascou called to say that Staff of Life even has a special license that allows it to buy fish direct from the fisherman, so their salmon are fresh, too.

MORE ON THAT CLUB. Just to be perfectly clear, I think that Santa Cruz City Club is a great idea. It's just that the members should be more honest about their political and undemocratic leanings. They need to be more like SCAN: open, honest, democratic, ethical, fair, kind to children and dedicated to upholding the American way of life.

NOT A MALL. It's a longtime bad habit to call Pacific Avenue in downtown Santa Cruz a mall, and I've been corrected many times for that one, too. A mall in any dictionary refers to a place where people walk, not where people drive. Since downtown merchants would sooner start a civil war than close Pacific Avenue to traffic, we need to remember never to call it Pacific Garden Mall--that, like the plaza, was only a dream.

DOMINICAN NURSES IN TROUBLE. We've been reading about the national shortage of nurses, but there's not much about the negotiating going on at Dominican with its overworked nurses. We're losing many new nurses due to the high cost of housing, and the ones who are staying are getting mad as hell. Their workload has increased, care is suffering, people are sicker now--and with direct admission, patients aren't even stabilized before being admitted. The nurses' contract expired at the end of March, and last week, the nurses voted to authorize a strike. The nurses also say that they are mad that the management's top echelon is getting paid big bucks, and meanwhile the hospital is one or two nurses short per shift. Talk to your favorite nurses and ask them about what's really happening.

DRIVE-BY SINGINGS? Tenor Larry Swanson of the Cabrillo College Chorus tells me that the chorus, on its last trip to Italy, did a few of what they call "drive-by singings." The chorus, under the direction of Cheryl Anderson, while on tour with no advance notice, jumps off the bus, goes into a cathedral, sings about a 15-minute selection of pieces, startles all the tourists and the amazed clergy, then jumps back into the bus and heads to the next concert. The chorus will be doing more of those drive-bys on its two-week tour to Spain a few weeks from now. It cracks me up to think of the reactions from the priests and tourists to this anonymous choir that just sings and runs--great fun and a wonderful spirit for all concerned.

LOCAL CINEMA NEWS. Proud parents Andrew and Jude DuBois tell us that daughter Dierdre DuBois wrote and performs "Temoine" on The Center of The World soundtrack. The song in the Wayne Wang film is from her group Ekova. Diedre went to Gault and Branciforte schools, then to Harbor and Soquel high schools, graduating in 1987. She lives and performs in Paris, and records for Sony over there. She used to work at Togo's near Capitola Road and made bagels at the Bagelry downtown. So you see, there is a point to all of this. ... Save 12:30pm on July 14, that's when movie star and longtime Santa Cruz County resident Walter Reed will put his hands in cement in front of the Nickelodeon Theater. After that, there'll be a screening of a newly restored UCLA print of Randolph Scott's Seven Men From Now, directed by Budd Boetticher and featuring Reed. He plays "sort of a wimp," as Walter calls it. More details to follow.

VOLUNTARY BLACKOUT. Many folks have emailed the great idea of turning off as many electrical items as possible on June 21, between 7 and 10pm. It's not just the summer solstice and the longest day of the year but also a time when people all over the world can save electricity between those hours and go for walks, read books and forget about TV, VCRs, air conditioners, computers and other devil's contraptions.

MURAL RESPONSIBILITY. Doesn't it seem fair that the owners of buildings with murals on them take a civic sense of responsibility for those murals? La Esperanza Market on Mission and Laurel has been cluttering up that magnificent mural with all sorts of discarded refrigerators and junk. Upper Crust Pizza on Mission has allowed its mural to fade for years, and that's a shame. Lenz Art used to take pride in presenting changing murals of meaning and integrity, and now it doesn't seem to care anymore. Santa Cruz once had a fine sense of murals that were more than decorations. What happened?

CABRILLO MUSIC FESTIVAL. Don't forget that the CabMuFest is presenting two fully staged productions of Philip Glass' 1982 opera, The Photographer, on Aug. 3 and 5. This will be the West Coast premiere. The festival is also presenting Lou Harrison's six-act opera Rapunzel, on Aug. 11. Because there are numerous fans of these composers all over the world who will be clamoring for tickets to these rarely performed works, you better get your tickets asap. Because the festival is also presenting compositions by John Adams, Christopher Rouse, Virgil Thomson, John Williams, Richard Strauss and Gustav Holst, I'm betting there'll be more sold-out concerts this year than ever before. There are also free and open rehearsals at the Santa Cruz Civic Auditorium and free festival events. Contact the Cabrillo Festival Office at 426.6966 or email [email protected].
---
Bruce critiques films every other Thursday on KUSP-FM (88.9) at 12:50pm. Reach Bruce at [email protected] or 457.5814, ext. 400.
---
[ Santa Cruz | MetroActive Central | Archives ]