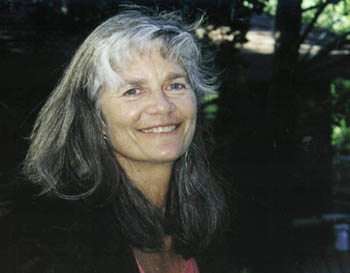 Bobsy Draper, 1941-2001
By Stephen Kessler
ONE OF THE brighter lights in local media and progressive political circles through the 1980s and '90s died April 30 in Novato after a long fight with breast cancer. She was 59.
Bobsy Draper arrived in Santa Cruz in 1983 after several years of traveling in a van around North, Central and South America with her partner Abalone Walsh, spending time in various indigenous communities, doing radio documentaries and filing stories with the Pacifica network on native American cultural and political issues. The physical stamina and spiritual commitment required for such an intercontinental odyssey were typical of her ready-for-anything sense of adventure and her desire to improve the world by helping others.
Her upbeat personality, her compassion and generosity enabled her to connect with and contribute to numerous institutions, groups and movements here virtually from the moment of her arrival in Santa Cruz.
As an editor of the feminist newspaper Matrix; a programmer and board member of KUSP; an organizer of the Center for American Studies and Activities; a worker in various Native and Latin American solidarity organizations; an activist in local political campaigns; a supporter of the women's health group WomenCARE; and a founder, board member and financial investor in such publications as El Andar and The Sun, Bobsy made her presence felt in countless ways, yet always kept a fairly low profile.
Despite her beauty and charisma, she never sought the spotlight but preferred to work behind the scenes for the causes she believed in, whether that meant helping to organize an event or running errands or doing physical labor or writing a check. Her privileged background, rather than set her apart from her less-well-off friends and compañeros, gave her the material resources to put her money where her values were.
In recent years, while carrying on with various political activities, her journey took an inward turn in search of a sense of calm for her restless spirit. Her engagement with the world, while no doubt fulfilling in important ways, may at times have sacrificed her personal needs for those of other people. Now, it seemed, she needed more time to find her own psychic center. After surgery for breast cancer in 1991, she became more intent on healing herself, physically and otherwise.
While this evolution from political work to the more elusive realm of spiritual growth may not be completely unheard-of, Bobsy's combination of practical activism and psychic self-exploration, sustaining both at the expense of neither, was and is unusual among people who tend to gravitate toward one of those worlds or the other.
About three years ago she met a man named Raven Jones, with whom she formed a powerful bond of love and friendship. With Raven she seemed to have found a deep sense of belonging that, until then, had eluded her. She sounded, to me and other friends who'd known her over the years, happy in a way she hadn't been before. Then her cancer returned.
Bobsy and Raven were married a week before she died.
The extremely diverse, multigenerational, multicultural mix of hundreds of people at her Santa Cruz memorial in May was testimony to the great breadth of her soul.
[ Santa Cruz | MetroActive Central | Archives ]