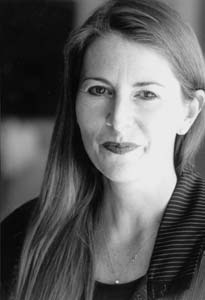 Poetry Knows: Vecchione's own literary experiences inspired her to write a book linking creativity and the spirit.





Pen and Prayer

Patrice Vecchione's new book explores spiritual side of the writing life

By Julia Chiapella

LET'S GET ONE thing straight: there is no easy way to be a writer. It's lonely. It's unpredictable. It seldom pays well. That said, it is astonishing that so many choose writing when there are far less taxing careers. Consider dog grooming or mail delivery. These are necessary, worthwhile pursuits that don't demand constant reflection and deliberation while periodically miring one in a pit of self-doubt. So why the hell would anyone want to do such a thing as write?

"Because," says poet and author Patrice Vecchione, "on the other side the rewards are so intoxicating, so surprising and so enormous."

As Vecchione outlines in her new book, Writing and the Spiritual Life: Finding Your Voice by Looking Within, those rewards are the product of serving the inner voice: writing one's way to find that which is essential.

A well-established Monterey Bay Area poet, this is Vecchione's first stab at non-fiction (although she's edited several anthologies). It would seem Vecchione's own periodic tangles with the demons of difficulty are in service to something greater. In fact, those demons in all their terrifying glory are some of the topics dealt with in her book. Doubt, the internal critic and uncertainty are part of the writing process, Vecchione says, but putting your belief in them instead of in the words that are trying to find the light means letting your weaknesses dominate your strengths. And which would you rather believe in: your ability or your inability?

Writing and the Spiritual Life is an enormously friendly book. Gentle but never saccharine, instructive but never pedantic, Vecchione brings to it her considerable experience as a poetry teacher in local schools for more than 20 years. Coupled with a genuine reverence for life and the written word, Vecchione has created a guide for writing that won't guarantee success, but will no doubt inspire those who have neglected their inner voice.

Still, there is no dearth of books encouraging one to write. Self-help guides on writing fill both the shelves of bookstores and the pages of the internet. From Annie Dillard and Anne Lamott to gurus like Natalie Goldberg, authors have taken their experiences and turned them into, if not publisher's gold, at least a little silver.

With all the information out there, it seems an exercise in futility to contribute yet another book on the subject--let alone one by a regional author with little recognition outside her home state. Yet, says Vecchione, the project was born of her desire to fuse writing and the spiritual process more directly than she'd seen it linked. And the audience, she continues, is manifold; writers looking to incorporate their work into a spiritual practice, spiritual seekers looking to deepen their practice through writing, or novices in either venture who are seeking one of those paths.

Writing and the Spiritual Life brings all of Vecchione's considerable grace and bountiful belief in the value of our collective struggle to its pages. The 10-chapter book is filled with personal reflection and candid anecdotes. Significant quotes from other writers begin each chapter, and there are exercises throughout that are designed to help open the floodgates of creativity.

Though Vecchione recalls the experience of finishing the book as "an uphill battle," it's a curious phenomenon that calls her back.

"I'm chomping at the bit to start another book and I think I'm nuts," she says candidly. "That was the hardest thing I've ever done."

Degree of difficulty aside, Vecchione has tapped into a vein that needs mining. Faster computers and designer coffees are a terrific high for a while but eventually breed the notion that something's missing. For Vecchione, it's not so much that your writing brings success but that it brings you to yourself. That's where the real treasures lie.
---
Patrice Vecchione discusses 'Writing and the Spiritual Life' Wednesday, June 6, 7:30pm, at Bookshop Santa Cruz, 1520 Pacific Ave., Santa Cruz; and Thursday, June 7, 6pm, at the Santa Cruz Main Library, 224 Church St., Santa Cruz. For information on her June 9 workshop at the Carl Cherry Center in Carmel, call 624.7491.
---
[ Santa Cruz | MetroActive Central | Archives ]