[ MetroActive Central | Archives ]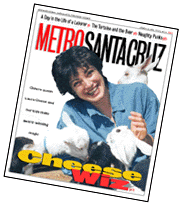 This Week


June 6-12, 1996

Cover
Cheese Wiz: Chèvre queen
Laura Chenel and her kids make
award-winning magic.

News
A Day in the Life of a Laborer: An underground economy provides a worker pool for small businesses and flexible jobs free of resumes, interviews and paperwork.

Nuz: Eating our words; getting plowed; extreme stiles.

Arts & Entertainment
Movies: Reviews and show times for Santa Cruz County.

The Tortoise and the Beer: What happens when a drinking club has a serious running problem?

Talking Pictures: Cowboys ride the wild Twister.

Notes From the Underground: Partying punks attract "the Man."

Pissed!: Seeking American rock's true roots?

Menu
Port Call: Once acquired, a taste for port becomes a passion.

Hometown
Speak Easy: In Santa Cruz and worldwide, Toastmasters take on the terror of public speaking.
---
This page was designed and created by the Boulevards team.
Copyright &copy 1996 Metro Publishing and Virtual Valley, Inc.