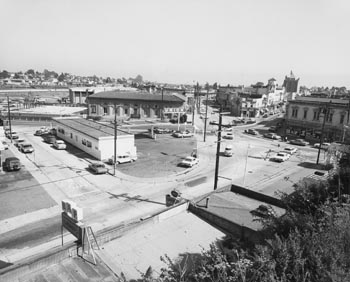 Covello & Covello Historical Photo Collection

Downtown Santa Cruz, 1966: Even newcomers should be able to recognize this view from atop Mission Hill at the end of School Street. You can see the Tea Cup restaurant, the never-to-be-forgotten McHugh & Bianchi grocery, meat and produce store, and again the building of the post office annex. These were the good old days when we only had good chain stores, plus integrity in our downtown businesses.

Bruce Bratton

MORE PARADES. After the We Celebration Parade on Saturday and the Gay Pride Parade on Sunday, everybody I talked to agreed we need more parades in downtown Santa Cruz. We should take the budget from the overly commercial Art, Wine and Jazz Festival, which has mostly out-of-town art and crafts and attracts tourists, and invest it into locally based parades. Parades attract more locals, and more locals need to be attracted to our downtown. The other thing is let's make it mandatory that all parades organize along South Pacific--South Pacific being all the streets below Cathcart and Pacific. It would make the parades longer, show folks how alive and vibrant the South Pacific area is, and it wouldn't cost anybody any more money. Yes, there's plenty of space to get parades together at that end of Pacific. I personally think South Pacific should revive the good old "Slugfest" once held every September in the Gateways parking lot. It was a "Welcome Back UCSC and Cabrilho Students" event. Then we could have a Halloween parade and event on South Pacific, a couple of solstice events, maybe a worldwide "Tattoo as Art" spectacle, who knows? South Pacific is a hot section of town right now, and the Downtown Association plus the Chamber of Commerce plus First Night and other institutions are working overtime to ignore that essential part of our community.

MOVIE TIME. What more do you need to know about Martin Lawrence's Big Momma's House? It's exactly what you think it is. If you liked Keanu Reeves as Buddha, you'll love Ethan Hawke as Hamlet in Hamlet Does New York. One interesting thing I learned was that there have been more than 40 Hamlet films, and this is the first one starring a Hamlet who's under 30! Peter Greenaway's 8 1/2 Women is more or less a male sex fantasy--less actually. You aren't going to miss anything by not going.

ABOUT BORDERS. If you'd like to join the boycott and pledge never to enter Borders, you can sign on at www.roguecom.com/ no2borders.html on the web. Boycotting is a statement, a commitment and a grand old American tradition. I think some folks are forgetting that the fight against Borders is more than about local competition, it's about the power that Borders has in the publishing business. It's about the quality and freedom of our being able to read and buy all the books that are fit to print. It's a bit similar to what Blockbuster, Wherehouse and Hollywood Video did to those 10 or more little mom-and-pop video-rental stores we used to have around the county.

KINKADE GALLERY TO OPEN. I got the news too late last week, but it's definite, a Thomas Kinkade Gallery is opening around August in the University Town Center at Cathcart and Pacific. Kinkade paintings are to art as McDonald's is to fine restaurants. One zealous Kinkade supporter emailed me to say that Kinkade now has 280 family-owned galleries in the United States and has turned down 1,700 applications this year for new galleries. So, technically, these galleries aren't franchises, but I doubt that any "gallery" sells anything but Kinkades--and only at fixed prices. The supporter went on to say Kinkade "only paints masterpieces" and suggested that maybe I was "against Kinkade promoting family values and faith in God instead of the Gay Pride Parade." Kinkade produces photos on canvas that look like original oil paintings; they're called canvas lithographs. One woman I met was a licensed Kinkade highlighter; she went to Kinkade Galleries and painted little dots of highlights on the photo paintings. I apologize to folks who haven't heard of this most successful painter. His ads for plates, little waterfalls and stuff like that are usually in Sunday supplements. More on this later too. Like Borders, why don't these outlets open in Watsonville? Watsonville doesn't even have one real bookstore. Besides that, there's already a Kinkade family-owned operation in Capitola and another in Aptos.

CABRILLO MUSIC FESTIVAL. There's been a tradition of visiting musicians staying in local homes and being "adopted" by area families for a couple of weeks ever since the festival began decades ago. This year, the festival is expecting more than 85 musicians, composers and other creative types to be here from July 31 through Aug. 13. They only need space for six or seven musicians. It's been a rewarding experience for many families through the years, as they get to be on the inside of the festival, attend rehearsals and learn about being a professional musician. Festival folks tell me that the first get-together for planning the production side of Aaron Copland's opera The Tender Land went swimmingly, and adrenaline is pumping magically. Call the Cabrillo Music Festival office at 426.6966.

MOVING THE PALACE. Roy Trowbridge of the Palace Stationers Trowbridges--and erstwhile president of the company--tells me that Palace is making its third move on Pacific Avenue and is moving into the old Crown Books space next to the Santa Cruz Cinema 9. Palace plans on being open by Nov. 1 or for sure by Christmas shopping time. Palace will be doubling the size of its present store to 9,400 square feet. It will drop the Hallmark line of cards and won't be selling the kind of heavy office furniture it carries in its Capitola store. The store will be increasing the office-supplies section and will offer more "social" products like gifts, notebooks and things. Palace used to be part of the Monterey Palace Stationers and opened on Pacific Avenue in 1949. It used to be where Artisans was, then where Schipper Dillon was, then where Marini's is. It opened in its present site in February 1988. It was a great opening; I remember it well. According to almost confirmed rumors, a locally owned clothier is scheduled to open in the present Palace site after Dec. 31.

UCSC ARTS & LECTURES. If you're as big a fan of the UCSC Arts and Lectures program as I am, you'll be glad to know Molly Ivins will probably be here this season. The Buena Vista Social Club will be at the Santa Cruz Civic Auditorium on Oct. 4. Alvin Ailey Dance Company will be here, plus world music from Turkey, Ireland and Romania. NPR favorites like Sandra Tsing Loh with Sarah Vowell, and Santa Cruz dancers Tandy Beal, Mel Wong and Scott Wells will perform. A Noise Within, the Acting Company from New York, Le Deux Mondes from Canada, David Finckel of the Emerson String Quartet and cellist Wu Han are slated to appear--then there's Nanci Griffith and the Blue Moon Orchestra and great evenings like that. Now if you want tickets, go to www.events.ucsc.edu/artslecs and get the necessary info. Tickets to the Buena Vista Social Club Concert at the civic will be available this summer through the brochure. Priority tickets will go to subscribers and donors to the UCSC Art & Lectures program. Leave a message at 459.4058 or try [email protected].

EN SUMARIO. The UCSC music department's production of Carmen was just fine. Students Ariela Morgenstern, Jessica Sandidge and Meghann Welsh should really consider an opera career. They have wonderful voices. Serge Dedina, conservation director of Wildcoast and a renowned gray whale researcher, will be speaking and signing copies of his book at Bookshop Santa Cruz Monday (June 12) at 7: 30pm. Remember that the real opening for Borders is next weekend. It's still hard to believe that Capitola was successful at keeping Borders out, as have several cities in the United States, but Santa Cruz blew it.
---
Bruce critiques films every other Thursday on KUSP (88.9FM). Reach Bruce at [email protected] cruzio.com or at 457.5814, ext. 400
---
[ Santa Cruz | MetroActive Central | Archives ]