Disc and Dat

New releases by local bands lay back with tasteful interpretations of jazz standards and hit hard with rock-solid originals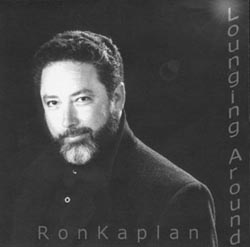 Ron Kaplan
Lounging Around
Kapland Records
Singer Ron Kaplan has a facile voice with a warm, breezy tone like an autumn Santa Ana blowing to sea from Southern California deserts--a sound well suited to the jazz standards ("Cry Me a River," "Just One of Those Things," "Caravan," "Moanin'," etc.) that comprise the core of his repertoire. Though he rarely improvises, Kaplan makes very tasteful interpretative choices on melodic lines, adding a note of surprise here, a subtle commentary of articulation there. Also greatly to his credit, Kaplan works with the finest players around--Hammond B-3 player Steve Czarnecki and flugelhornist Dmitri Matheny--and those not so around but who still have local ties, like Aptos High grad and now New York scene saxman Donny McCaslin.
Where this second full-length (his debut release, High Standards, hit the streets roughly two and a half years ago) falls short is on matters of production that keep some elements of the playing and the recorded presentation from coming together as a whole. Kaplan's arrangements are straight-ahead with little craft to make them his own, and the band's reaches beyond mainstream interpretation, as with some of McCaslin's harmonically searching solos, come off as odd and out of character. And while the mix on the band is clear, bright and balanced, Kaplan's voice is clouded by too much reverb; a voice as full and cutting as his only labors when over-processed. Lounging Around is all-in-all a sure-footed second step from one of the area's top jazz singers. The opportunity that Kaplan missed, though, is to stretch out his stride from a strong debut. (Rob Pratt)
---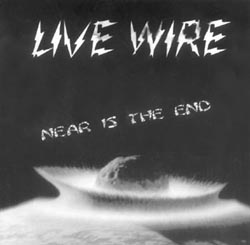 Live Wire
Near Is the End
(Self-released)
Their high school teachers may be reluctant to write "This Rocks" on the top of their first release but I'm not. Live Wire's first effort is way better than bands at least one-fourth to twice their age. While the band doesn't really skid off the rails of metallic hardcore conformity, Live Wire certainly celebrates the form. Songs like "Burning Room" and "Shall Set Me Free" chaotically twist around a melody, then abandon it only to scoop it up later at twice the drenching speed. Sometimes these boys sound like Shostakovich's bad-ass grandchildren, other times the genius cousins of Metallica.
Marc Lewis's singing and lyrics are mostly hallmark existential apocryphal nightmares sung with all the guttural howl of a medium-sized puppy on a leash. However he makes some real important points here, especially with his guitar. Jeff Sturgis plays like his mother wouldn't feed him until he plays the bass excellently. And Andrew Legrande plays the drums, well, like the rest of band, with the unbelievable smell of teen spirit. (Bruce Willey)
---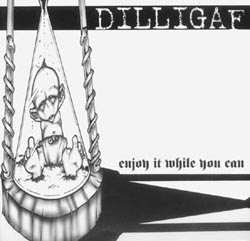 Dilligaf
Enjoy It While You Can
Hard Eight Records
Dilligaf with Enjoy It While You Can contributes the band's second full-length to the rock-metal-madness of the Santa Cruz scene. The album finds Arch Owens, Erik K, and Jeff Smith still slugging out tunes that provide delicate ears with obnoxiously crunchy riffs. Arch's wicked guitar solos are enough to scare Ted Nugent into selling his brown leather loin cloth. Drawing from other musical influences, "Stone Confusion" breaks down into a short-but-sweet jazzy jam, while "One Thing" and "Mice" are straight-ahead headbangers. Recorded at House Of Faith, this good, straight-ahead recording captures Dilligaf at its best. With the album clocking in at only 26 minutes, you'd better enjoy it while you can. (Velvet Fitzgerald)
---
[ Santa Cruz | MetroActive Central | Archives ]