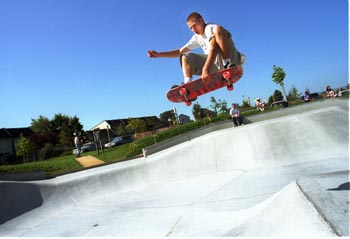 Photograph by George Sakkestad

Taking Off: Derby Park skater Damon Hahn catches air.

Something In the Air

In Santa Cruz, skating dominates youth culture--and delivers a boost to the local economy

By Bruce Willey

AT THE FAR WEST END of Santa Cruz there is a small skate park called Derby. Shaped like a laboratory beaker on its side, Derby has been home for two generations of Santa Cruz skaters, and Alan Petersen knows the place well. He comes fast down the graffiti-painted concrete bowl, soars eight feet into the air, his skateboard spinning beneath his feet. Young skaters look on in devoted awe at the pro in their midst, in the air.

Like the quiet that permeates a golf game or tennis match, they watch in silence, and when Petersen lands, they let out a small whistle, then a whoop comes out of their preteen voices. "Alan is awesome," Aram Shwartz, 11, says, "just completely awesome."

As it turns out, this trick is a real-life embodiment of a Vans advertisement. Shot at Derby with Petersen, the ad is for a line of the quintessential skate shoe named the Alan Petersen signature series. Quiet and unaffected by his fame, Petersen, 28, has been skating for 16 years and turned pro in 1994. On this day, he's out at Derby with his wife, Lorrie, for the fun and the annual Derby-Que. "I'm on the road for eight months out the year. That can be hard," Petersen says, "but I'm not complaining. I'm happy to skate for a living."

Just as Petersen grew up skating and ended up making a living at it, skating has grown into a dominant part of both the culture and the commerce of Santa Cruz. Like a rite of summer, the end of the school year marks a skating season coming into full effect, complete with major social events--usually punk rock concerts, like Saturday's Santa Cruz Civic Auditorium lineup--bounding with strong skater appeal. Though the connection is well known--it's punk that provides the backdrop for skating videos and the sensibility for the skateboarding press--the Skate Jam makes the relationship explicit. With eight national and local bands led by skaters and an on-the-mosh-floor demo by a clutch of pros working out on a half-pipe, the show is a concise sketch of youth culture in Santa Cruz.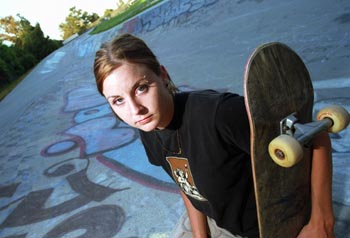 Photograph by George Sakkestad
Roller Derby: Mandy Instone is a regular at Santa Cruz's only skate park.
JASON STRUBING, LONGTIME organizer and sponsor of the informal Derby-Que (as well as owner of Skateworks), sits on a grassy knoll talking with friends and watching his younger brother and pro skater Justin ollie off the side of the bowl. Strubing acknowledges that Santa Cruz has exerted a huge influence on skating all over the world. "If it didn't actually start here then it's a close second."
Whatever predominant theme Santa Cruz seems to have had over the years (fishing village, surf city, hippie town, silicon beach, to name a few), skating has been and continues to be an underground force that defines what this place is to outsiders and locals alike. From the red-and-black Santa Cruz Skateboard logo on the back of people's shirts worldwide to the skate pros who travel as ambassadors of this city, skateboarding, once thought of as a countercultural and miscreant sport, has hit the mainstream big-time.
"I just returned from New Zealand and it [skateboarding] is huge over there like it is here. Every little town has their own skateboard park," Strubing says.
The lack of a viable skatepark in the county is an ongoing controversy that won't go away and, more than anything, festers in the minds of most skaters. On the one hand, the city doesn't want skaters on the streets. But the city then offers the skaters no alternative place of their own. "They want the problem to just go way," explains Bill Ackerman, owner of Bill's Wheels, "but it won't go away. There are too many kids skating. It's just a lifestyle and it overlaps with the whole beach community that is Santa Cruz."
Years of negative stereotyping and lack of sympathetic understanding from cities and towns all over has inevitably turned the simple board with four wheels mounted on trucks into a cultural phenomena, and in turn cemented the skate community into a close-knit bunch of well-intended misfits that is slowly gaining a voice. Skaters have their own politics, clothes, music, language and elaborate terminology for the tricks they do, not to mention a cheerful optimism that things will get better. As a whole, and as a result, they are good kids. Good kids with springy limbs and perfected balance igniting their youthful enthusiasm with a sport that combines individualistic style and a willingness to take calculated chances. Attributes that are good life skills and nearly impossible to teach in school.
"It's been a good fight all my life," Joe Clement, 30, says. "Being in a band gave me a voice for my frustrations about skating. The powers that be make it impossible for these things [skating and skate music] to happen."
Clement has skated since he was 14 and keeps it up. Though an excellent skater in his own right, Clement is best known as the lead singer for the seminal punk rock band Fury 66. "What happens in Santa Cruz is there is a tendency to give a lot of attention to the tourist and student population, and now the dot-com companies because that's where the quick money is. Unfortunately, and to the deficiency of this community, they overlook the locals and the kids."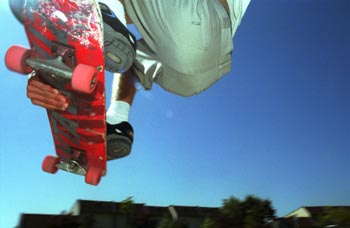 Photograph by George Sakkestad
Cool ... But: Skaters have already left their mark at the new Jose Avenue skate park, but while the small spot is much appreciated, skaters are still sore that plans for a major new park in Santa Cruz--a town more than any other identified with the sport--have stalled.
SLIGHT PROGRESS is being made at the Jose Avenue park in Live Oak. Only a year old, it doesn't quite have well-worn character that Derby has. In fact, it is almost antiseptic: the cement is brand-new white, save for a few drops of blood at the bottom of the bowl. But the kids there are loving it with plenty of sweaty smiles. Emmanuel Guzman is one of them, tearing it up, his skills on the ramp far beyond his mere 15 years.
"There is a way big connection between music and skating that I think is revolutionary. The music made skateboarding better. Skating used to be a rich kid's sport back in the day and then a bunch of punk bands came out and totally changed things so that anybody rich or poor could do it."
Guzman is quick to point out that skaters are grateful for this new park. "I love the skate scene in Santa Cruz. It's like nowhere else. But I knew they were going to put in a chintzy little park like this and say, 'Here's your skatepark, now you greedy little skaters want more?' It's not that way at all."
Guzman is late for a family engagement but before he leaves he swoops up the ramp, does a 180 rail grab, lands it, and skates out of the park. Someday he'll probably be a star at whatever he decides to do. But for now he's just another kid on a skateboard pushing his way home.
---
Fear, U.S. Bombs, Total Chaos, Lost Cause, Union 13, Damnation, Riff Raff 500 and Vicious Midgets play for the Santa Cruz Skate Jam, Saturday at 5pm at the Santa Cruz Civic Auditorium, 307 Church St, Santa Cruz. $22 adv/$26 door. (420.5260)
---
[ Santa Cruz | MetroActive Central | Archives ]