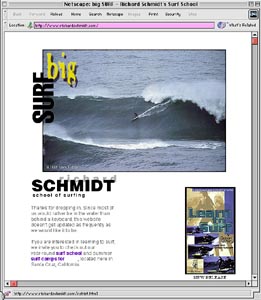 Surfing the Web
By Dan Young
www.richardschmidt.com
ONLINE MEDIA MOGULS might declare that the key to keeping the public's interest in a site is constantly updated information. Not so with Richard Schmidt's site. Surfing--real honest-to-goodness wave riding--is a timeless theme for one of Santa Cruz's top professional surfers.
While obviously promoting his surf school and his sponsors, Schmidt's site is so much more. Here is a well-documented history of modern surfing in our little slice of aqueous heaven told in vignettes from many area surf writers. Chapters include "Ocean Culture," which features surf stories by friends and other contributors, and "Westside Stories," with many stories by Schmidt himself. The "Darkroom" section is a showcase for visuals by Santa Cruz area photographers. There are many killer links, including worthwhile avenues such as www.surfrider.org.
This one gets a top five-board rating not only for its layout as a commercial site but for the obvious level of compassion and love for surfing and for the surfing community that Schmidt conveys. A definite must-surf site.
[ Santa Cruz | MetroActive Central | Archives ]