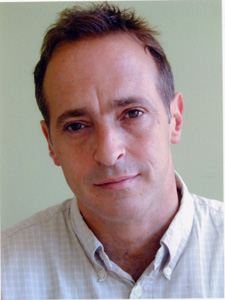 Photograph by Hugh Hamrick

Stalking David Sedaris: He look, as well as talk, pretty one day.

I Can See Your House From Here

In which a local writer unconsciously stalks David Sedaris on several continents and scores an interview with him

By Peter Koht

David Sedaris and I have lived oddly parallel lives. As kids, we both found ourselves marooned in Raleigh, N.C., at the behest of Fortune 500 companies. We both struggled with our mutual identification as Yankees, and then went through a tumultuous phase as drug-addled artists. Later, as relatively sober adults, we both found ourselves in Paris, simultaneously in love with the lack of restrictions upon the public consumption of tobacco and truly baffled as to the sexual identity of a tomato.

After three months in the City of Lights, my house mate handed me a paperback copy of Me Talk Pretty One Day and told me my studies in French finally allowed me to fully appreciate its contents. In between witty observations of the ramifications of the French plural indefinite article and the difficulties of assimilation, Sedaris' words showed a combination of blinding honesty and barbed witticism that was not only entertaining, but also downright addictive.

Reached on the phone in his Fifth Arrondissement apartment, Sedaris, now in his seventh year in Paris, is still a repository of wisdom with regard to living with the Gauls. Sedaris tells me, "The good thing about being an American is that you don't even have to try to be French. You never will be, so why bother?"

While he has learned the language, navigates the culture fairly well and owns property, Sedaris still runs into many confused neighbors. "The problem with living here for so long is that people don't understand what you are doing with your life, so they don't take you seriously. They always say, 'Wouldn't it be nice to be on vacation for seven years.'"

While he doesn't hop on the Metro at 6am for la navette, the only leisure activity he pursues in Paris is a daily visit to the cinema.

"I'm shameless, so I will watch anything," he tells me. "I saw the Star Wars movie yesterday, which was better than the others, but I agree with Anthony Lane from The New Yorker, who wrote that 'it's better than the first two in the way that a natural death is preferable to crucifixion.'"

When not bashing Lucas, the majority of Sedaris' life is spent obsessing over writing. It's a process that is, in Sedaris' opinion, "boring and nobody wants to read about."

As for the fabled honesty that fans find in his first-person essays, Sedaris dismisses the concept: "My real personality is found in my diaries, so I would never, ever, under any circumstances let anyone look at them."

For Sedaris, his biannual book tours are a key step in his creative process. "It's the first step in the editing process," he says. "I can learn everything about these stories before I bring them to an editor. Then when I sit down with one, I can say with authority: 'Don't cut that line, that's my biggest laugh.'

"I am also working on fables," he tells me. "I wrote a bunch of them down, but ended up throwing most of them out. I've kept one, so I might end up with a book that is 2 1/2 pages long."

Given our geographic predilections, I had to ask David about Raleigh. He goes back annually for Christmas with Lou, Lisa and the rest of the Sedaris clan.

"I wish that Raleigh would have stayed the way that it was when we moved there in 1963. It was smaller and the news anchors all had regional accents. Now when you go there, it's all grown up and looks like any other midsized American city." You probably can't even smoke inside anymore.
---
David Sedaris appears Saturday, June 11, 1:30pm, at Capitola Book Café, 1475 41st Ave., Capitola, to read from and sign copies of 'Dress Your Family in Corduroy and Denim'; 831.362.4415.
---
[ Santa Cruz | Metroactive Central | Archives ]