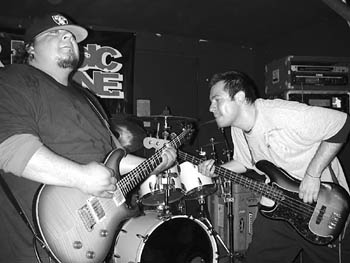 Wait, What Chord Is That? Oh, I See: Ribsy's Nickel is one of the top contenders at the Battle of the Bands Friday.

Ballot to the Head

If you think the Battle of the Bands is a feel-good scenefest, you don't know a thing about the fightin'est gig in town

By Mike Connor

'No one likes to lose, so there's always an excuse," says Lyon Entertainment and Your Music Magazine's founder Mike Lyon, who's working on winding up the fourth year of the Battle of the Bands at the Catalyst this Friday. He's talking about a small scandal that happened during the battle's first year, wherein a music writer learned about an allegedly skewed voting process conveyed by one of that year's contestants. West Side favorites Ribsy's Nickel won the grand prize, and Lyon insists they won fair and square.

"[The reporter] didn't know any of the facts," says Lyon, "and he didn't bother to call me to ask how it was won. What he was assuming was that you can buy a ticket and cast your vote, so any band could just buy a bunch of tickets and cast votes for themselves. But it doesn't work that way. Each individual has to show a ticket upon entry into the show, and at that point they get a ballot. You only get to walk in once with a ticket--we watch that. He was just uninformed on how we run it."

So are lots of people. So let's just start from the beginning.

You Are the Critic

Says Lyon, "Basically what we were trying to do was boost up the music scene here in Santa Cruz. All music lovers are critics at heart, so we'd figure we'd just do this and give them a chance to vote on the bands. We thought if we had a ballot, we could get new fans out and people who don't normally go out, not just the regular bro fans who come out to see the bands they know. It's a way to build up the scene, and a way for the bands to win a bunch of money."

OK, cool, but isn't it all still just a popularity contest?

"The thing is that people will always kinda vote with their heart," says Lyon, "but I've seen fans come out to see one band and actually end up voting for another band. Like, 'Wow that band really blew me away! I'm gonna vote for them.'"

It's a little ridiculous for someone to criticize the fact that popularity is a big factor in winning a battle, says Lyon, when you consider that it's an even bigger factor in a band going on to have any success at all.

"You need to have people at your concerts that are in love with your band," says Lyon. "If you don't have that, you're gonna just be stuck in your garage. So they have to learn about how to market themselves and get a good pull. Being a good band is only half of it--if you want to move on and get a record contract, you gotta learn how to get people out to the shows and get those diehard fans, because that's what the labels look for."

The Numbers Game

Prior to the finals at the Catalyst, 50 bands are hand-picked by the organizers to compete in 14 preliminary rounds at the Mediterranean, three bands per night.

"You start with bands you know are your heavy-hitters," says booking agent Mike Garing, citing bands like Ribsy's Nickel, the Chop Tops and Dub Congress as examples. "There are usually eight to 10 of them, and we contact them first to see how many are interested."

That leaves about 40 out of a total 50 slots open.

"Generally," continues Garing, "the rest are decided by (a) quality, (b) draw, (c) style. We check them out to see if we can match them up with existing bands. As much as possible we try to make the nights of similar genres to cross-pollinate fans."

And the rest?

"The last few slots," Garing says, "there's a band directory in the magazine, and if bands have chosen to support us by purchasing a slot in the directory, then we give them an opportunity to be in the event. Or sometimes bands that are really aggressive calling me, even though it's annoying at the time, when I've got an open slot, those are the bands I drop in."

Unlike past years, which had 12 finalists competing over the course of two nights, this year's final event is a one-night stand featuring only the Top 6 vote-earners--the Chop Tops, Rock Bottom Blues Band, Ribsy's Nickel, Archer, Drive and Drive Time--some of whom drew such huge crowds to the Med that the fire marshal intervened. All the top contenders are campaigning vigorously to get all their fans--you know who you are--to the finals. The grand prize? $4,000 in cash.

Says Lyon: "Come on out and have a good time, vote for your favorite bands and help 'em win some cash. The bands need it."
---
The Battle of the Bands finals happens at 9pm on Friday, June 9, at the Catalyst. Tickets are $10-$12; the show is all ages; 831.423.1336.
---
[ Santa Cruz | Metroactive Central | Archives ]