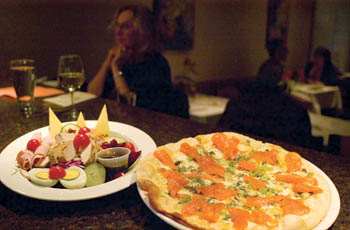 Photograph by Stephen Laufer

By The Way, Which One's Al?: The pizza al salmone and chef's salad are two specialties at Al Boccalino, where owners Francine and Duncan Kerr are hopelessly devoted to food.

Our Dinners Could Be Your Life

The owners of Al Boccalino bring their almost round-the-clock devotion to cooking and eating to Aptos

By Jessica Neuman Beck

When Francine Kerr says her family take their food seriously, she is not kidding.

"We like to cook. We like to eat," she says. "We like to sit down at the table, the families get together and you start at 12, and you're still at 6 at the table, and you start again. You talk politics and all other things--we like to do that. We like to spend time eating, it's very important to us."

Kerr and her husband, Duncan, have tried to make Al Boccalino a reflection of that passion. Tucked away in Aptos Village Square, their tiny, family-owned Italian restaurant has been serving delicious dinners to customers in the know since February, when it opened.

Walk into Al Boccalino and you run a good chance of being personally greeted by one of the owners, who will pop by your table regularly to make sure you're enjoying your food and to chat about the wine. "I love to treat people really like my guests at home," says Kerr. "It's very nice to have this contact." It's a relaxed, friendly atmosphere that perfectly complements the food."

Francine Kerr calls her entrees "simple, healthy food," and her love of cooking continues to be evident as she starts talking about them.

"Everything I serve is homemade," she says. "I don't make my own pasta, but I make my own ravioli. The noodles I import from Italy, but all the sauces, all the dessert, everything is homemade. I use only extra virgin olive oil. I just use a lot of organic flours. All the tomatoes are organic tomatoes. Whatever I can buy organic I will buy organic. It's very healthy food."

A native of Switzerland, Kerr's early cooking experiences give her a unique angle on Italian food.

"In the States, because there are so many different cultures, you know, you have Chinese pizza or Italian Chinese noodles--which is all right, " Kerr laughs. "But since I was not influenced like that, our food is really very classic recipes."

The name, even, is a classic. "Boccalino means a pitcher, like a decanter," she explains. "Al Boccalino means at the boccalino, and it's really a very common name for a pizza place in Switzerland."

Kerr's restaurant serves pizza, but it's not the greasy, cheese-laden fare found in your typical pizza joint. Featuring toppings like glazed onions and Marscapone (on the Pizza Bianca) and zucchini, eggplant and pesto sauce (on the Pizza Alla Giardiniera) layered on a crust good enough to write sonnets about, these pizzas have a definite upscale appeal and go perfectly with the pasta and ravioli dishes on the menu.

The pasta entrees are all traditional recipes. Kerr's favorite is the Spaghetti Con Ragu Alla Bolognese. "It's classic, and I use only organic meat, because it's important, and organic tomatoes. It's really old-fashioned. Probably one of the most basic meals from Italy, and I like that," says Kerr. "My husband, he will eat penne al salmone, which is a dish that has chopped up artichoke hearts with cream and a little lemon. It has smoked salmon on top. It's a very nice combination--the hot cream and the salmon and the noodles."

Al Boccolino's desserts are nothing less than divine. "We have flourless chocolate cake that I make with Swiss chocolate. I make panne cotta. It's very soft, and I serve fresh berries with it." Kerr also makes a tiramisu that is to die for--light and not too sweet, it goes perfectly with the thick, strong coffee she serves.

Opening a new restaurant can be challenging, but Kerr believes that her organic approach to fine dining is vital. "This is really why we are all so successful--you can really taste the difference," Kerr tells us. "Our food is really something that you like to go eat."
---
Al Boccolino is located at 7960 Soquel Drive, Suite E, in Aptos. It is open for lunch Tuesday through Friday 11:30am-2pm, and for dinner Tuesday through Saturday 5-9pm; 831.685.1000.
---
[ Santa Cruz | Metroactive Central | Archives ]