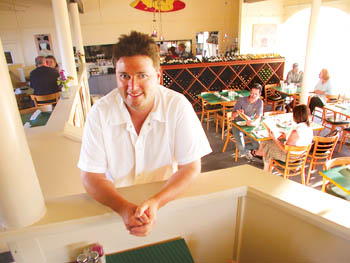 Photograph by Stephen Laufer

Morris Code: Thanks to owner Robert Morris, fresh organic produce is the order of the day every day at Blacks Beach.

Beach Blanket Bonanza

The good, the fresh and the organic all get together in delicious ways at Blacks Beach, a quintessential beach colony cafe

By Christina Waters

Gorgeous plates filled with ingredients only moments past infancy are the rule at the coastal neighborhood magnet finessed by chef Rob Morris.

Blacks Beach Cafe did things a little differently from the moment it opened a scant decade ago, showcasing organic produce and offering a menu rife with voluptuous vegetable-intensive dishes as well as selected meat and seafood specialties. And that difference has not only paid off, it has help Blacks Beach grow into its place as one of the most confident and interesting dining prospects in Santa Cruz.

Seasonal vegetable dishes--for example, the current asparagus risotto or curried Moroccan couscous--are provocatively listed as entrees rather than side dishes, boldly asserting that the kitchen puts as much creativity into its heirloom potato recipes as it does into its grilled prawns. The "grill" side of the menu lists seafood, meat and poultry possibilities--you may select any one of a half dozen "entrees" to go with your grill item, or simply enjoy each as a stand-alone choice. The rest of Blacks Beach is dedicated to salads, soups and flavor-intensive starters like the prosciutto-wrapped asparagus and pistachio-crusted goat cheese appetizers Leslie and I sampled last week.

From our table in the upper mezzanine level, we admired the tiny pin spots festooning the beach/industrial cafe interior, lined with robust artwork and a cast of colorful patrons. Vivacious, yes, but without the decibel overload of many popular bistros. From Harley Farms came piquant little rounds of creamy chèvre, pan-fried in a nut crust and then drizzled--I swoon at the memory--with a pomegranate reduction. Tangy, exotic and sweet, the fruit essence mingled with each taste of warm cheese ($6.95). Here was an appetizer worth a year in Provence, especially when paired with a glass of rich, ripe Deakins Shiraz ($6.25).

Leslie was mad for a generous portion of roast asparagus spears, each long emerald spear wrapped in crisp prosciutto--the thinking woman's bacon--and sided by a tiny, tender salad perfumed with truffle oil and parmesan croutons ($8.75). The starter, made distinctive by the primavera lightness of the asparagus and the earthy depths of truffle oil, worked well with a glass of Morgan Chardonnay '01 ($7.50) filled with tropical tones of pineapple and kiwi.

Deep wide plates beautifully framed our main courses. My selection of grilled local salmon, art-directed on a grand scale, arrived as an arc of brilliant scarlet on a mosaic of delicious vegetable companions. From the farmers market, foraging chef Morris had selected cannellini beans, asparagus, golden zucchini and carrots, all tossed with pine nuts and assorted heady herbs ($18.95). Divinely fresh and clear-tasting, their preparation was subtle rather than robust.

Leslie's evening special snapper was presented as a pair of fillets, very lightly rubbed with spices and expertly grilled to the crisp-outside-moist-inside point. The delicious fillets were stacked high on a bed of green-tinged asparagus risotto, creamy and perfumed by herbs and a hint of parmesan ($19.95). Morris works with the finest of ingredients and seems inclined to stand back, allowing their natural glory to emerge without much in the way of conceptual tinkering. While occasionally this approach makes one want to reach for the salt, in general it flies well--often soaring.

Our desserts put us in touch with the best true ripe strawberry flavor we could remember. A substantial bowl of fragrant berries arrived in a pool of ginger syrup topped with vanilla ice cream--edible summertime. And another order of Mexican chocolate bread pudding tasted light and noncloying, though some moistening sauce might have been an interesting alternative to the ice cream topping (both $6). Summer fun for finicky taste buds--Blacks Beach.
---
Blacks Beach Cafe
Address: 2-1490 East Cliff Drive, Santa Cruz
Phone: 831.475.2233
Hours: Dinner from 5pm Tues-Sun ; breakfast 9am-2pm Sat and Sun
Ambience: **1/2 Cheerful beach industrial interior lined with good-looking artwork and an upbeat attitude
Service: ** Skillful, sometimes perfunctory; the off-beat menu listings need upfront explanation.
Cuisine: *** Solid culinary skills and a devotion to the finest ingredients rewards legions of regulars.
Overall: Blacks Beach rewards the beachcombing connoisseur.
---
[ Santa Cruz | Metroactive Central | Archives ]