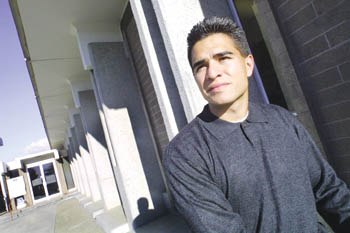 Photograph by George Sakkestad

Troubled Paz: 'I like intensity,' the beleaguered Watsonville mayor said last year.

Nüz

Boy, (Are We) Wonder(ing)?

News that Richard de la Paz has stepped aside as Watsonville mayor while deputies investigate allegations that he struck a woman at The Villager bar in Watsonville the night of May 28 got one Metro Santa Cruz reader faxing Nüz a copy of a November 2002 Register Pajaronian article.

Printed shortly after the 26-year-old made Watsonville history by becoming the town's youngest mayor, the article quoted de la Paz thus:

"I'm not like most other people my age. I know I'm still young, but I can't do the same things other people in their 20s get to do. I can't go out every night and party or spend the evenings at nightclubs. I have many responsibilities."

No kidding. On top of being mayor and working as a sales rep for Graniterock Construction, de la Paz has two daughters and has been married for four years to his 22-year-old wife, Michelle.

Later in the same article, de la Paz, who previously served in the U.S. Navy, said, "I have a sort of aggressive attitude, and I think that comes from my service in the military ... I like intensity. "

All of which proves ... absolutely nothing. So far.

Sure, it seems fucked up for a mayor to get involved in a drunken/violent situation, but for all we know he was set up and/or was trying to defend himself, and Nüz plans to reserve judgment until deputies complete investigations.

Meanwhile, Santa Cruz Mayor Emily Reilly says she finds the situation sad and feels sorry for his family.

"I think he's trying to make the best of an unfortunate situation," she said of his decision to step aside. "We judge political figures by a higher standard. I'm glad the matter's being taken seriously."

So far, all de la Paz has relinquished by stepping aside is chairing a few meetings, though the move did save the council from wasting time discussing the matter. And as long as he's telling the truth, there's no reason his political career should be in ruins. If not ...

Do Frat Boys Feel Pain?

News that two UCSC frat boys caught, barbecued and fed a fish called Midas to pledges in the wee hours of May 20 got Nüz suspecting that neither culprit read a recent University of Edinburgh report that suggests that fish feel pain.

Scottish researchers reportedly injected bee venom into the jaws of some trout, after which the fish were seen rubbing their lips and going into rocking motions--though University of Wyoming fish physiologist James Rose says that to show that fish experience pain "it's necessary to show that a fish has consciousness."

All of which leaves Nüz wondering whether the 9-year-old Yamabuki Ogon koi, who lived in the Porter College fish pond and is said to have also responded to the name of Sammy, Goldie and Big Red, was conscious that he was a huge hit with staffers, students and campus kids.

Philosophical questions aside, his demise has ignited a firestorm of anti-frat feelings on the redwood-studded campus.

Said one outraged UCSC staffer, "Midas was a really gentle creature who'd eat out of your hand. This latest incident was just one in a long string of events--graffiti all over the performing arts bunker, name plates stolen from Porter and students on a field trip to Mojave driving a state vehicle to Las Vegas for the weekend--that add up to a new and distasteful element on campus."

The staffer wonders if perhaps more of these dastardly happenings could be connected to the presence of frats, but others speculate it was the presence of an MTV camera crew--in town to film the Delta Omega Chi fraternity, which is taking part in MTV's Fraternity Life series--that spurred the boys to commit the outrageous prank.

Both the frat and film crew deny that Midas' killing was a conspiracy, saying UCSC seniors Casey Loop and Matthew Cox were lone ... er, fishermen. MTV says it won't go near any footage that has a fishy smell when the show airs. But that didn't stop two dozen protesters from gathering at the Delta Omega Chi house on Lake Street Saturday to tell both the cable channel and the frat to "Go away!" We humbly suggest future such protestors look to psycho rocker Mojo Nixon's song "Stuffin' Martha's Muffin" for vastly superior chants like "MTV--get away from me!" and "Music television should be covered in jism!"

Anyway, news that the DA's office has filed charges of misdemeanor grand theft and malicious mischief against Loop and Cox in the case also got College Democrats buzzing, since Cox is allegedly the founding member of the College Republicans, and last year reportedly infuriated male and female students by running student election posters saying "Do You Like Cox?"

Will the frat forgive Cox and Loop? Will UCSC expel them? Will the DA throw them in the slammer? Stay tuned.

Where Are They Now?

Seems only yesterday that county Supe Mardi Wormhoudt was duking it out with former Santa Cruz Chamber of Commerce CEO Mike Schmidt and Santa Cruz City Councilmember Mark Primack for the much vaunted District 3 supe seat.

In reality, a year has passed since Mardi waltzed away with the prize, high heels and all, and this week she should see her medical marijuana ID card initiative come to fruition countywide.

Meanwhile, Schmidt has moved to Tracy--perhaps best known for its annual Bean Festival--and is reportedly stirring things up as CEO of Tracy's Chamber of Commerce, where he has created a committee to study repealing the city's recent slow growth initiative.

As for Primack, he was most recently spotted at the Santa Cruz Film Festival with Boardwalk PR man John Robinson. The durable duo apparently met to see Portrait of a Fighter, which explored one of the most brutal "no-rules" sports in the world.

Sounds to Nüz like all three are doing prep work for elections--but then, what does Nüz know?

Shifting Baselines, Naked Butts

The Ocean Conservancy's Kaitilin Gaffney says the term "shifting baselines" was coined in 1995 to describe chronic but so-slow-they're-barely-noticeable changes like the disappearance of birds and frogs in coastal environments and the increased drive time from L.A. to San Diego. Now an event by the same name is coming to town June 11 to draw attention to ocean issues. Gaffney also wants the community to know about the Pew Oceans Commission Report, which she calls "a blueprint for the future of ocean management." Call 831.425.1363 or go to www.shiftingbaselines.org.

Meanwhile, catch Hollywood character actor and local resident Ralph Peduto in Butt-Naked in Tinseltown, his behind-the-scenes look at Keanu Reeves, Francis Ford Coppola, Fran Drescher and Robin Williams, at City Lights Theatre Co., 529 S. Second St., San Jose, 8pm, June 16-17; 408.295.4200.
---
Nüz just loves juicy tips: Drop a line to 115 Cooper St, Santa Cruz, 95060, email us at , or call our hotline at 457.9000, ext 214.
---
[ Santa Cruz | Metroactive Central | Archives ]