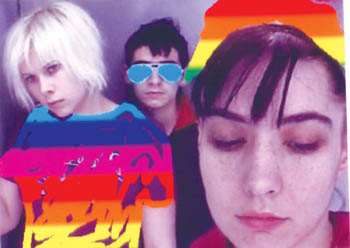 They Also Like the Boom: Le Tigre, from left to right: Johanna Fateman, J.D. Samson, Kathleen Hanna.

The Politics of Dancing

Le Tigre to indie scene: Free your ass and your mind will follow

By Steve Palopoli

As if the file-sharing kids who think Le Tigre is the band that sang "We like the cars, the cars that go boom" weren't confused enough, one of the most political rock bands this side of hardcore has seriously gotten its groove on.

Le Tigre's last release was a remix album that unapologetically prepped several of their songs for the dance floor. And since this band is, of course, not the boom-car-loving pop duo L'Trimm (that's Tigra and Bunny, sport) but in fact the post-punk trio led by former Bikini Kill lead singer and perpetual riot grrrl icon Kathleen Hanna, that certainly raised some eyebrows. Especially because their previous album, 2001's Feminist Sweepstakes, was arguably their most outspoken and powerfully articulated album yet. In indie rock, after all, the addition of beats is usually equated with the subtraction of meaning.

But Johanna Fateman, the other original member of Le Tigre (who, in fact, joined back when it was originally conceived as backing for Hanna's alter-ego Julie Ruin), says the band knew it didn't have to be that way. Though Le Tigre's sound has previously been defined more by their rock guitar and punk energy than the New Wave-era drum machine and synth beats they have consistently mixed into their songs, it seems people were already shaking it to their music anyway.

"Some of our songs actually found their way into club environments and have gotten some play, sort of dance-party-type things," says Fateman. "We always thought that was really awesome, and how cool would that be if there was really overtly political dance music? In our culture, those things are supposed to be in total opposition to each other--it's like, hedonism on the one hand and politically conscious music on the other. We thought it would be cool to play up the ways our music is both things sometimes."

Le Tigre, who play Sunday, June 15, at the Rio, threw themselves into the project, but a remix can be a far trickier process than it seems, as anyone who's sat through a maxi-single of 10 horrific mixes of the same song can tell you.

"We sent the tracks out and then got them all back the day before our deadline. So it was kind of, like, a total surprise. But it was fun to work on," says Fineman.

And as someone who already had some experience with electronic music--including the debut solo album of Atari Teenage Riot's Hanin Elais--Fineman herself ended up doing quite a bit on Remix. Most notably, she did the remix for "On Guard," under the moniker Swim With the Dolphins, transforming the guitar rave-up into a jungle extravaganza fitted with a heavy, bassy synth riff. But while putting band members onto remix duty was a gimme, finding the go-to girls for the other tracks was sometimes tough.

"In some ways it was kind of hard, because there really are not that many women remixers that we knew of," Fineman says. "But our friend Tara, who does the website Pink Noisés--it's the one-stop online music resource for female electronic musicians, a really good website--did the remix for 'Tres Bien.' She was an obvious choice."

That track in particular gets to something at the heart of this project, since the "nouveau disco mix" of "Tres Bien" manages to carry over the spoken-word feminist manifesto that appears in the middle of the original song. It certainly isn't something you'd see on many--make that any--other remix albums, but the song doesn't miss a beat. Maybe there's something to Fineman's assertion that dance music is an underrated medium for political messages.

"I don't think all of dance culture is apolitical," she says. "With disco and house music, there's a tradition of dance music being an underground--or even not necessarily underground--genre that is more welcoming to women and gays. So queer culture and also the contributions of people of color have been more recognized in dance music."

So does that mean this sound--which is, no matter how you look at it, far from the band's stubbornly new-wave early songs like "What's Yr Take on Cassavettes"--the future of Le Tigre? Fineman says even the band doesn't know--which is a surprise, considering they're well into work on their latest album.

"In this one way, we've gotten really high tech, like we're trading files and burning our own DVDs and all that stuff," she say. "So we're more savvy technologically, but I don't know if that's going to change our sound that much."
---
Le Tigre performs Sunday, June 15, at 8pm at the Rio Theatre, 1205 Soquel Ave., Santa Cruz. Tickets are $14 advance, $16 day of show, available at ticketweb.com, Streetlight Records or the Rio box office.
---
[ Santa Cruz | Metroactive Central | Archives ]