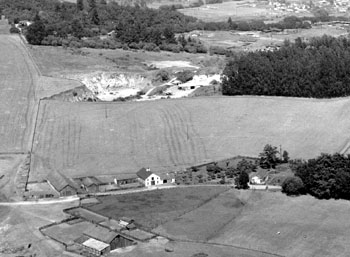 Covello & Covello Historical Photo Collection

UCSC Campus 1955: It wasn't until 1961 that the Regents designated this space as a future campus, so this photo was pre-everything. It was even before Bay Street went up to the main entrance. You can see the Barn Theatre, the child care center, the Cardiff House, the Carriage House and seven more of those cows.

Bruce Bratton

ABOUT BANANAS. When I was in Berlin I wrote that Germans call pineapples "ananas" and thought it was odd. Dr. Theo Van Ooy says pineapples are also ananas in Dutch, and Miriam Heimlich says it's ananas in French. I looked pineapples up in Hawaiian--they call them "hala-kahiki" and call bananas "maiia." The Oxford English Dictionary sez that in 1398 pine cones were called pine apples. It goes on to say, pineapples are the juicy edible fruit of the ananas or Ananassa sativa, so called because of its resemblance to a pine cone. And that's almost enough about bananas. Oh, one more thing, does anybody else remember the Banana Man who appeared quite often on Captain Kangaroo's children's TV show in the early '60s?

S.F. SILENT FILM FESTIVAL. This amazingly successful festival is now in its seventh year, and this year they expand to two days! It's held at the Castro Theatre in San Francisco. The festival is directed and held together by Stephen Salmons; Stephen is a UCSC graduate and a former usher at the Del Mar and helped escort Beverly Roberts at the grand re-opening of the Del Mar in March. Festival dates are July 13 and 14. They'll be showing rare screen treats such as Captain January starring Baby Peggy, who will be there in person to introduce the film. Also showing will be DeMille's Male and Female starring Gloria Swanson; a 1928 film from India, Shiraz, with live accompaniment from the Ali Akbar College of Music; a new print of Harold Lloyd in Girl Shy (1924); very rare surviving footage from Flaming Youth, Camille, Timber Queen, Valentino's The Young Rajah and more. Then there's a new 35 mm print of director Lois Weber's The Blot (1921), and Terence Stamp will be there in person for the tribute to William Wyler and the screening of Hell's Heroes (1930). Wyler directed Stamp in The Collector in 1965. Go to www.silentfilm.org to get all the details. I've been to the festival's last three years and it's great fun. I still maintain that silent films are not just a completely different art form than talkies but they're more powerful and even superior in many ways.

SHAKESPEARE NEWS. Thomas Jay Ryan, who's playing in both The Sea Gull and The Merry Wives of Windsor for Shakespeare Santa Cruz, is now appearing at New York's Atlantic Theatre in the new Craig Lucas play This Thing of Darkness, starring Larry Keith. SSC does get some fine actors. Big, brawny, black Bruce Young, who Danny Sheie used to dress in silk slips in SSC plays, is now playing Jennifer Lopez's fight trainer in Enough. Bruce and Jennifer do a good job, but the movie is not just enough, it's too much. Go to www.shakespearesantacruz.org to get information on their full season, which runs July 10 through Sept. 1.

SUMMER AT CABRILLO. Take a quick look at what Cabrillo's offering for summer classes that have registration now--some have already started. Think about learning to play the piano, orchid culture, beginning blues harmonica, doing faux finishes, hot glass bead making, Bruce Elliott's class in bats--and there's even one in Pique Assiette! Call 479.6331 or go to www.cabrillo.cc.ca.us/ce_ct--this could be the best summer you've ever had.

THE LOVELY MICHAEL BANTA SUCCEEDS. That's her real name, Michael. Michael lived in Santa Cruz in the '70s and was active in Phil Baldwin's campaign; she was also an excellent illustrator, and she was in Soquel's Staircase Theatre production of A Thousand Clowns with Armon Stover, John Tuck and yours truly. She got married to a guy named Bania and now lives and teaches in Soldotna, Alaska. Michael's written a children's book titled Kumak's House. I don't know if it's available locally, but Amazon has it and gives it a four-star rating. Amazon also says that Michael's husband drove both Michael and their newborn son home from the hospital on a snowmobile. If you want to reach her let me know, I've got her email address.

CRUISE SHIPS IN OUR BAY? The April-May-June issue of Ventana, the Sierra Club's newspaper, says that a typical cruise ship in a one-week voyage will generate about 210,000 gallons of sewage (black water), 1 million gallons of wastewater from sinks, showers, galleys and laundries(gray water), 120 gallons of toxic waste from photo labs, dry cleaning, medical/dental wastes and used paints, 8 tons of garbage, and 25,000 gallons of oily bilge water. Read this latest issue and see if you think the tourist trade-offs are worth it.

OLELO PAANI. That's the Hawaiian word for joke--they don't have one for puns. Since I'm in Hawaii as you read these puns, I don't have to worry about the reaction. Besides that they came from Simon Kelly, so tell him what you think about puns. A chicken crossing the road is poultry in motion. If you don't pay your exorcist, you get repossessed. Show me a piano falling down a mine shaft and I'll show you A flat minor. The man who fell into an upholstery machine is fully recovered. A grenade thrown into a kitchen in France would result in Linoleum Blownapart. The midget fortune teller who escaped from prison was a small medium at large. Once you've seen one shopping center you've seen a mall. Lastly: She had a boyfriend with a wooden leg, but she broke it off. Aloha.
---
Bruce critiques films every other Thursday at 12:50pm on KUSP-FM (88.9). Reach Bruce at [email protected]
---
[ Santa Cruz | Metroactive Central | Archives ]