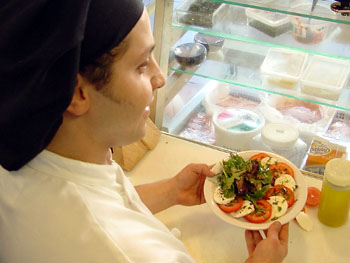 Photograph by Mathew McCabe

Mangia, Mangia, Mangia: Manicomio's Italian soul food is a worthy addition to the Esplanade.

A Slice of Italy

Manicomio Cafe brings another welcome touch of Italian authenticity to the crowded Capitola Esplanade

By Christina Waters

LIFE'S TRULY A BEACH in Capitola, thriving during warm weather when the tiny bungalows line up to face the sparkling blue water and the wide beach is filled with happy daytrippers. And in the evolving restaurant scene, yet another Italian charmer has recently popped up.

Run by a hard-working young couple--he's the Italian chef, she's the American wife--Manicomio Cafe opens to the street where a growing trade appears to be enjoying the outrageously wonderful aromas pouring from the miniscule kitchen. Now if only parking were possible in Capitola, more of us could hurry down and feast on the chef's opulent pizzas and two-fisted focaccia.*

Very beach trattoria, Manicomio offers no-frills dining, tiny tables, a lineup of those colorful Torani fruit syrup bottles all vibrating to upbeat Italian pop and light jazz tunes--to which the owners' baby added his own little vocal highlights. A huge wheel of pizza had just come out of the oven and was strutting its garlicky aromas throughout the cafe. The espresso machine sat on a convenient corner close to the wraparound counter--just like a summer place at Capri. Our young chef never stopped moving, laughing, talking, cooking. The whole operation is modest and friendly, but with enough sense of design and self-esteem to place fresh flowers at the front counter.

We placed our lunch order--a slice of mozzarella and Italian sausage pizza ($2.50) a prosciutto, fresh mozzarella and tomato panino ($7), one of those strange and wonderful Sicilian stuffed rice balls, arancino ($2.50), and a plate of spaghetti with house Bolognese sauce ($8.95). To take the edge off the warm afternoon we enjoyed tart and sassy Italian Limonata sodas--the sour bite is unbelievably refreshing ($1.50).

Once our orders arrived, we began to see just how Manicomio conquers. The pizza lived up to its fine aroma, oozing an acreage of melting mozzarella--Italian soul food for sure--and dotted with deliciously spicy sausage. Our sandwich offered two thick triangles of focaccia filled with voluptuous prosciutto and slices of creamy fresh mozzarella and tomatoes. Enough to feed a soccer team, it was a generous example of Italy's popular panini.

The size of Mike Tyson's fist, the arancino was laced with cheese, peas and bits of salami before breading and frying. Manicomio's version is milder than some, but the chef's feather-light touch with deep-frying is nothing short of miraculous. And we loved the pasta Bolognese, which showcases the chef's serious culinary abilities. The meat sauce was a more tomato-intensive, Southern Italian version than what you might find in Bologna. But the strong pure tomato flavors had been accented with lemon, a stunning and authentic touch that satisfied my craving for a hearty red sauce. Espressos all round fueled us for the rest of the afternoon. Viva Manicomio!

*[The Mercantile lot had plenty of parking available. A sign directed me to "the lotion shop" to pay for parking. Fine. Inside the labyrinthian Mercantile building, a young lady in the lotion shop informed me, with a straight face, that I could park in the almost empty lot for $7. Duh. No wonder it was empty. I politely laughed in her face and drove around the block a few more times, got lucky, and finally joined my friends for lunch. The poor cafe owners sympathized and told me that even they have to park a mile away. There is no parking validation here. The message from the village of Capitola was loud and clear: "Don't come here and don't patronize our shops and cafes." Too bad, since there are worthy businesses, run by people working their brains out to make ends meet.]
---
Manicomio Cafe
Address: 115 San Jose Ave., Capitola
(In the Mercantile)
Phone: 831.465.9040
Hours: Daily 11am-9:30pm
Ambience: ** Tiny cafe with energetic vibes
Service: ** Attention is paid to each and every customer.
Cuisine: ** Tasty Italian trattoria classics, made with care
Overall: Manicomio Cafe is a delightful addition to the bar and tourist hangout environment of the Capitola beach scene. If parking weren't impossible, it would be packed all day long.
---
[ Santa Cruz | Metroactive Central | Archives ]