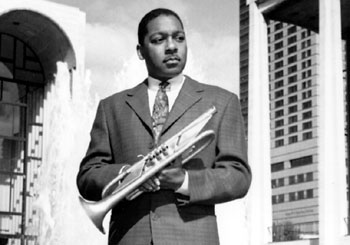 Blitzkrieg Bop: Wynton Marsalis led a musician's movement that changed the course of jazz.

Jazz Punk

How Wynton Marsalis revolutionized the genre--by taking it back to its roots

By Rob Pratt

EVERY PUNK KID experiences a moment when they realize something new is going on in the world. But it's not always the Sex Pistols or Black Flag or any actual punk band that does that. For me, it was when I saw Wynton Marsalis perform for the first time.

I remember seeing him on the 1983 Grammy Awards broadcast, segueing from a classical trumpet concerto to a swinging jazz number in an all-too-short performance that expanded my conception of jazz, of music--of the world--several-fold. No other player has equaled the feat Marsalis performed during that Grammy Awards ceremony (except Marsalis himself, the very next year), winning honors in both the classical and jazz categories. And no player has yet equaled the five-consecutive-year Grammy-winning streak that he launched in 1983.

But jazz is not like baseball, where the accrual of sensational statistics ensures a spot in the Hall of Fame. Marsalis has earned his place in history by launching a musical revolution that returned jazz to its roots.

Nearly 20 years later, the Marsalis revolution has become an institution--literally. In 1992, his four-year series of jazz concerts at New York's Lincoln Center morphed into a permanent jazz program, with Marsalis leading the Lincoln Center Jazz Orchestra, a group that boasts high art legitimacy alongside Lincoln Center peers like the New York Philharmonic, the Metropolitan Opera and the New York City Ballet. By winning the 1996 Pulitzer Prize in music for his concert-length jazz oratorio Blood on the Fields, Marsalis cemented jazz's status as a respected force in American cultural life.

When he comes to the Civic Auditorium Thursday, Marsalis returns to Santa Cruz as the most recognizable figure in contemporary jazz. His influence extends far beyond that of a player and composer. More than any other single voice in jazz, Marsalis defines the way most of America understands the music's history and jazz's place in the contemporary world.

Jazz Revolution Now!

When Marsalis hit the scene at the dawn of the Reagan Era, jazz music had started to stagnate in the wake of heady jazz experimentation during the 1970s. The creative promise of electrified jazz, as played by Miles Davis' groups on In a Silent Way and Bitches' Brew or by Chick Corea and Return to Forever or by Weather Report, had devolved into jazz-fusion (now more appropriately called "light jazz" or, even worse, "smooth jazz") played by Spyro Gyra, Steps Ahead and David Sanborn.

I was a freshman in high school at the time, a budding tenor saxophonist who had switched from clarinet two years earlier, after stumbling across a sheaf of Charlie Parker's Verve recordings at the local library. I had explored the bebop of Parker, Dizzy Gillespie and Thelonius Monk and probed the hard bop of Miles Davis and Art Blakey. Even before I was old enough to drive a car, I knew that nobody even thrice my age played jazz like that anymore.

Until I heard Marsalis, that is. With his brother Branford Marsalis on clarinet and saxophone, Kenny Kirkland on piano and Jeff "Tain" Watts on drums, a serious-faced, bespectacled Wynton Marsalis made Monk, Lee Morgan and Freddie Hubbard sound like they were alive again and still turning out sides for Blue Note Records. The music that Marsalis and company played was urgent and youthful and so wildly divergent from the jazz-fusion of the day that it sounded shockingly new.

The New Traditionalists

Soon, the hottest thing in mainstream jazz was a group of young players--"young lions" like Joshua Redman, Christian McBride and Roy Hargrove--who drew their sound more from the old guard in jazz than the avant-garde. Some cynical critics have ascribed the ascendance of Marsalis and the "young lions" to savvy marketing on the part of record labels that aimed to reign in jazz's far-out excesses in order to bolster sales. Maybe so, but the Marsalis movement has a generational character, too. The baby boomers rebelled against their elders by thumbing their nose at tradition. Generation Xers like Marsalis (whose 1961 birth year puts him on the cusp of the cohort) sometimes rebel against their nontraditional elders by embracing tradition--the way the Pistols latched onto the pioneer rock of Eddie Cochran and Gene Vincent, and the Cramps covered every forgotten '50s hit they could get their hands on.

Critics have also lambasted Marsalis for paying scant attention to jazz movements of the late 1960s and 1970s. Jazzophiles cried foul during the broadcast of Ken Burns' landmark documentary Jazz, which featured Marsalis as a primary commentator, for weighing too heavily on early figures like Louis Armstrong and giving light treatment to anyone who came after Coltrane.

Even his sharpest critics have to admit that, in restoring jazz to its fundamental values, Marsalis has advanced the cause of jazz as a whole. In seeking to honor the likes of Armstrong and Duke Ellington, Marsalis has earned a place among the pantheon of jazz greats where they reside. Even more, he has rechristened jazz as a music of joy and of sorrow, of simple pleasures and grand ambitions, and as a music that speaks for all of America.
---
The Wynton Marsalis Septet plays the Santa Cruz Civic Auditorium, 307 Church St., Santa Cruz, Thursday, June 13, at 8pm. Tickets are $60/$45/$35. (420.5260)
---
[ Santa Cruz | Metroactive Central | Archives ]