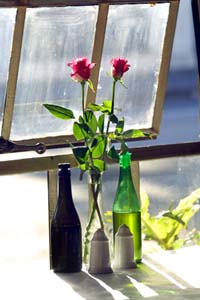 Perfect Setting: Gabriella's artistic sensibility extends to the smallest details.

Photograph by George Sakkestad





Better Than Ever

Small, intimate, eclectic--Gabriella has never been boring, and now it seems to be better than we'd ever remembered

By Christina Waters

ALWAYS THE HOME of beautiful, handcrafted dishes, filtered through the artistic sensibility of chef Jim Denevan, Gabriella has been part of our dining circuit since it opened. Kathy's too, as she reminded me last week in the glow of pale yellow walls.

Somehow the handwritten menu always seems larger than the actual dining rooms of this vintage downtown cottage. So appetizing are the menu descriptions that I always wish I were a group, rather than one diner.

Still we did quite well, starting with two smooth reds, one a 1998 merlot from Clos La Chance ($6.75), the other a 1999 David Bruce Pinot Noir ($6.75). The wines were soon fragrant as the summer evening, especially in the company of that irresistible hot-from-the-oven focaccia.

To begin, I chose a salad of arugula with beets ($8) from the regular menu, while Kathy opted for a special of grilled shrimp with sorrel greens ($9). Sorrel appears so rarely--though the French are addicted to its sour tang--that we jumped at the chance to treat our taste buds. The arugula, pungent but not too hot, was luscious, dotted with slivers of sweet beet and nutty roasted celery root. I love the offbeat combinations of Gabriella creations.

Feta played just the right counterpoint, although I am not a big fan of orange segments on savory green salads. A trio of plump grilled shrimp surrounded a central field of lemony sorrel, and a thick knot of ripe avocado laced with Bermuda onion punctuated the center of the salad. Each bite was lively and light--exactly what an appetizer should be.

"This could be the best thing I've ever had here," Kathy proclaimed. She had just sampled her main course of truffle gnocchi ($18). Feather-light--and I'm not just saying that because food writers like to say that about gnocchi. These irregular spheres were impossibly tender, yet oozing the subtle richness of truffles and melted gorgonzola, with the occasional edge of radicchio emerging from this creamy pasta perfection.

While Kathy paced herself with the gnocchi--trying to figure out how she could eat the entire plateful and still take half of it home--I was enjoying a lovely creation of boneless duck leg accompanied by mashed potatoes topped with sensuous sautéed Napa cabbage ($18).

The duck perched in a pool of lightly spiced apricot sauce, barely sweet and a great foil for both the deeply flavorful poultry and the cabbage as well. Kudos to the new person in the kitchen. Our excellent server told us that Matt Szymanski, recently arrived from New York, was cooking that night. Well, this is another reason to visit Gabriella, Kathy and I agreed.

But desserts were still to come, and our server's colorful descriptions successfully tempted us to throw restraint right out the window. The magic words were "Meyer lemon tart" and "warm fruit cobbler." To say that we liked our desserts doesn't really do the situation justice. Let me simply say that Gabriella would outshine most establishments if the entire menu were composed only of its freshly conceived, freshly created desserts ($6 each).

Putting a fetching little goblet of Bonny Doon Vin de Glacier ($4.50) where we could both reach it, our server brought out desserts and enjoyed our response.

Steaming hot in its ceramic baking dish, a crusty cobbler of cherries and strawberries (all organic) brought us to our knees. The soft, tart fruit interior--sweetened only by its own natural juices--played against the rich cobbler topping. Perfectly.

The long wedge of warm Meyer lemon tart (why is it that warm desserts go straight to our hearts?) was graced by an exceptionally tender pastry and a dollop of unsweetened whipped cream.

What a splendid little meal.
---
Gabriella Cafe
Address: 910 Cedar St., Santa Cruz
Phone: 831.457.1677
Hours: Lunch weekdays and dinner nightly; weekend brunch 11am Sat, 10am Sun
Entrees: $18-$24
Ambience: *** Very attractive and intimate, the thinking-woman's bistro
Service: *** 1/2 Very close to flawless
Cuisine: *** Excellent, eclectic, gloriously fresh dishes made with sensitivity and visual flair
Overall: One of our best, and everybody knows it
---
[ Santa Cruz | MetroActive Central | Archives ]