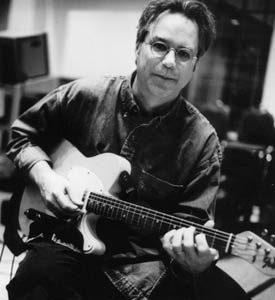 Six-String Samurai: Bill Frisell gently shatters all preconceptions about jazz.

The Ballad of Bill

The virtuoso guitarist flaunts his musical personas

By Eric Johnson

OVER THE past 20 years, guitarist Bill Frisell has gently and insistently conquered the world of jazz. Advancing through various styles, with various ensembles, he has demonstrated a mastery of the vast range of American music that is almost too big to all be called jazz, even as he stretches the boundaries that define the word.

Mostly, Frisell uses his prodigious talents to play deceptively simple, stunningly pretty songs. His own compositions (which make up most of his live sets, though he has covered everyone from Monk to Bacharach) remind us that jazz, or music itself, can be challenging and provocative, and still simply beautiful.

At the Kuumbwa, Frisell will appear with his New Quartet (so dubbed in 1998): L.A. pedal-steel session man Greg Leisz; bassist David Piltch; and on drums, local-boy Kenny Wollesen, an alum of the Aptos High Jazz Band. With this lineup, Frisell reveals himself as a country-jazz pioneer who creates bucolic soundscapes as pretty as a stroll on a late-summer evening; a bandleader and composer whose lyrical, intricate works tell profound musical truths; and a singular guitar player who seamlessly melts chunks of disparate musical genres into an exquisite sound all his own.

Listeners who insist on a steady diet of pyrotechnical bombast should be warned that Bill Frisell is likely to softly shatter their preconceptions about what makes for virtuosity. Fans of easy-listening jazz had better gird their minds for blowing, too.

Frisell, after all, spent years wielding his ax as a member of John Zorn's Naked City ensemble, furthering the avant-garde's assault on the postmodern frontier. With Zorn, Frisell participated in a self-conscious dissection of the idea of jazz, playing a precise, often jarring cut-and-paste pastiche that sounded at times like a hyperkinetic cartoon soundtrack and at others like a punk-jazz affront to common sensibilities.

Before and since, on scores of albums with a half-dozen bands, Frisell has veered hard in another direction--toward the straightforward and pretty. But he will still, in the midst of a gorgeous moment, kick his effects box and launch into a psychedelia more Miles than Monk, more Jerry Garcia than Wes Montgomery. And then, like the Dead, in a moment he'll return to the Americana that is his musical homeland.

Frisell's most frequent collaborator on these backroad journeys over the past few years has been pedal-steel player Greg Leisz--a studio journeyman who has backed the likes of Jimmie Dale Gilmore and Joni Mitchell. A song on 1999's Good Dog, Happy Man offers an example of some of the things we can expect at the Kuumbwa. "Cold, Cold Ground" makes its point immediately: a four-bar melody so simple it's almost more like a phrase, creating a powerfully melancholy feel with a half-dozen notes played in loose tandem by Frisell and Leisz. The phrase is repeated again and again, until the band begins to riff on the melody with the simplest blues shuffle imaginable, built around one chord and a throbbing four-four beat. The riff finally gives way to the lilting, stripped-down melody. Eventually--more than six minutes into the nine-minute song--the pedal-steel seeps in for a solo, then lifts off, soaring for a moment that stretches out into a couple of sweet, sublime minutes, and then it's over.

The New Quartet's latest CD, Blues Dream, continues the band's project of forthright country-jazz fusion put to the service of brainy hedonism. Leisz and Frisell, backed sturdily by Wollesen and Piltch and joined frequently by trumpeter Ron Miles, trombonist Curtis Fowlkes and saxophonist Billy Drewes, lock horns (and strings) to make the melody-and-harmony thing happen, again stunning in its utter simplicity. Each phrase is repeated again and again, hewing always close to the raw melody; it's as though the songs are too pretty for the players to abandon to indulge in a commonplace variation jam.

On each of the "new" Frisell band's albums, the repetition is a theme, the simplicity is a theme, the urgent prettiness itself can be seen as a theme, an idea, a metaphor. We can call what they are doing jazz, but this isn't about jazz, or about music either; Frisell's music is about some ineffable thing that only music, sometimes only jazz, can get us to. By stripping the music to its essence, he makes that thing clear.

If Frisell the guitarist-composer-bandleader has achieved what passes for fame in the world of American jazz, it has been primarily for his dazzling playing. He can make his guitar do anything, but it's always possible to identify him after a couple of licks. His signature sound has a supple, sneaky attack. (He does this by squeezing notes out with his volume pedal--in concert, he scrunches his face when he does it.)

Even before he started hanging in Nashville (figuratively speaking), he could get pretty twangy for a one-time New York hipster (he moved to Seattle a decade ago), and he will surprise you suddenly with something familiar, kind of echoey and trippy that sounds like (aha!) surf music. He can also make his instrument appear to turn inside-out, vault into the sky and explode, but he does so with reserve.

All of this virtuosity and range seems guileless. There is nothing show-offy about Bill Frisell's brilliance. He has something he wants badly for us to hear and feel, and he is willing to do whatever it takes to make us feel it.
---
Bill Frisell and the New Quartet play two shows, Monday, June 18, at 7pm and 9pm, Kuumbwa Jazz Center, 320 Cedar St., Santa Cruz. $18-$20; 831.427.2227.
---
[ Santa Cruz | MetroActive Central | Archives ]