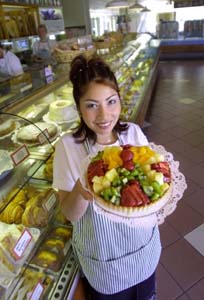 Anyway You Slice It: Maricela Ortiz displays one of Gayle's tropical fruit tarts.

Photograph by George Sakkestad





Gayle Force

We take a summertime tour of the well-stocked counters of Gayle's, where growth hasn't hurt great flavors one bit

By Christina Waters

IN THE BEGINNING, it was one of the few places on the Central Coast where you could get a serious cup of French roast and a respectable croissant. But that was several decades past. Today Gayle's is a veritable monument to great-tasting bakery and rotisserie foods ready to go.

For many years now. the spacious Capitola food palace has been co-owned by founders Gayle and Joe Ortiz and Louisa Beers. From what anyone with eyes can tell, this troika is doing everything right. Despite expansions that initially had purists clucking, Gayle's still delivers.

The rotisserie end of things--all those chickens spinning their way to culinary glory over an open fire--includes myriad hot goodies to go. Polenta, pasta, stuffed potatoes and barbecue wings. For sheer visual dazzle, the sandwich section holds its own even compared with those satin-frosted cakes. Nothing is small or timid in this terrain of fresh bread packed with intriguing interiors. The enormous vegan veggie wraps are still unbelievably colorful and crunchy. The new turkey Cobb sandwich is everything you ever wanted from a great club sandwich: tomatoes, turkey, bacon, avocado on a soft franchese roll. The pinwheel rostis are my idea of a meal spiralled into soft lavosh.

Clearly, Gayle's exists to help you get your dining act together when you either can't or won't do it yourself. To whit, the array of cheeses, including the amazing goat cheese from Laura Chenel, smoked salmon, pâté and olives. You merely add some of the dense, chewy house biscotti and a bottle of wine (Gayle's offers at least half a dozen excellent premiums each day), and you're ready for the beach or a secluded bluff overlooking the bay.

Rounding the bend toward the bakery side of the operation amounts to a holy pilgrimage for many of the faithful. Here are the perfect Florentines and Italian rum cake. We genuflect before the flaky downtowner and the texturally gifted raisin-nut rye loaf that makes a satisfying breakfast for $1. If you want to escape the crowd permanently attached to the chocolate section of the bakery, go all the way into the faience-lined espresso nook, where bracing lattés and pastries await your pleasure.

One of the more recent innovations at Gayle's was the Blue Plate Dinner, allowing you to and dine between 5 and 8:30pm for around $10. Last week's dinner involved pork chops, with sinful rich grilled polenta, marinara and a side of green beans. Add a chilled Heineken's and enjoy your dinner out on the patio. Gayle's is a phenomenon rarer than an honest politician: an intimate bakery that grew into an intimate empire of flavor, without sacrifice in quality. Gayle's is still at that busy crossroads of Capitola and Bay avenues, open daily, 6:30am to 8:30pm (462.1200).

Wine Wonder

Azur is teaming up with SeaVine Family Wine Group for a wine-tasting cum old-fashioned family-style wine dinner on Thursday (June 14). Hurry to make reservations to sample wines created by Burrell School, Hunter Hill and D'Elissagaray teamed with Azur's sensuous Mediterranean-style cuisine. Starting at 6:30pm with appetizers and wine-tasting, the meal--$65 per person (tax and tip not included)--matches new and rare wines with a multicourse menu. For more info or reservations please contact Restaurant Azur at 427.3554.
---
Email me your hot food tips, new favorite restaurants, discoveries, gripes and sudden culinary insights. You tell me--I'll tell everybody: [email protected]
---
[ Santa Cruz | MetroActive Central | Archives ]