[ MetroActive Central | Archives ]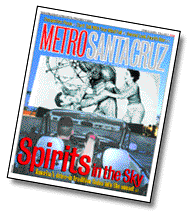 This Week


June 13-19, 1996

Cover
Spirits in the Sky: America's
drive-in tradition fades into
the sunset.

News
Occupation: Peace: Part-time
Santa Cruzan and world-famed activist Brian Willson risks life and remaining limbs working for peace in Chiapas.

Nuz: Revolving door, walking mall, surf rules.

Arts & Entertainment


Movies

Talking Pictures: Cartoonist Nicole Hollander has a handle on just why Andy Warhol got plugged.

Music

Notes From the Underground: Rebellion available here.

Pissed!: Hair today, gone tomorrow.

Menu

Second Coming: Re-examining Oswald as it wraps up its stunning first year.

Hometown
Speak Easy: In Santa Cruz and worldwide, Toastmasters take on the terror of public speaking.
---
This page was designed and created by the Boulevards team.
Copyright &copy 1996 Metro Publishing and Virtual Valley, Inc.