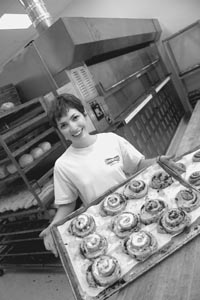 Photograph by George Sakkestad

Rolls of a Lifetime: House of Bread's Vivian Enbright shows off some cinnamon treats.


Bread Right

Fresh-baked scents entice at new House of Bread on Pacific Avenue

By Janet Blaser

IT FIGURES. The week I finally decide to eliminate my normal overload ration of carbs, House of Bread opens. Sigh. Such is the life of a food writer, sacrificing personal and culinary discipline for the benefit of all of you, dear readers. And so it was that I ended up ensconced in one of the pleasant window seats at the new Pacific Avenue location, happily tasting first a sweet (raspberry cinnamon swirl) and then a savory (jalapeño corn and cheese) bread, attempting to listen--and talk--with my mouth full.

Rumors have been swirling that House of Bread is one of those dreaded chains and therefore to be avoided, but here's the real story. Started about six years ago by Sheila McCann, a Montana native who wanted to share her love of made-from-scratch bread with the rest of the world, House of Bread now has four franchised locations in California. All are independently owned; all share the same recipes, principles and commitment to quality and freshness that have fueled McCann's vision.

This downtown Santa Cruz location is managed by Susan Thierry (and her sometimes-silent but always-competent partner, husband Michael), a decidedly local woman who has a history in the food-service industry. The spanking-new space includes an eating area in front with several tables, and enough kitchen area to house the giant convection oven, which can bake up to 200 loaves at a time, rotating on five 12-foot-long shelves. When this baby gets going, students and workers from upstairs at University Town Center are drawn like moths to a flame by the aroma. Thierry says they come in exclaiming, "I can't stand it any more. I have to have some (fill in with bread of the moment)."

Talk about focus: House of Bread sells bread--and only bread. Twenty-two varieties, to be exact, plus muffins, scones and a few assorted items like pizza crusts and dinner rolls. And they don't just serve it, they make it, from start to finish, with the first shift of bakers coming in at 3am to begin their (ahem) daily grind. And that's no pun: the High Plains Montana Wheat is indeed stone-ground almost every day in the mill that's sitting right in front of the big windows facing Pacific Avenue. The selection is a bit belly-boggling, and includes these favorites: cinnamon swirl, garlic cheddar wheat, onion dill, sunflower whole wheat, tomato basil, Grandma's White (really McCann's grandmother's recipe), sourdough, challah and basil parmesan. An easel board changed each day tells customers what's fresh-baked that day, and the to-go menu also has the baking schedule for each type of bread. And be careful: sampling is mandatory, and not easy to refuse.

Loaves are baked in a variety of shapes, and cost is $3 and under for one-pound loaves; under $5 for two-pound loaves. Day-olds are also available at reduced prices, with any excess donated to local shelters. Words of wisdom from a long-ago, far-away cafe menu say it all: "Bread is the warmest, kindest of words. Write it always with a capital letter, like your own name." And that's how it is for most of us (sans Zoners), that bread holds a special place in our hearts. You can find House of Bread at 1101 Pacific Ave., Santa Cruz, in the University Town Center--look for the big burgundy awnings. Hours are 7am to 6:30pm weekdays; 8am to 6pm Saturdays; and 9am to 5pm Sundays. For more info, call 466.9039 or log on to www.houseofbread.com.
---
Got a tip about a new restaurant, delicacy or food news of any kind? Email Janet at [email protected].com.
---
[ Santa Cruz | MetroActive Central | Archives ]