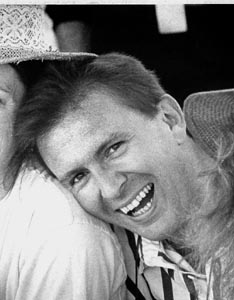 Louis Louis: Louis Rittenhouse (OK, the photo's a few years old) would rather sell shorts downtown than lose his in some air-head scheme.


Boxers Rebellion

It's been almost 11 years since the Loma Prieta quake turned downtown Santa Cruz into a giant redevelopment project, but the aftershocks are still shaking Pacific Ave. The latest rumbling has injected a new twist into the debate over a downtown plaza.

A new engineering study commissioned by the Santa Cruz City Council reveals that two city parking garages, the Cedar/Church and the River/Front, have developed structural cracks from the quake that will cost a million simoleons to fix.

This has prompted discussions between the city and Louis Rittenhouse, who wants to develop the empty lot at the corner of Pacific and Church, next to the Cedar/Church garage, where some would like to see a plaza.

Rittenhouse was beginning to soften somewhat in his opposition to a plaza. He told the Chamber of Commerce June 2 that conversations were under way with Mayor Keith Sugar over various plaza proposals. Lately, he has backed away again, telling Nu-z that a plaza "would not be feasible from our side."

Now some council members are pursuing the idea of swapping dirt for air. The deal would tear down the Cedar/Church garage and rebuild it, swapping air rights above the garage for the Pacific/Church parcels.

Rittenhouse confirms that the idea has been floated, but he says he's not interested.

"The construction costs would be horrendous," Rittenhouse says of the air plan.

Meanwhile, the latest version of Rittenhouse Square West has been reduced from five floors to four while maintaining its 70,000-square-foot size. Rittenhouse says his goal is to bring practical stores to downtown.

"Boxers and towels, that's my dream," Rittenhouse says. Guess that answers the question of what Louis wears.
---
Deja Vu All Over
Following up on an August 1999 hearing, the Assembly Higher Education Committee convened June 8 to investigate continuing reports of poor labor relations at the University of California. In August UC President Richard Atkinson pledged to do better, but that's not how some workers see it.
"Since then, we've seen exactly the opposite," says Christian Sweeney, president of the Association of Student Employees, representing UC grad students.
Some 200 unfair labor practice charges have been filed against the university since August, including accusations of bad-faith bargaining, refusing to adopt arbitration for discrimination and sexual harassment in contracts, and failing to pay employees wage increases budgeted by the state Legislature.
"In our estimate, $65 million of salary funds have been diverted to other things," says Elinor Levine, president of the Coalition of University Employees, representing UC clerical workers.
"Theses things take time," says UC spokesman Brad Hayward. "President Atkinson and [vice president for human resources Judith] Boyette both said that they were committed to more effective labor relations and we believe we are off to a good start."
---
Nom de Fume
It's round two in the battle over methyl bromide, as the state Department of Pesticide Regulation wraps up the second public comment period on proposed regulation of the pesticide. But according to environmentalists, the department's latest proposals are a step backwards in the effort to protect farm workers, schoolchildren and neighbors.
"We're very concerned that the department has made these regulations less protective of workers and public health than the original proposal," says Anne Katten, a health and safety specialist for California Rural Legal Assistance.
Anti-pesticide advocates, including Watsonville-based Farms Without Harms, have urged the DPR to ban methyl bromide within 1,000 feet of schools, day-care centers, nursing homes and residences.
The latest proposed rules would regulate methyl bromide at the discretion of the county agricultural commissioner, and institute a 36-hour delay before children can return to classrooms near where spraying has occurred.
"Thirty-six hours is not adequate," Katten counters. "Studies indicate [fumes remain in the air] 48 to 72 hours for many types of application."
The proposed rules are available at www.cdpr.ca.gov. Written comments must be received by 5pm, June 20, and can be emailed to [email protected], or mailed to Fred Bundock, DPR, 830 K Street, Sacramento, CA 95814-3510.
---
The City Lost a Lot
The dozen or so city workers who maintain the Delaveaga municipal golf course are feeling subpar these days.
A $60,000 study commissioned by the Santa Cruz City Council to determine ways the course can generate more revenue for the city goes public June 16. According to one section of the draft report, three of the four proposed operating options would contract out the maintenance to private companies.
Parks and Rec head Jim Lang says that he "would never recommend it [privatization], and the council has not expressed interest in doing that."
Some think a better way to raise income from the course would be to renegotiate the 25-year-old deal the city has with Gary Loustalot, head of G.S.L. Inc.
Loustalot's deal, which runs until March 2005, is pretty sweet.
According to the contract and records from city Finance Director David Culver, in the last 12 months Loustalot's firm was paid $12,000 in professional fees and $99,458 in green fees. It also received over $1.1 million in gross receipts (after the city's take but including expenses) from cart rentals, driving range receipts, pro shop sales and other miscellaneous income.
The city grossed $1.7 million, out of which was paid maintenance expenses.
---
Code of Conduct
The Santa Cruz City Planning Commission will consider new rules June 15 that would make it easier to force building code compliance for habitual offenders. Municipal Code Title 4 would allow complaints against recalcitrant landlords to be heard by an administrative hearing officer who could impose fines and reinspection fees. The new system is designed to avoid lengthy and expensive court procedures, which have acted as a deterrent to enforcement.
"Now, when we get a complaint, our hands are tied due to lack of resources," says consultant Mark Damir, who helped develop the new rules. Under Title 4, Damir says, violators themselves will pay for the system. "Why should they be subsidized?" Damir asks.
---
[ Santa Cruz | MetroActive Central | Archives ]