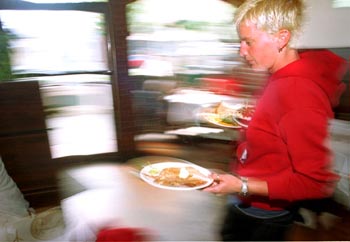 Photograph by George Sakkestad

Breakfast Waves: Server Leja Borovac keeps up with the bustling breakfast crowd at Zachary's.

Breakfast at Zachary's

Still amazing after all these years, downtown Santa Cruz's legendary eye-opener feeds the masses with flourish By Christina Waters

By Christina Waters

FEEDING THE FAITHFUL on graduation weekend is a job for a New Testament prophet--or Zachary's. We happily settled for the latter last week, joining Frank's grad students Joey and Tim for massive amounts of delicious breakfast foods along with what appeared to be most of California.

The endless expanse of century-old hardwood floor held scores of diners, all furiously eating, talking and reading the papers, while the pavement outside was beginning to swell with the weekend faithful. Zachary's was a hit the day it opened almost two decades ago. And it has stayed that way. The secret is breakfast that meets and then surpasses expectations. Serious bowls of seven-grain cereal, with real half and half, raisins and cinnamon on top. Tangy sourdough pancakes, not those gummy inner tubes topped with margarine. And the details, like delicious home fries or light, chewy squares of jalapeño cornbread.

And this recent visit only underlined our passion for this place, where hanging plants still punctuate the ceiling and the woodwork bench seating still offers comfort to Santa Cruz politicos, students, artistes and bohemians of every stripe.

Temporarily embarked on a transcendental path, our resident ascetic Tim ordered a cup of fresh fruit ($2.65), while Joey fueled up for a cross-country trek on Mike's Mess (small portion, $7.95). Frank ordered a three-stack of sourdough pancakes ($2.95) and a side of bacon ($2.25), while I went for the Basic Breakfast ($4.79) plus an endless mug of Vienna Roast ($1.35). The legendary Mike's Mess proved to be the hit of the morning. A glorious scramble of favorite breakfast items--eggs, cheese, sour cream, potatoes, avocado, tomato, onions and mushrooms--it is an irresistible splash of life's most comforting flavors. Joey did his best, but even sharing generously with the rest of us, he barely dented this gargantuan "junior" portion. It takes a village to finish the full-size Mess.

Frank's pancakes were tender and tangy--served with tiny scoops of butter and a pitcher of real maple syrup. The accompanying bacon was perfect. Intensely flavored, not greasy, and not charcoal burned. More expectations met.

My Basic Breakfast could have been called Perfect Breakfast. Two thick triangles of expertly toasted honey wheat bread--with butter on the side--accompanied an island of succulent home fries all yummy with turmeric, onions and subtle herbs. The eggs, over medium, were exactly right.

The classic eggs-and-potatoes breakfast, so basic, so deceptively simple, is an accurate gauge, I've found, of kitchen expertise. Sure, they can do some razzle-dazzle conglomeration of ingredients, but can they fry an egg exactly the way you want? Zachary's can. The eggs were done just the way my mother used to do them--higher praise is just not possible. And the skillfully seasoned potatoes were done the way she wished she could make them.

I won't single out Zachary's for garnishing each plate with a fresh orange slice. Everybody does it. Let's just say that I wish someone would rewrite that part of the rule book that requires a piece of fruit to be placed on every egg dish. If I'd wanted fruit, I would have ordered it.

Speaking of fruit, Tim's sensuous blend of mangos, pineapple, kiwis, watermelon, honeydew, cantaloupe and grapes was luscious, moist and fresh. "Truly fresh," he added, with an impish grin. Since Tim is a passionate vegetarian, I respect his assessment of fresh, ripe fruit. Zachary's met his expectations too.

One of the bibles of the first hippie generation--Frank Herbert's Dune--contained this infamous line: "Expectation clouds awareness." Maybe it does, I've often observed over the years. But not in this case. Expectation was fulfilled--deliciously--the other morning at Zachary's, where breakfast takes on the atmosphere of a block party. It's also inexpensive, plentiful and possibly as good as the first meal of the day ever gets.
---
Zachary's
Address: 819 Pacific Ave., Santa Cruz
Phone: 831.427.0646
Hours: Tue.-Sun. 7am-2:30pm
Service: **1/2 Attentive and friendly.
Ambiance: *** Vintage brick landmark offers funky boardinghouse warmth and acres of original woodwork.
Cuisine: *** Killer breakfasts are the law here no matter how crowded.
Overall: Zachary's ranks among the few remaining Santa Cruz landmarks worthy of the name. Get there before 8:30am on weekends, or expect to join the waiting game.
---
[ Santa Cruz | MetroActive Central | Archives ]