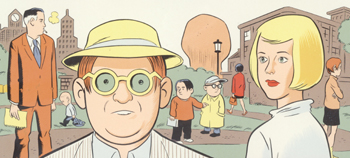 Clowes' Lines: Artist Daniel Clowes combines words, narrative and gorgeous images in 'Ice Haven.'

Light Thoughts Meet Dark in the Dusk

What in heck is a Narraglyphic Picto Assemblage? Apparently only one of author Daniel Clowes' 'Ice Haven' characters knows.

By Rick Kleffel

Somebody needed to invent the wheel, somebody needed to invent the novel--and author Daniel Clowes needed to invent the Narraglyphic Picto-Assemblage. At least, that's how his character Harry Naybors describes the format of Clowes' complex, beautiful, riveting story for his new book, Ice Haven (Pantheon, $18.95 cloth). Clowes combines his words, his narrative and his gorgeous paintings, creating an effect unlike any other graphic novel or film. Ice Haven is a gripping piece of crime fiction, an intense meditation on the nature of the artist, a scathing satire of art and artists at all levels and a heart-rending evocation of small-town American society.

Drawing from Thornton Wilder's Our Town, Clowes directly addresses the writer, the reader, small-town lives and the Leopold and Loeb kidnapping. The graphics and art are elegant and varied. This is a perfect back-porch book. Read it in an afternoon, then reread it the next evening, as the bats curlicue overhead in the dusk. Light thoughts mingle with dark ones in Clowes' compelling narrative, and, in a compact space, he creates characters as real, as complex, as your neighbors. Ice Haven rewards readers by using art to reveal central aspects of the mystery in "aha" moments that will have you joyously turning the pages back and forth. Metro Santa Cruz caught up with Daniel Clowes via email last week, before he embarked on his Ice Haven promotional tour.

METRO SANTA CRUZ: Daniel, tell us how you conceived of 'Ice Haven.' What was the germ of the idea that started the ball rolling?

CLOWES: I went through a phase where I was collecting old Sunday newspaper comics sections from the '50s and '60s and found myself very attracted to the disparity and diversity of styles and sensibilities sharing the pages. It occurred to me that one could make an interesting comic by utilizing this stylistic and tonal range in the service of a larger narrative.

Can you describe what a 'Narraglyphic Picto-Assemblage' is for the layman?

I have no idea. The phrase belongs to my character Harry Naybors, a big-shot comic-book critic living in Ice Haven.

How much of the story is planned in prose and how much is planned visually?

For the most part, it is planned in cartoon form, which means that the words and pictures are so interrelated that it would be impossible to separate their origin. Occasionally, an image comes to mind, and I will try to write a story around that image, but more often than not, by the time the story is done the image has turned into something else.

You wrote the screenplay for the upcoming adaptation of your work 'Art School Confidential.' Did your work in this medium influence your work on 'Ice Haven'?

I think the movies and the comics influence each other, often in ways that I am not aware of until long after the fact. One very basic thing I've learned from working in film is that editing is good. Getting rid of things is good. It doesn't matter how much effort it took, if it's not working, toss it. In fact, if you don't love it, toss it or replace it.

Two outside influences cast large shadows over 'Ice Haven;' Thornton Wilder's 'Our Town' and the Leopold and Loeb kidnappings. What made you bring them together in this work, in this fashion?

I saw Our Town as a kid and the whole "walk down any street, knock on any door" homespun middle-aged narrator thing always stuck with me and seemed a perfect way to bring a reader into this world. The L and L case happened only a few blocks from my childhood home (though 40 years before I was born) and haunted my childhood. It is the grandfather of some of the other lurid cases referenced in the story (JonBenet, etc.).

You have a lot to say about art and artists in 'Ice Haven,' most of it not very flattering.

I didn't intend for any of it to be unflattering, necessarily. Certainly all the artists are me, to some extent, especially Mr. Wilder.
---
Daniel Clowes will appear on Monday, June 20, at 7:30pm at Bookshop Santa Cruz, 1520 Pacific Ave. (831.423.0900)
---
[ Santa Cruz | Metroactive Central | Archives ]