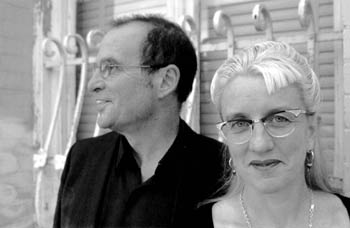 Don't Ask, Don't Del: 'A town that's the size of Santa Cruz, you can get into a lot of trouble in 20 years!' says Del Rey (pictured with Steve James). And she would know.

That Girl's Trouble

Metro Santa Cruz breaks out the skeletons in the closet as the beloved but naughty Del Rey returns to SC

By Mike Connor

True story: Once upon a time in Santa Cruz, a generous young woman bought her boyfriend some steel guitar lessons with Del Rey, who was teaching out of her home in Davenport. The boyfriend got his lessons all right, but not the kind his girlfriend expected.

"There she was, bonking my boyfriend--and I was paying for it," says the woman, who is all grown up now, and not the least bit bitter.

Many have wondered why Del Rey left Santa Cruz after building up a huge following here over 20 years. This crime of chord-progression passion is a juicy story, but, alas, it's not the reason.

"I stole him?" says an incredulous Del Rey from her home in Seattle, when reminded about the incident on the eve of her return to Santa Cruz for a June 22 show at Henfling's.

"You know, that's another thing about coming back to your old town--you never know what things you might have done that you've forgotten," she says, laughing. "It's a good thing having a new town because, jeez, a town that's the size of Santa Cruz, you can get into a lot of trouble in 20 years! It's good to get into a bigger city where you haven't met everyone yet."

OK, but if it wasn't the home-wrecking, then why did our queen of the blues leave us?

"I don't mean to dis Santa Cruz," says Rey from her home in Seattle, "but I felt like the town that got built up after the earthquake was an extremely different town than the town that I came to. You know, what was once crooked became straight, and what was once much more local seemed to become more corporate or over the hill. It just was a different town. I wanted to live in a bigger city, and Seattle has a wonderful music scene. There's huge interest in roots and acoustic music here, so it's a good place for me to live."

If Rey is a bit of a local legend here, it's because she has an appeal that extends beyond her 1920s-based blues guitar and ukulele playing. Her sense of style is impeccably vintage--she claims to have sported hoop dresses since the age of 3.

For the past three years, she's been collaborating with Steve James, who will play with her at Henfling's this Tuesday. While their voices blend beautifully together, Del Rey cites James' timing as a major part of their musical affinity.

"As I get to be a better musician," says Rey, "I start to hear time much more distinctively. What I really like about music from the '20s--and one thing I really love about Steve's playing--is that the beat is so definite, it just makes you want to dance immediately. It has this power to it because it's so strong and so placed, and that's what I like. To me, that is the pulse that made jazz so interesting, and it's lost it now. Now when you hear what we call jazz, like the Wynton Marsalis kind of school, there's that kind of nebulous time going on on the high hat, the kind of swishy sound."

Spilling one last intimate morsel, Rey reveals a bit about her much-discussed musical weapon of choice.

"It's a metal resonator guitar. They were invented in the '20s to be loud enough without electricity, and then of course they invented electric pickups, so they were kind of immediately obsolete in a way. But they were real popular with people who played on the street or with a loud band. This custom-made one has a ring to it that's just really beautiful, because Ron used his own special metals and all this stuff. I'm sure he has all sorts of secrets I don't know."

No doubt we can say the same about Del.
---
Del Rey plays with Steve James at 8pm on Tuesday, June 22, at Henfling's in Ben Lomond. Tickets are $10/advance, $12/door; 831.336.8811.
---
[ Santa Cruz | Metroactive Central | Archives ]