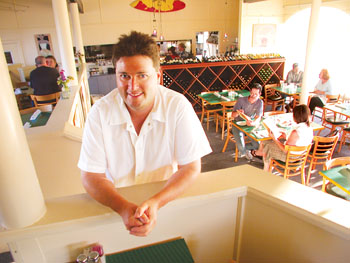 Photograph by Stephen Laufer

Blacks Beach Memoirs: Owner and chef Robert Morris has great memories of the restaurant he's nurtured into a success over the last 12 years, but he's leaving it behind to move closer to his son.

Fade to Blacks

After 12 years, Blacks Beach Cafe's Robert Morris is calling it quits

By Jessica Neuman Beck

For 12 years, east side diners have flocked to Blacks Beach Cafe for hearty, delicious breakfasts and lunches as well as fresh, delectable dinners. Now, after more than a decade, chef Robert Morris is closing the doors of the popular restaurant.

"I've enjoyed it very much, and it's been a great relationship with the community," says Morris. "People, sometimes they see you're selling, and they think things are going wrong or they aren't working out well. Blacks has been very good to me, and I've enjoyed it a great deal."

In a town where restaurants open and close faster than a revolving door, it might seem surprising that a busy, successful eatery is going the way of the dodo, but Morris has his reasons.

"I have a 3-year-old son who lives in Calistoga," he says. "I drive up there Sunday night after work, getting in midnight or 1 in the morning, and I hang with him Monday, my day off, and I get here Tuesday midday and I get back to work. One day a week isn't enough for my son; it isn't fair to him."

A Private Affair

Morris isn't giving up cooking, though. A few years ago, he was contacted by a family who was interested in hiring him as a private chef.

"The first time they came to me I didn't know I had my son coming on the way, and I was quite happy with the restaurant and things were going well," Morris says. "I tried to help them find someone, but I wasn't interested in it at the time. They came back to me a year later and asked if I'd work with them a little bit on a limited basis, and I did, and I enjoyed it. Then we started working on coming up with a plan that would work, and I decided to put the restaurant on the market."

When Morris opened Blacks Beach Cafe, he told himself he would give it 10 years to "prove to myself that I could do it," he says. "I had the dream to do it, and I wanted to satisfy that dream."

Twelve years later, the restaurant is going strong. And if what Morris was able to do with Black's Beach Cafe constantly surprised its patrons, well, it surprised Morris, too.

"If you'd have asked me 10 or 15 years ago what kind of restaurant I was going to have or what the menu was going to be like, no way in my wildest imagination would I ever have thought of what I've ended up with in Blacks," he says. "It's kind of an interesting cat-and-mouse game you play to find what works."

Nuevo Cuisine

Originally, Morris had intended to sell the restaurant as Blacks Beach Cafe. "I was going to train the folks and then continue to have a little input on the menu and help out," he explains, "but that deal fell through. All of a sudden now, here we are. It has a new owner. They're going under the name of Nuevo Inc."

Perhaps there's something to be said for leaving while you're ahead.

"I think the greatest thing I'm walking away with is having a restaurant that's been successful and a community in which I've grown up," says Morris. "It's been a great response of so many wonderful people, and you know I've had great involvement doing a lot of benefit dinners. All the people I've met, the friends I've made, the people who have supported us--it's been so fantastic."
---
Blacks Beach Cafe will be closing its doors in mid-June. Look for the new Southwestern-style restaurant Nuevo Inc. to open at the beginning of July.
---
[ Santa Cruz | Metroactive Central | Archives ]