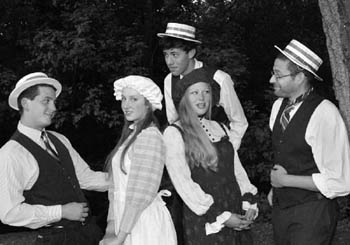 Passing the Hats: Mountain Community Theater is fighting for the survival of community theater the way it always has--by putting on a show.

Critical 'Stage'

MCT's latest production isn't among their best, but it could be a turning point in the company's fight to survive

By Rob Pratt

While some arts-community scenesters might point to an ever-burgeoning number of punk bands and conclude that rock-star dreams comprise the nation's fondest performing arts pastime, the American Association of Community Theater proudly reports that more amateur performers turn to acting, directing and other stagecraft disciplines than take up any other onstage endeavor. Like many arts organizations facing funding crises resulting from a national epidemic of state budget cutbacks, community theater companies across the country are struggling to keep the lights on--literally.

In Santa Cruz County, the region's longest-lived community theater company (excluding groups sponsored by educational institutions) is engaged in such a struggle. Mountain Community Theater (MCT) faced its latest financial crisis the same way it has fought for its survival during other lean times--it put on a show. The new production, a melodrama written by area playwright Ed Sams and presented by an amateur cast and crew, has precious little to recommend it from an artistic standpoint. For the future of community theater in Santa Cruz, though, it's a make-or-break show.

Sams' script draws on Santa Cruz history, stereotypes and ribald humor to tell a meandering tale of an imperiled Santa Cruz Mountains town that is little more than a stagecoach stop during the 1910s. Set inside the Loathsome Lodge, Sams' Love on the Loathsome Stage involves a frivolous plot featuring a villain, a trio of dance-hall women, three orphans bound for marriage to three absent husbands and three fraternity pledges from Stanford University. Unlike classic melodrama, Sams doesn't provide the audience with a clear hero--just a clear villain in the character of Parson Weems (Marcello Siero). Weems has designs on his newly acquired property, starting with a plan to run all of the scoundrels--basically the entire populace--out of town.

Love on the Loathsome Stage isn't serious entertainment, and many moments in the show leave the audience wondering if it's entertainment at all. It's the sort of light historical fare that might be at home at Knott's Berry Farm if the show didn't run to a downright tortuous three hours long.

It does have a serious purpose in raising money for MCT, however. Penned by a local author, the show likely doesn't require payment of licensing royalties. Since the company has produced the show twice previously, MCT likely has few costs for scenery and costumes.

This sort of show has saved MCT from going dark for good on several occasions--notably with productions of The Miracle on 34th Street, which now earns the company a small annual sum in licensing royalties. Love on the Loathsome Stage is no Miracle, but, thankfully, faithful supporters have shown up to see it. With a little luck, the company may make it through yet another lean time and move on to better shows.
---
Love on the Loathsome Stage. Mountain Community Theater's production plays at 8pm Friday and Saturday at Park Hall, 9400 Mill St., Ben Lomond. Tickets are $10; 831.336.4777.
---
[ Santa Cruz | Metroactive Central | Archives ]