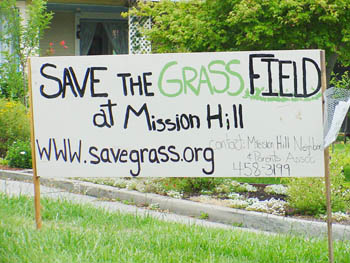 The Grass Is Always Realer on the Other Side: Some Mission Hill parents have a blade to pick with a million-dollar plan to replace grass with synthetic turf.

Nüz

Turf Wars

"We never wanted synthetic grass. It was the coaches that wanted it, since the field at Mission Hill Junior High is their classroom." So says Santa Cruz City Schools board member Cece Pinheiro of the board's $1 million plan to replace the grass at Mission Hill Junior with plastic turf--a plan that appears to be in legal limbo, as the board waits to see what the newly formed Mission Hill Neighbors and Parents Association does next.

So far, the group has filed a legal complaint about the district's failure to do an environmental impact report before approving the fake turf. But as Pinheiro, who broke her ankle in a gopher hole in said field, explains, the motivation to replace the grass with fake turf was to reduce the costs of keeping that "classroom" safe--an equation that would of course be upended if the district got slapped with a lawsuit.

"If this group is willing to put their money where their mouth is, it won't be worth it to us to fight for something we don't believe in. We were just trying to save money," she says.

That's music to the ears of MHNPA co-chair Tutti Hacking, though she says all her group has done so far is steer people to www.save
grass.org, which urges locals to contact Assistant District Supe Dick, er, Moss if they think real grass is better than plastic.

As for gophers who convert fields into ankle-endangering Swiss cheese, Hacking claims this problem could be abated for a mere

$75 a month, and the community could work together to fund a refurbished real grass field, while releasing the plastic turf funds for a new gym roof, insulation and other needed structural repairs.

Monetary issues aside, Hacking worries that fake turf may pose greater health risks than broken ankles, owing to the usual schoolyard scenario in which sweat, blood and tears mix it up with blobs of gum and splatterings of bird poop, only this time on a synthetic surface--which has reportedly been linked to the potentially lethal antibiotic resistant MRSA staph infection.

And then there's the prospect of shake and bake lunches.

"The school already looks so much like a prison, and if they replace the cool, inviting grass, which though weedy is a pleasant place to sit and eat lunch and make daisy chains, with a radiating heat mask, the kids are all gonna bake," Hacking says.

Turf Wars II

Political activist Thomas Leavitt advised Nüz that his buddy TBill "has had four, count 'em four separate Kerry for President signs torn down, apparently by rabid local Republicans, and is now so pissed off that he's threatening to retaliate in equal measure for every sign torn down in the future."

Indeed, TBill, who usually signs his emails as "TBill in the forest," is now signing off as "TBill raised sword in the forest," while warning that with the fifth Kerry sign comes an edict of retribution.

"Any Bush-Cheney sign or symbol is now fair game. No Republican banditry should go unanswered. We must all raise our voices in the eternal vigilance of freedom and democracy; for when they destroy my voice in public, they prove they do not love America and our liberty."

Noting that it's illegal to tear down political signs in an election year, Tbill was especially pissed off by the fact that these signs also had a Veterans For Kerry logo on them, and that having his voice silenced as a veteran on Memorial Day "rankles far more than I can possibly express. Add in the fact my best man died last year from Agent Orange cancers and Don Rumsfeld and Dick Cheney are still alive says more to the fact the good do die young, and again the feelings are beyond mere words to express. As a veteran, three Purple Hearts, a Bronze and Silver Star, commanding a boat, means far more to me than Bush's dental cavities and a failed flight physical, which happened the month I was sent to Vietnam."

Turf Wars: The Coonerty Chronicles

With Mayor Scott Kennedy and Councilmembers Mark Primack and Ed Porter definitely running for City Council again this fall and Emily Reilly undecided, the race for the four Santa Cruz City Council seats is beginning to heat up, with challenger Ryan Coonerty definitely throwing his hat into the ring.

Indeed, as a son of former Mayor Neal Coonerty, Coonerty Jr. is more than well-acquainted with this town's eggshell-scattered political landscape, as evidenced by his defense of the council's right to vote on national issues--a right that frequently gets blasted by Senile letter writers.

As Coonerty, 29, puts it, "It's OK for the council to take some national positions, because it fosters debate, part of the populace is for it--and the Sentinel consistently takes national positions."

That said, Coonerty's stated main reason for running is his demographic. "I'll be bringing the new perspective of a new generation to the council," he says. "25-to-34-years-old is the largest population segment in town, it would be nice if we had larger representation."

Tuned, But Not Staying

After seven years as executive director of Community Television Of Santa Cruz County (Channels 25, 26 and 27), homeboy Geoffrey Dunn is calling it quits, so he can spend more time with his family and more fully explore his creative side.

Proud to report that during his time at Santa Cruz's local community station he took "a problem child and made it into an upstanding citizen," Dunn, 49, says he was in danger of becoming a workaholic, an equation that no longer seemed to add up when he looked at his kids and a recent spate of deaths among friends and family members.

"There's lots of opportunities coming my way, and I was feeling spread too thin," said Dunn, who has several "really neat film offers" and plans to do more writing in the future.

All of which leaves the folks at Community TV looking for someone who will work well with the county, a part-time staff and a volunteer board of directors, not to mention deal with those who want to edit naked or let dogs crap on the studio floor.
---
Nüz just loves juicy tips: Drop a line to 115 Cooper St, Santa Cruz, 95060, email us at , or call our hotline at 457.9000, ext 214.
---
[ Santa Cruz | Metroactive Central | Archives ]