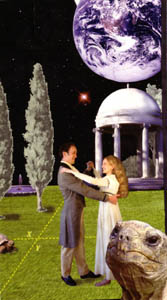 Stoppard Making Sense: Friends of Gus presents Tom Stoppard's 'Arcadia,' starring The Angriest Turtle as himself.

Dazed and Amused

Tom Stoppard's 'Arcadia' is a disjointed but rewarding romp through time and space, love and math

By Cindy Campo

When you go see a play, it often helps to know a little bit about it beforehand. Especially if things start to get a little weird and you need some help keeping the storyline or the characters straight.

But if you're planning to study up for Tom Stoppard's Arcadia--don't bother. There's nothing anyone can say that can really prepare you for what happens. And, furthermore, when you go in and find that within minutes you are completely confused--don't worry. You're on the right track.

Arcadia is not a play that will step up to your intellectual demands for cut-and-dried answers to the questions it asks. But if you're open to a little spontaneity, you will find it a charming and intelligent piece of theater.

Stoppard, the playwright perhaps best known for Rosencrantz and Guildenstern Are Dead (as well as for co-writing the films Brazil and Shakespeare in Love), is certainly not known for mathematical or scientific genius, but he manages to make Thomasina Coverly, a 13-year-old math prodigy, one of the most dynamic characters in Arcadia. Long before the second law of thermodynamics was discovered, this precocious girl comes up with it herself: She points out that once you stir a spoonful of jam into a bowl of custard, you cannot unstir it. By this simple observation, Thomasina goes on to figure out that theoretically the future can be known by taking a variable from the present and applying it to a formula.

Before the math starts to make you nervous, however, it should be noted that Arcadia is also a story of love, humor and wit. Young Thomasina yearns to understand "carnal embrace" while her tutor, the smart and dashing Septimus Hodge, knows his way around a sexual escapade. The nearly constant dialogue between characters blooms with vigor and cleverness.

Although the set and the props never change--even as the scenes bounce back and forth between the 19th century and modern times--the play is never dull. Its three hours move along unexpectedly quickly if you can keep up with the substantial verbal exchanges. Thrown into the mix are nuanced references to literature, fractals and English gardening, interesting enough to hold your attention even if you are unburdened with knowledge of such subjects. Meanwhile, the subtext of Arcadia centers on the dual nature of naivety and knowledge, beginnings and endings, Classical and Romantic thought, order and chaos.

Confusion That Makes Sense

Throughout the play, Stoppard uses confusion almost as a narrative device in itself. There are many complex layers around who does what where and with whom, and you must be alert to catch the clues. The sudden jump to modern characters occupying the same set (the study of the sprawling Sidley Park in England) is jarring at first, but quickly becomes key to the mysteries surrounding Lord Byron, murder and the elusive hermit of Sidley Park's garden.

For such a complex screenplay, Arcadia milks a lot of humor from the most basic of human interactions. The movement of order to chaos pervades the story, with the complex but emotionally straightforward interchange of the 19th-century characters melting into the flurry and heat with which the modern personalities fill the stage. A tortoise which links the past to the present, a mute nervous boy and an unseen lady of the manor serve to distract before they help explain anything. The final scene is brilliant, with characters from the past and present waltzing together on the stage, weaving motion and dialogue together as each pair remains unaware of the other.

All in all, Arcadia is an excellent production put on by Friends of Gus, a women-owned company committed to presenting challenging, thought-provoking productions that explore the art of the playwright and offer strong roles for women.
---
Arcadia plays at 8pm Thu-Sat and 3pm Sun through June 28 at the Actors' Theatre, 1001 Center St., Santa Cruz. Tickets are $15/general, $12/seniors and students; call 831.420.5260.
---
[ Santa Cruz | Metroactive Central | Archives ]