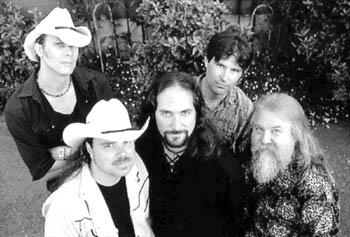 Out of Bodhi Experience: The Cowlicks open for the Bodhi Busick Band Thursday at Henflings.

Rock the Buddha

The product of an unconventional upbringing and a protégé of Utah Phillips, Bodhi Busick brings fiery politics and a hot sound to a folk movement that needs both

By Steve Palopoli

You often hear roots-type artists of the folk or Americana variety dissing, say, New Country. That's easy enough. And of course they lament terrible Top 40 music--which of us over the age of 14 doesn't? But Bodhi Busick is a folk artist who can't stand ... singer/songwriters?

"I don't listen to singer/songwriters, not at all," says the 26-year-old Americana up-and-comer, whose genre of choice is known mostly for its rampant singer/songwriter-ing. "It's become a little too sophisticated. I don't want to hear a whole set about some guy's relationships."

Busick, who plays June 19 at Henfling's, is hardcore, man. Not in a punk-music kind of way, but in his dedication to the working-class, activist legacy of folk music, which he sees as abandoned by many if not most contemporary folk artists.

"If I want to listen to a singer/songwriter, I listen to Utah Phillips or Woody Guthrie," he says.

Those are two revealing reference points, since Guthrie, first of all, is the folk forerunner to whom Busick is most often compared. Phillips, meanwhile, has become Busick's mentor of sorts--the two play together often, and recently joined up to help found a Peace and Justice Center in Nevada County, Calif., where they both live.

Busick had an unusual upbringing in a Buddhist household (yes, his name does come from the tree) and he's carried on his family's socially conscious lineage, combining activism with his work as a musician. How this all affects his actual sound, however, is anybody's guess.

"I can't say Buddhism affected my music, except I was very immersed in the culture of the '60s," says Busick. "I saw my first Dead show when I was three. I was always around campfires and people playing music. I just kind of grew up at the river playing guitar."

Certainly his musical mission is a bit different from most of his heroes, combining as he does salsa and world music rhythm with his much-lauded guitar work.

"What I'm trying to do is bring a folk tradition to a very danceable beat," he says. "Lately we've switched to two electric guitars, and we bring in a lot of salsa ... we go from straight Americana to Latin fusion, jazz fusion, rock."

Like many musicians his age, Busick started not in roots music but in punk, when he fooled around with musician friends in high school. Gradually, though, he was drawn by the siren song of the American roots icons.

"From a songwriting standpoint, someone like Johnny Cash or Bob Dylan--there was just an older wisdom in American music that was associated with the working class," he says. "Our generation is not as prone to reach back into history and pull out these old stories."
---
Bodhi Busick w/ The Cowlicks. Thursday, June 19, at 8pm at Henfling's 9450 Hwy 9, Ben Lomond. Tickets are $12; call 831.336.8811 for more information.
---
[ Santa Cruz | Metroactive Central | Archives ]