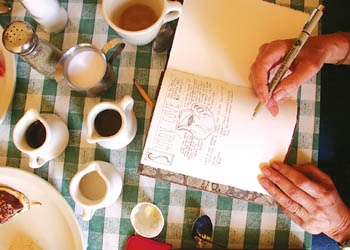 Photograph by Stephen Laufer

Shading Sunny Cove: Gay Kraeger (www.watercolorjournaling.com) draws upon her breakfast experience at Sunny Cove Cafe.

Sunny Side Up

Sunny Cove Cafe helps surfers and sun-worshippers starts the day off right

By Christina Waters

The path to Pleasure Point invariably leads surfers and their hardcore wannabees past the intersection of East Cliff Drive and 17th Avenue. Under the windswept cypresses, a yellow cottage has long held its ground, most recently as the Cheese Factory. And now a grateful neighborhood is in possession of a new food pit-stop offering aid, comfort and well-orchestrated calories to those just off the waves at the Point.

Sunny Cove Cafe--the name says it all--offers itself as a well-lit culinary loading dock daily from 7am until 3pm, which means you can catch a few waves and work up an appetite all before opening time.

Noah had already hung 10 or 11 by the time he met us in the pale yellow interior of Sunny Cove. Surfboards hang from the ceiling and hardwood floors reflect all the action of a busy exhibition grill line. I immediately spotted the chalk board special "strawberry pancakes" and thought, "I'm down with that." But the guys needed a serious protein fix, so they combed the menu of breakfast classics, looking for eggs done their way.

Actually almost everything at Sunny Cove can be done exactly the way you like it, and service by a fleet of skilled waitresses is right on the money, too. "Dark roast or light?" our server asked. That would be two darks and a Costa Rican light, we replied. Excellent coffee there at the Cove.

Noah inhaled his very large "small" OJ while he tried to make up his mind on a "build your own" scramble combo. Finally, he had it: Three eggs ($4) scrambled with avocado (+$1.50) and feta cheese (+$1). The scramble also came with potatoes and toast, just in case Noah was in any danger of keeling over from starvation.

Meanwhile, Jack decided on a similar protein package, the "Early Bird" (7am-9am) featuring eggs, bacon, potatoes and two pancakes ($3.95). For this price, it pays to hit the Cove before 9.

When the guys saw my huge plate of two giant pancakes strewn with only five slices of fresh strawberry, they chuckled and made a few choice remarks. But they ended up having to eat those smartass words. Most of the fresh strawberries had been thinly sliced and embedded right into the pancake batter, and the wonderful result was that every bite was filled with warm strawberries. I shamelessly added lots of butter and syrup, but still only managed to consume exactly one of these fat cakes. No worries. Noah and Jack helped me out, in exchange for some of their excellent eggs and potatoes. Noah's combo was the bit hit of the morning and I stole more than a few big bites of creamy eggs laced with ripe avocado and salty feta. A righteously enlightened combination of comfort flavors--eggs, avocado and feta. Memorize that and take it to Sunny Cove Cafe next time you visit. Then repeat it back to the waitress.

The hash browns, served in abundance, were very much of the coastal California designer variety, filled with colorful bits of freshly sautéed red and green bell pepper, as well as onions. Totally not greasy. Jack slathered his scrambled eggs with an indecent amount of the wonderful house salsa fresca which he pronounced the best thing on the table, and Noah splashed his scramble with both Tabasco and ketchup. Guys. The bacon was perfectly cooked, but it was those slightly sweet, warm, strawberry pancakes that really did it for me. Great coffee, huge plates of major breakfast food and a splendid location filled with lots of nautical wood bric-a-brac, even a detailed model sailing ship and beautifully framed photographs of the North Coast. A Sunny Cove and then some.
---
Sunny Cove Cafe
Address: 2-1620 East Cliff Drive, Santa Cruz
Phone: 831.476.6111
Hours: Breakfast and lunch daily 7am-3pm
Ambience: *** Spacious, airy, sunny interior to match the cove
Service: *** Brisk, friendly and helpful
Cuisine: **1/2 Breakfast classics done with a fresh attitude and generous hand
Overall: Briskly run by a hard-working crew, this new breakfast/lunch spot adds delicious spin to one of our most beautiful beach neighborhoods. Check it out.
---
[ Santa Cruz | Metroactive Central | Archives ]