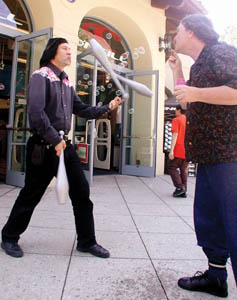 Photograph by Stephen Laufer

Battle Royale: Juggler Tim Furst and 'Bubble Man' Tom Noddy square off downtown--but their biggest showdown is yet to come.

Nüz

Clown, Interrupted

"I've got the illegal items."

"And I've got the legal ones."

So said Bubble Man Tom Noddy and Flying Karamazov Brother Tim Furst as they headed for the Cooper House last week, carrying not joints and open bottles o' beer, but three silver juggling batons and a tightly twisted neon-pink bottle of bubble mixture.

The question, of course, is which were the supposed "illegal items"? The answer: the batons. At least if they're airborne. And possibly only if they also involve a unicycle. Or something like that.

Yeah, it's kinda bizarre, given that three decades ago, a young Noddy and Furst kickstarted successful performing careers by blowing bubbles and juggling batons outside the old Cooper House. But the fact is that bubble blowing is now the only activity explicitly exempted from the infamous hackeysack ban, in which a freaked-out post-9/11 City Council also prohibited the throwing, discharging and launching of footballs, baseballs, beach balls and Frisbees downtown.

Last week, mayor Emily Reilly assured Nüz that it was clear to her that when the council passed said ordinance, "we did not intend tooutlaw juggling. We need and love street performers. Maybe we need to state that again at the City Council."

Maybe so, given what happened to Coire Langham, a young clown who recently set up juggling clubs, balls and unicycle outside O'Neill's, as he prepared to balance a music stand on his chin (Ooh! Aah!), while simulating tightrope walking using a bright purple rope laid on the sidewalk (Ooh! Aah! Gasp!).

Not surprisingly, a crowd gathered--as did a police officer, who reportedly told Langham that it's against the law to juggle or balance music stands--not to mention ride unicycles on sidewalks, or use them to do tricks on downtown streets--but that he could walk the tightrope along a silk rope, provided that it was laid on the ground.

Reilly says that because Langham's act involved a unicycle and projectiles, it was a "little more complicated" than your average juggling performance, but that Assistant City Manager Martin Bernal "is more than willing to help the clown get a permit for his act," a process which Bernal insists is "not really that complicated."

But Noddy is upset that a downtown host called the cops on a red-nosed clown whose act was delighting kids and parents alike.

"If the hosts work for the Downtown Association, then they should be promoting the downtown experience for everyone," says Noddy, who wants the city to dump said ordinance and return to the street performers' voluntary guidelines, which he claims worked fine until spring 2002, at which point Reilly and Councilmember Ed Porter said efforts to address serious and dangerous downtown problems (like drug and gang violence and sexual harassment) would not endanger the 23-year-old agreement between performers and merchants.

"Complaints about street performing accounted for less than 1 percent of downtown police calls at the time, but now performers are being chased from alcoves of closed shops without the nicety of the required trespassing complaint [nor letter on file nor posted notice]," fumes Noddy. "They are being danced around by various hosts and police officers' ideas of what the new laws now permit, plus a general sense that the intent is to keep performers on a tight leash."

Meanwhile, Porter, who Nüz shall henceforth nickname "Hall Pass," has been busy emailing explanations that the "expelling of projectiles" ordinance section is the reason juggling would be held to be prohibited.

"Whether or not one should balance a music stand on one's chin is not clear to me. But, if you cannot currently ride a bicycle on the downtown sidewalks, that may very well apply to a unicycle. Both of those tricks can easily be allowed by obtaining a performance permit," Hall Pass observes, even as the Downtown Association's Keith Holtaway says he's trying to "fix things" so performers can use plazas without permits.

Plazas? What Plazas?

"There are three or four great public plazas that no one uses, including Abbot Square, and the area in front of Art Forms as well as Plaza Lane. We're trying to set things up so it's easier for performers to use them," Holtaway says.

Oh, we thought you meant a plaza on Pacific Avenue--but that would put performers in danger of attracting a crowd, now wouldn't it?

"These moves squash the city's weird eccentric side and make it sterile like Capitola," says Noddy, as he demonstrates the beauty of soap bubbles by blowing streams of them into Furst's face.

"Keep Santa Cruz Imitating Austin," jokes Furst, alluding to the Keep Santa Cruz Weird fund, which copied Austin's efforts and has reportedly accumulated $3K--and triggered rumors that performers plan to use the money to sue the city for making it so darn hard for them to perform on the streets here. Until then, better stick to bubbles.

Terminator 4

Destruction of the Democratic Machine. That could be the subtitle of the next Schwarzenegger movie, if things go as Republicans plan around the Gov. Davis recall.

Said the well buffed actor in July's issue of Esquire magazine, "Yes, I would love to be governor of California. If the state needs me, and if there's no one I think is better, then I will run."

Arnie's political adviser George Gorton says the Austrian-born actor will decide after the July 2 opening of Terminator 3: Rise of the Machines, and only if it becomes clear the recall will qualify (supporters must collect nearly 900,000 valid signatures to make that happen), but the fact that the Kindergarten Cop has hired Gorton has got politicos worried.

"All this 'We're not sure' is BS, because Gorton's the real thing. He got Pete Wilson elected. Arnie's gearing up to go," says local politico Ron Schneider. "With 700,000 signatures reportedly gathered, Arnie could be California's Jesse Ventura. We don't have the luxury to pretend this isn't happening."

With Dianne Feinstein being the Dem most likely to run for guvnor, Nüz thinks she'd better hit the gym big time, since brains may no longer be as important as brawn in this post-Dubya world.
---
Nüz just loves juicy tips: Drop a line to 115 Cooper St, Santa Cruz, 95060, email us at , or call our hotline at 457.9000, ext 214.
---
[ Santa Cruz | Metroactive Central | Archives ]