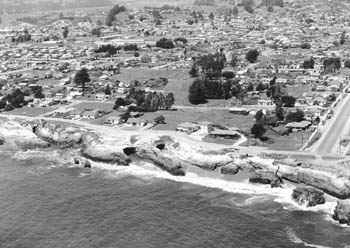 West Cliff Mystery Spot, 1960: My guess is that this is either Monterey or Santa Cruz Avenue at the corner of West Cliff Drive. I can't make out enough landmarks to be sure which corner it is. We do know the photo was taken in 1960.

Bruce Bratton

DOWNTOWN NEWS. Longtime downtown business owner and business consultant Keith Holtaway has been named the new executive director of the Downtown Association of Santa Cruz. He starts July 1 and replaces Peter Eberle. Keith owned and operated Pizza My Heart on Pacific in 1982, had offices in the old Trust Building at Soquel and Pacific and for historians to note was the Food Tent captain when we had the tents up after the '89 earthquake. I agree with Keith's statement that our Pacific Avenue downtown is suffering from success. The problems aren't new, I don't even think they're any worse now, in spite of what the Sentinel's anti-downtown campaign is trying to do. I love our Pacific Avenue, I love sitting and walking there. I too wish there were more stores that sold things we need, but as Keith says it's a very busy and active downtown. Few folks realize the tiny margin of profit many downtown businesses exist on and how fragile their existence is. If locals keep saying they won't go there, then it'll be another tourist/transient group that will change it.

DARK PLEASURES. 13 Conversations About One Thing is an excellent film. It has everything: good acting, intelligent script, and meaty material to ponder after you leave the theater, go see it quick, then go again. Divine Secrets of the Ya-Ya Sisterhood is a woman's film. I usually dispute that description because it seems to mean that the film is sensitive, touching and good, which may not be only for women. Ya-Ya does deal with secrets only women can experience, but it's a touching well-done film and is well worth seeing. Cherish doesn't hold together very well. Too hard to keep making excuses for all the plot holes, and it's a flimsy premise to build a film on anyway. The Bourne Identity is the best of the three CIA spy films now showing. Matt Damon can act, and does in this one, but the Hollywood ending is stupid. Anthony Hopkins also acts up a storm, but Chris Rock is even worse than Robin Williams, so avoid Bad Company. Ben Affleck is as bad as Chris Rock, and Morgan Freeman is always good, but don't waste your money on The Sum of All Fears. Go see Enigma and Dogtown and Z Boys--even if you don't care about skateboarding, the latter is a well-done film.

GOODBYE ALICE SANTANA. It was very shocking and saddening to learn about Alice Santana dying June 1. We had dinner with Alice and Manuel two weeks before, and she was her usual brilliant, funny, warm self. Alice had a keen perspective on life--and especially on the community--that was rare. She gave everything she had to everyone else and still had a personality that was awe-inspiring. Our county's cultural world owes her a lot and so do the many, many personal lives who have been blessed by knowing her love and care. Services will be held at Holy Cross Church Sunday, July 14, at 1pm.

KARMA IN KAUA'I. After eight days on "The Garden Island," I have this to report: Charo's Restaurant is still up and running over near Hanalei, the May Day Celebration at Kekaha School (now in its 114th year) was a study in diversity, the loco moco at the Big Save in Waimea is about the same as always, Grinds Cafe in Eleele has great coffee and better loco mocos, both the Waimea and Kilauea neighborhood cinemas are open again and showing nearly first-run films. The airport security going from Maui to Kaua'i was tougher than any I'd experienced in Europe, San Francisco or L.A. You can save quite a bit of money by buying your inter-island flight tickets from Cut Rate Tickets at 800.297.5093 Hamura's Saimin in Lihu'e near the Kaua'i Christian Church is still the hottest soup shop in town, but there's a new place we tried just around the block on 'Ewalu Street called Kako's Saimin--only three tables, but the saimin is excellent, and no tourists, yet. The Tin Can Mailman Bookshop in the tiny Kinipopo Shopping Plaza in Kapa'a is the only used (or otherwise) independent book store on the island. The owner's name is Will and he's a fine fellow. Don't go to Beezers Ice Cream store in Kapa'a--just Dryer's Ice cream and the place tries to look like Cruiser's but fails. More later.

PACIFIC EDGE FILM SERIES. Earl Jackson Jr. has created another of his wildly unusual film series. I've been attending his film screenings up at UCSC for over a year and can easily say his choice of films is the most challenging, interesting, debatable, funny, quirky selection I've ever seen in my life--and I've seen a few films in my time. This free series consists of mostly Korean films, a few Japanese films and at least one Thai film. I'm guessing nearly none of them have ever been shown in the USA before. They're being shown in Thimann Hall 3 at 7pm Wednesday nights starting tonight with The Power of the Kangwon Province (1998). The series runs Wednesday nights through August 28.

ABOUT BERLIN. I'll be guesting on Prime Time this Thursday at noon on KUSP with host Marilyn Rigler. We'll be talking about my trip to Berlin last April, and I can say more in 15-20 munutes on air than I can squeeze in this space, so listen in or even call in!
---
Bruce critiques films every other Thursday on KUSP-FM (88.9). Reach Bruce at [email protected]
---
[ Santa Cruz | Metroactive Central | Archives ]